2019 Federal Budget: What it means for Education
Pre and post-secondary schools received a funding boost, with non-government schools receiving 60% of school funding for 2019-20.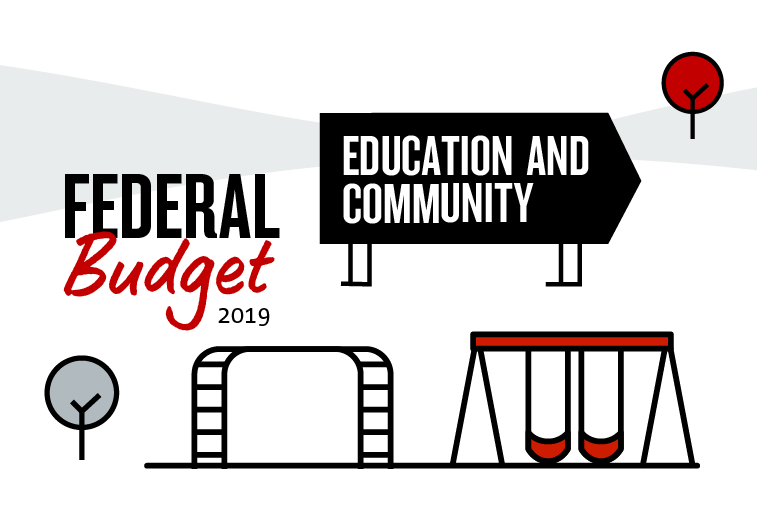 What did business want?
School funding has increased as the Gonski 2.0 reforms are implemented, but at a slower rate than planned under the previous Labor Government. While acknowledging growth in Government spending, the schools sector noted that spending per student as a percentage of GDP is less in Australia than in countries such as Germany, Korea, New Zealand and the UK.
With Catholic schools educating approximately 20% of Australian schoolchildren, it is an important segment of the school system. As part of its Budget submission, the NCEC (National Catholic Education Commission) urged the Government to increase the capital funding allocations to meet the capital funding needs stemming from a rise in student numbers.
The Government has indicated that future schools funding should be driven by improvements in literacy and numeracy outcomes and the quality of teachers and teaching, including a focus on disadvantaged schools and science, technology, engineering and mathematics (STEM) subjects. School funding in Australia is determined by the Schooling Resource Standard (SRS). Under the SRS, every student receives a base amount of funding – which is reduced if a parent chooses a non-Government school according to their capacity to contribute.
The universities sector has faced enforced belt-tightening following the 2017 funding freeze and intensifying competition from Asia. In their Pre Budget Submission, Universities Australia made a number of recommendations to Government including: an end to the funding freeze on university places and restoration of the demand-driven system; improved funding for vocational education and training; an increase in student income support payments; restoration of Research Block Grants to previous levels; and expansion of clinical placements for all health disciplines, particularly in aged and disability care. Further objectives include: raising the international mobility of indigenous students through changes to the New Colombo plan and implementation of a long-term plan for investment in research and education infrastructure with the ultimate objective of ensuring an appropriate level of strategic investment to maintain a world-class higher education and research sector.
What did the Budget deliver?
While pre and post-secondary schools received a funding boost, there were few significant measures for the higher education sector.
The National School Reform Agreement between the Australian Government and all states and territories sets out the long-term national goals for school education in Australia. It commenced on 1 January 2019. Under the agreement, recurrent funding for schools is anticipated to reach $19.9bn in 2019, with average Commonwealth funding per student increasing to $5,097 in 2019, a 36% increase over five years. This funding will increase to $32.4bn by 2029, a 63% rise over 2019 expenditure. Approximately 60% of school funding for 2019/2020 is to be allocated to non-Governmental schools.
New measures in the Budget for schools and pre-schools include:
The National Partnership Agreement on Universal Access to Early Childhood Education was extended for another year with $453.1m committed over two years to 2020. This will support 15 hours of early childhood education for students attending preschool in early 2020 in preparation for commencing schooling in 2021. In all, about 350,000 children should benefit.
A $30.2m Local School Communities Fund to allow local communities to prioritise their funding needs and spend accordingly, e.g. classrooms, play equipment, etc.
Expenditure of $41m over two years from 2019/2020 to expand the sporting schools program and provide free sport-based activities for students in over 6,000 primary and secondary schools.
Ongoing pastoral support services through a continuation of its chaplaincy program, comprising $61.4m per year over the period to 2022/2023.
To support Indigenous students in the Northern Territory, the Government has allocated $134.3m over the four years to 2022/2023.
In the post-secondary school sector:
The Budget contained a $525m investment in vocational education and training.Only $54.2m of this allocation is new money over five years and the majority ($463m) in part from reallocating Skilling Australians Fund money unspent because Queensland and Victoria did not sign up to the scheme.
As part of this program the Budget also proposes 10 "training hubs" across Australia at a cost of $50.6m over four years, focusing on training in industries that have a local skills shortage and designed to target youth unemployment in regional areas.
A further $62.4m over four years has been proposed for improving language, literacy, numeracy and digital skills for "at-risk" workers,although the budget doesn't specify who these workers are or who would teach them.
Some measures (albeit modest) for higher education includes:
A $5m funding over two years, commencing 2018/2019, for the construction of the Stawell underground physics laboratory at Melbourne University.
A reduction in the HELP (Higher education loan program) – which allows students to defer payment of fees for diploma level and above courses. For example, the fair value of HELP is anticipated around $46.1bn at June 2019, $0.3bn lower than the 201-19 MYEFO.
The start-up and innovation sector has received a setback, with the R&D tax incentive cut a further $1.35bn over forward estimates. The decline in the R&D incentive program over the past two budgets has been more than $4bn. This will raise the ire of those in the high technology sector who were already upset due to cuts made in last year's budget.
The abolition of the Education Investment Fund (EIF) and the creation of an Emergency Response Fund to fund national disaster programs above and beyond State and Federal funding. This will entail transferring $3.9bn of unused funds in the EIF to the Emergency Response Fund.
How did business react?
The Australian Childcare Alliance (ACA) commended the Government for extending the national agreement designed to give every child greater access to preschool education. Paul Mondo, the ACA Presiident, also said that "whilst we're pleased that the budget includes another year of Universal Access funding, we'd really like to see an ongoing commitment to this program."
The Chief Executive of Universities Australia Catriona Jackson said: "The Government has missed a prime opportunity to reverse its previous $2.1bn freeze on student places and $328m cuts to university research." Ms Jackson added "these cuts are the wrong decision for Australia's future and they will deny Australians access to University, and to life-changing and life-saving research breakthroughs."
Professor Emma Johnston AO is President of Science & Technology Australia expressed concern that "while it is important to support those affected by emergencies including floods and fires, taking funding away from education to fund emergency responses is a false economy. STEM education should be supported in a way that increases our national capacity to predict, prevent and respond to the impacts of national emergencies".
To find out more about what the budget means for business, read our 2019 Federal Budget  – What the budget means for small and medium sized businesses.