2019 Pre-Federal Budget leaks
Days out from the Federal Budget, there have already been several leaks about what it could hold. Here's the low-down on what to expect.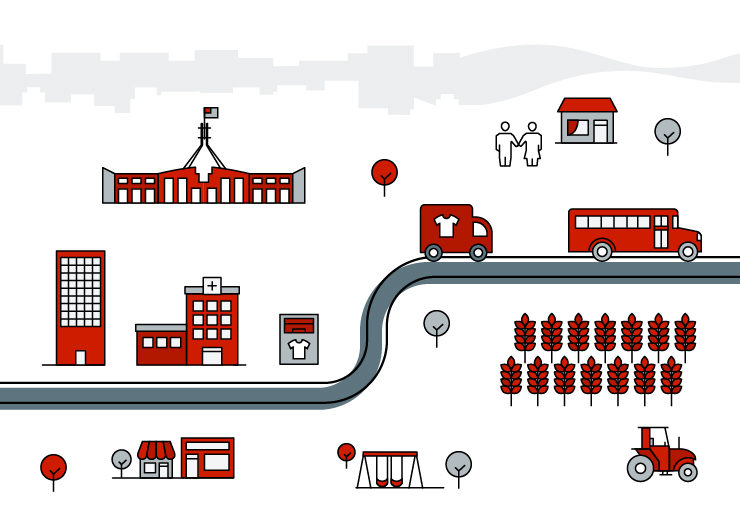 It's not your usual Budget this year – with a federal election slated for May, the announcements could be considered as election promises and potentially used by both sides in their campaigns. So, take a look at our pre-Budget leaks and see what this means for you.
A Budget of its time
The leaks so far reflect an economy that's weathering the current storm of events reasonably well. As NAB Chief Economist Alan Oster notes: "This Budget will be designed to support the government's assertion of superior economic management, by heralding a return to surplus. But it will also serve to entice voters with plenty of pre-election giveaways, contingent, of course, upon re-election. While the turnaround in the Budget is the good news, longer term the outlook is far less certain given the weakness in the economy."
Individuals
Low- and middle-income earners may well expect tax cuts, with the Treasurer indicating he wants to drive wages higher:
Small business
To date the major leak on small business is around asset write-offs:
The federal government has announced plans to extend the instant asset write-off for another year to June 2020, My Business says, upping the amount from $20,000 to $25,000. This means small businesses with an annual turnover of less than $10 million can deduct such costs as cars and equipment, assisting their cash flow.
Agribusiness
Following a year of support for drought-affected regional Australia, two sizeable leaks have come out for the agribusiness sector:
Agriculture Minister David Littleproud has said farmers can expect a boost to drought assistance, according to the ABC.
Prime Minister Scott Morrison has announced further support for flood-affected North Queensland farmers, providing them with up to $400,000 for restocking, replanting and on-farm infrastructure across two new grants.
Health
Research and out-of-pocket expenses appear to be the two major changes indicated so far:
The Prime Minister announced $496 million for Victorian cancer research and treatment, hospital infrastructure and mental health services.
Minister for Health Greg Hunt announced $220 million from the Medical Research Future Fund for a 10-year Mission for Cardiovascular Health.
In addition, he announced $200 million to help reduce out-of-pocket costs for scans, including ultrasounds and X-rays. It represents the first time in 20 years the indexation of Medicare Benefits Schedule (MBS) items will be expanded to all ultrasound and diagnostic radiology services. The funding will take place over three years from 1 July 2020.
Education
More to come on this on Budget night, but to date the major news to surface is in two funding areas:
The Prime Minister announced $60 million in funding for James Cook University's Cairns Tropical Enterprise Centre.
He also announced $60 million for a new educational hub for Indigenous students in Melbourne.
Community
An extension to cashless welfare and more funding for shelters for women are to be expected:
The federal government will spend $129 million to extend its cashless welfare card to 22,500 more Australians, The Australian reports.
The Prime Minister announced that his government will set aside $78 million to fund more housing for women and children fleeing family violence
Energy
It appears the energy sector won't be ignored, with a number of initiatives in the pipeline:
Infrastructure
Infrastructure is set to be a major winner, with two significant leaks already:
The federal government announced it will deliver $2 billion to build a fast rail between Geelong and Melbourne. The rail will be the first of its kind in Australia – travelling at an average of 160kph.
The government will also spend $294 million to upgrade security at airports to help prevent terrorist attacks, AAP reveals.
Digital
More to come on this sector, with just a small insight to date on what to expect in the Budget:
The Australian Government is no longer going ahead with a digital services tax "at this time", Treasurer Josh Frydenberg announced.
However, the Office of the Australian Information Commissioner will get an extra $25 million over three years to oversee online privacy rules and investigate breaches, Bloomberg says.
Financial services
The government is set to continue its investment in building trust, accountability and transparency in the sector:
The federal government is providing more than $550 million in the Budget to help restore trust in Australia's financial sector, according to Treasurer Josh Frydenberg. This will include $400 million in additional funding to the Australian Securities and Investments Commission and $150 million to the Australian Prudential Regulation Authority.
Don't forget to tune in to our live-stream Budget breakdown at 8am on Wednesday, 3 April, as Alan Oster, NAB's Group Chief Economist unpacks the Budget. And keep an eye out for our comprehensive Federal Budget wrap-up, with information breakdowns and fresh insight on its potential impact on you.