February 16, 2021
AMW: Exporters navigate trade tensions & find alternative markets
In this Weekly we delve into monthly trade figures and show how Australian exporters are finding markets for some of the goods subject to Chinese restrictions.
The Australia-China relationship deteriorated sharply last year, China implementing trade restrictions on several goods exports, including barley, beef, wine, wheat, coal, cotton, lobster and timber. Many of these goods though are globally traded, offering the potential to find alternative markets. Iron ore has been unaffected by current tensions
In this Weekly we delve into monthly trade figures and show how Australian exporters are finding markets for some of the goods subject to Chinese restrictions. High-profile anecdotes include barley being exported to Mexico for the first time, while wheat exports have risen strongly to Vietnam, the Philippines and Indonesia.
We also delve into world supply chains for barley, wheat and beef to help identify the largest global importers to see where possible trade opportunities may lie outside of China. Saudi Arabia and Iran standout for barley, Indonesia and the Philippines for wheat, and the US and Japan for beef.
We continue to hope Australia and China can defuse trade tensions. In December, China seemingly eased restrictions on wheat, while some coal shipments could be unloaded. However, we do not see this as symptomatic of a broader thaw in relations with still strong rhetoric. It is hoped President Biden's more multilateral approach with China will also translate into an improved Australia-China relationship.
The week ahead
Australia
Employment is on Thursday with consensus at +30k jobs in January and for unemployment to tick down one-tenth to 6.5% from 6.6%. NAB sees upside risks, pencilling in +50k jobs and a fall in the unemployment rate to 6.4%. Before then ABS Payrolls on Tuesday may give some guide. Supporting the case for a strong print has been the welcome 100k decline in JobSeeker numbers in January, while JobKeeper may have kept some people employed who would have been normally retrenched in the holiday period. Retail Sales on Friday should bounce with consensus at 2.0% m/m. The RBA Minutes on Tuesday are unlikely to add much given Governor Lowe's expansive remarks after the February Board meeting.
International
Focus back on fiscal stimulus and after Yellen's call for the G7 to "go big" on fiscal support, whether other countries will follow.
In the US
A few media outlets have noted that Fed officials may be looking to refine their newly-adopted average inflation target, including more refinement of the averaging period, whether there is any ceiling to help clarify uncertainty around the inflation outlook, the FOMC Minutes on Wednesday closely watched for any clues. Retail Sales, PPI and Industrial Production are also on Wednesday.
China
A quiet week given Lunar New Year Holidays until Wednesday.
NZ
Only second-tier data scheduled.
EZ/UK
Global PMIs on Friday
Chart 1: Australia-China trade showing diverging fortunes between iron ore and the rest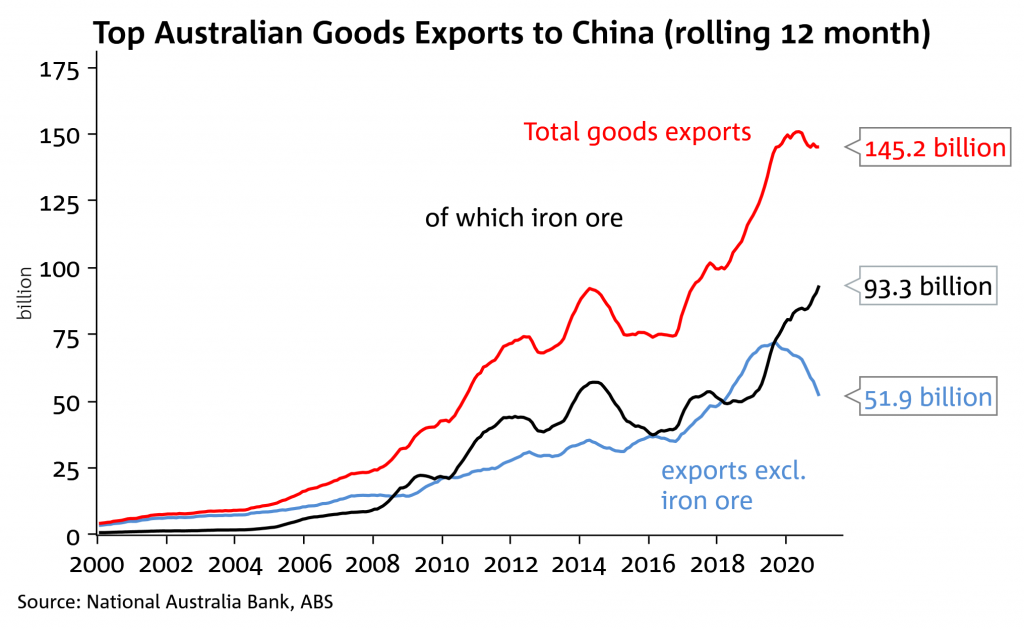 Chart 2: Barley exports show alternative markets are being found for globally traded goods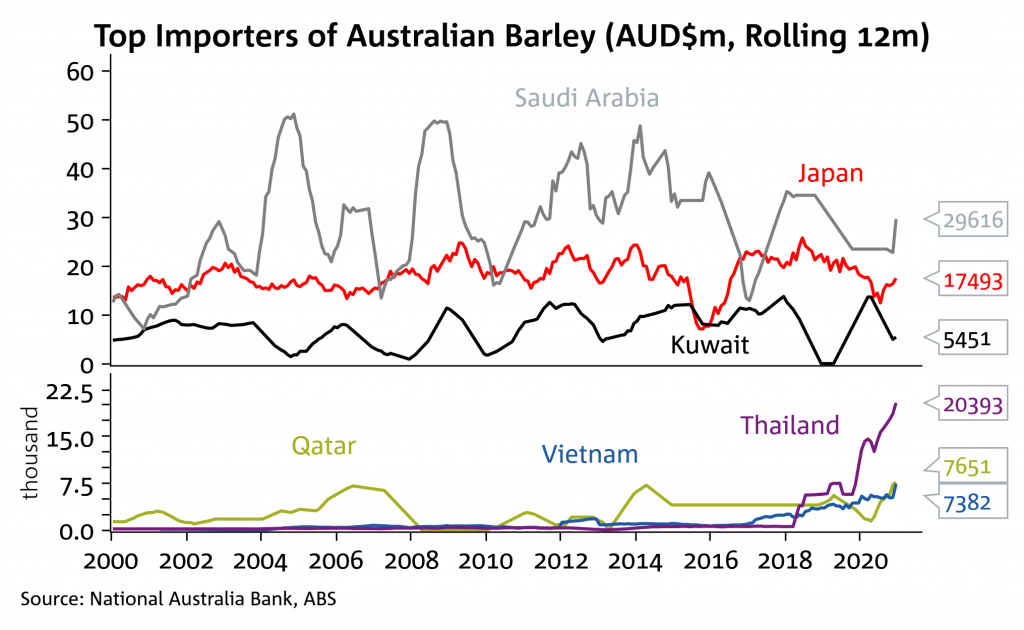 Customers can receive Australian Markets Weekly and other updates directly in their inbox by emailing nab.markets.research@nab.com.au with the name of their NAB relationship manager.