An aussie tale
The name aussieBum says much about the chutzpah behind its founder, Sean Ashby. What it conceals is the solid business sense, love of innovation and dedication to staying Australian-made that have helped push as many boundaries in business as they have in design.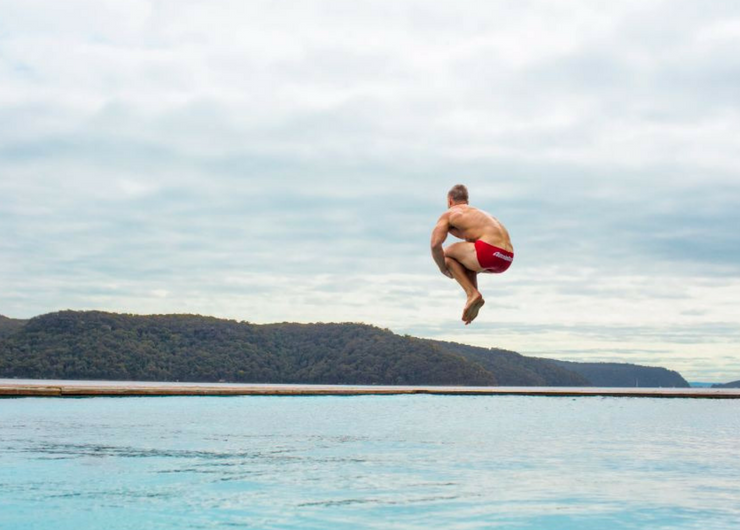 Sitting in his mothership, a renovated warehouse in Sydney's Leichhardt, Sean Ashby explains how starting with savings of just $20,000 and a handful of knockbacks from major department stores meant he had no choice but to go vertical and international – fast.
"aussieBum has always been an export-focused, vertical solution company," says Ashby, describing his men's underwear brand. "From product inception through to manufacture, marketing and sales logistics, we do it all right here."
Holding up one hand, he counts down the production schedule his vertical solution enables: come up with an idea Monday, construct the sample Wednesday, photography and marketing Thursday and the new product is online Friday. "It goes into manufacture over the weekend and by the next Monday we'll have orders for that initial production run."
Ashby compares his turnaround to those of his competitors and grins. "We're nimble and can respond to demand really quickly."
Pushing boundaries

As an Australia-based company competing on a global stage, aussieBum has used innovation and disruption to generate and maintain media "noise", says Ashby. He believes it keeps the brand fresh, relevant and front of mind. It also acts as a benchmark against local and global brands.
"Our personality and the way we market it is unique," he says.
"From launch onwards, we've been using disruptive marketing and technical innovation as our differentiators. It's created a boundary around us that our competitors can't easily enter."
Owning those boundaries means the brand can continue to push them competitively and grow the market. "When we launched in the UK, we knew our campaign was pushing the boundary – it had a huge volume of complaints," admits Ashby.
Seven years on, and the cheeky Aussie brand is still pushing boundaries, such as with its Wonderjock 'pouch enhancing technology' that promises to 'lift and enhance'. Included in various aussieBum ranges, it has boosted both PR and sales.
Going for gold

Not content with ignoring the 'me too' approach in business models, product and marketing, aussieBum has also made a financial success of another great challenge – manufacturing textiles in Australia.
Using a textile mill in Queensland, the company launched vitamin-enriched underwear in 2006 and a banana fibre fabric in 2010. For the past two years, aussieBum and the Queensland mill have been developing another innovation bound to attract attention: the world's most expensive male underwear. A blend of 24-carat gold and elastane-cotton, the line is due for launch in November 2016.
"There will only be," enthuses Ashby, "10 pairs in the world."
Building on courage

Today, aussieBum has grown into a company that's been used as a case
study for ecommerce success in the New South Wales high school curriculum. Not content with giving the world the Wonderjock, vitamin-infused fabric and 24-carat underwear, Ashby invokes the Ancient Greek philosopher Plato to describe the learning curve.
"We started on courage but what followed was wisdom and knowledge," he says. "My naivety allowed me to act without compromise. With more knowledge, you do stop and think a lot more and sometimes that doesn't actually work to your benefit."
Plato, however, doesn't get the last word on routes to commercial success. Ashby and aussieBum are proof of the power in their own disruptive maxim: "If you doubt yourself, wear something else."
This article was first published in Business View magazine (Issue 22).