Australian Markets Weekly – Budget preview: tax cuts, infrastructure & politics
This Weekly is being released early as a preview of next Tuesday's Federal Budget, likely the last before the next election, which is due by 18 May 2019.
Overview
The RBA remained on hold for the 19th consecutive meeting this week. While the RBA expects stronger growth this year and next, it is still expecting only gradual progress in lowering unemployment and thereby raising wages and inflation. As such. The Bank continues to signal no strong case for a near-term rate hike, NAB continues to expect that as the unemployment rate declines further in the next six months, that the RBA will become confident that it can begin to remove some monetary policy accommodation. NAB's forecast calls for the first rise in the cash rate late this year, a forecast contingent on continued improvement in the labour market and signs of rising wages.
In markets, the main move over the past week has been the continued resurgence in the US$, which has seen the $A trade at times below US$0.75, in spite of relatively strong commodity price performance.
This Weekly is being released early as a preview of next Tuesday's Federal Budget, likely the last before the next election, which is due by 18 May 2019. This Budget has been framed against the background of an improving economy, stronger business profitability, but a still somewhat constrained consumer. Our What to Watch publication covering the events for the week ahead will be published later today.
The improvement in the economy, higher commodity prices and restrained government spending have delivered a noticeable near $10bn improvement in the budget in annual running terms since the MYEFO in December. This provides the Government with the option of the Budget to surplus earlier than the current schedule. Recent leaks make clear that this option will not be pursued and the Government will use the windfall to boost economic growth via income tax cuts aimed at low and middle income earners – and in so doing, hopes to rebuild some political capital.
In addition, the Government has also been signalling it will maintain a cap on the tax take as a share of the economy at 23.9% of GDP. The Government's forecasts mean that this cap will necessitate a series of income tax cuts over the next ten years, with some relief likely even for high income earners in the latter part of the decade, once the Budget is back in surplus.
Politically, the Government is setting up a choice for voters between its "lower income and company tax" policy platform and the opposition's "redistributive tax and better budget improvement" platform (with the ALP opposing company tax cuts for companies above $50m per annum turnover and proposing increasing taxes on the wealthy to fund larger tax cuts for low and middle income earners.
One likely criticism of the Government's budget/proposed tax share cap is that without an offsetting plan to lower expenditure as a share of GDP, budget surpluses will remain quite small (indeed the Governments seems to be indicating around 0.5% of GDP surpluses in the medium term). This will mean at best a gradual rebuild of fiscal flexibility and reduction in net government debt.
NAB looks for a 2018-19 Underlying Cash Balance (UCB) deficit of $A13bn (down from $A20.5bn at MYEFO). This follows an estimated 2017-18 deficit of $A17.5bn (around $12bn lower than at budget time last year).  (The 12 months-to run rate for the UCB to March '18 is tracking at -$14bn.)
A wafer-thin UCB deficit for 2019-20 of around $4bn could be achieved, meaning the possibility of surplus being reached a year ahead of the 2020-21 plan, though, in the lead up to the Budget the Treasurer has been signalling still reaching surplus in 2020-21, with the Government preferring to provide tax cuts to support growth (and no doubt its political fortunes)..
Tax cuts: the Government will continue to push to get its remaining company tax cuts passed in the Budget session of Parliament. These could be presented along with personal tax cuts as a more politically appealing tax package for Senate legislative approval. Gradually phased-in personal income tax cuts to start as early as July 1 would be fiscally manageable and likely would provide some useful support to the consumer especially as targeted to low and middle income earners, who are more likely to spend the tax cuts.
Infrastructure:  Higher Commonwealth infrastructure spending will again be a feature of the Budget. Many potential projects have been pre-announced.  Congestion and population growth are important economic issues that resonate with the electorate and impinge on economic performance.
Fiscal policy stance: with the economy growing near potential, a focus of fiscal policy should be on Budget repair and tilting policies to lift Australia's potential growth through infrastructure. One measure of Budget repair to monitor is the Treasury's estimate of its Structural Budget balance.  At MYEFO, the Structural balance was expected to also be in surplus in 2020-21, albeit with no subsequent improvement.
Ratings:  Continuing progress toward a return to surplus in 2020-21, along with an easing back in growth in housing credit and house prices should leave S&P somewhat more relaxed about near-term pressure on Australia's AAA rating.  Indeed, if the Government had let the recent lift flow directly through to a quicker return to surplus (rather than giving much of it back as tax cuts) it's almost certain S&P would have removed the negative outlook on the AAA rating at its next annual review (due May to July).  As it is, we expect the Agency is likely to make positive noises about the fiscal direction but they may want to see these current favourable trends sustained for some time yet before returning to a stable outlook.  Accordingly, we put the odds of a near-term return to a stable outlook at less than 50:50.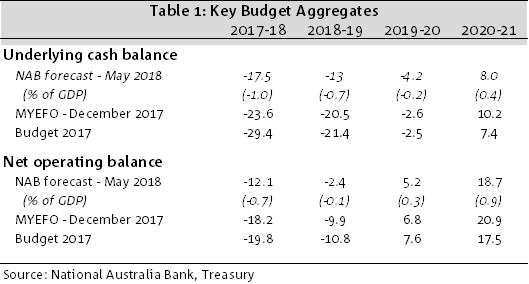 For further details, download the full report: Australian Markets Weekly: 4 May 2018 Budget Preview
For further FX, Interest rate and Commodities information visit nab.com.au/nabfinancialmarkets