Cleaner, cheaper electricity: Australian National Outlook 2019
In a new CSIRO report, Australian energy productivity and low emission technologies offer affordable, reliable energy and create new opportunities and sources of comparative advantage if three key levers are implemented.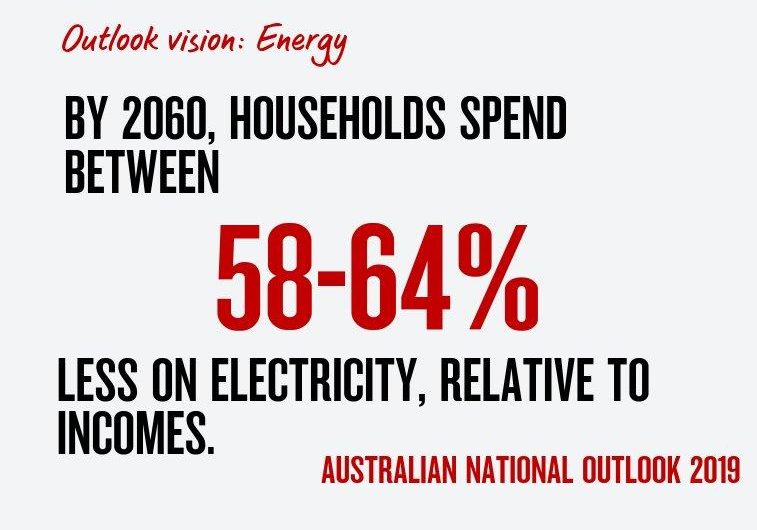 Australia's population is forecast to climb to 41 million people by 2060, yet the nation's energy consumption will be only a fraction higher than it is today.
Additionally, household electricity bills will be as much as 65% lower as a proportion of household income than they currently are.
Renewable energy will play a role but central to the lower cost and consumption will be the more efficient and productive use of power by households and businesses.
It's a vision outlined in the Australian National Outlook 2019 report, which lays out the challenges facing the nation in several key areas and how we should respond.
The report by CSIRO, NAB and 20 other organisations, draws on the latest scientific data and envisages two possible scenarios:
Under the Slow Decline scenario, Australia drifts into the future. Our GDP grows at only 2.1% annually and real wages are just 40% higher in 2060 than they are today. We have continued urban sprawl, consume significantly more energy, and make only modest emissions reductions.
In Outlook Vision, we reach our full potential. The GDP grows at 2.8%, real wages are 90% higher, and we are at zero emissions, with potential for negative emissions.
To achieve the better future, we need to make major shifts in five aspects our society and economy:
Industry
Urban design
Energy
Land use
Culture
Energy shift
In the Outlook Vision, Australian energy productivity and low‑emission technologies offer affordable, reliable energy and create new opportunities and sources of comparative advantage. Additionally, Australia will hit net-zero carbon emissions by 2050 and will achieve negative carbon emissions by 2060.
The report outlines three key levers to achieve the targets:
Low emissions electricity generation
Improved energy productivity
The development of new energy exports.
Transition to low-emissions electricity
Under both the Slow Decline and Outlook Vision scenarios, all electricity will be generated by zero-emissions renewables such as wind and solar.
Continuing reductions in the cost of renewable electricity generation technologies will drive the transition. In fact, global renewable electricity investment is already greater than investment in new generation from coal and gas combined.
In Australia, most of the transition to renewables is expected to occur between 2020 and 2040 as ageing coal-fired power plants are retired and replaced with renewable capacity. Australia's "vast natural resources for renewable energy" – including some of the best wind resources in the world and high levels of solar irradiation – will drive down power costs by 2060.
But the report also sounds a warning: "Without stable policy and the investment that flows from it, investors would require higher rates of return, resulting in a cost of wholesale energy that is higher than all other scenarios in the medium term, alongside a slower reduction in emissions."
Improve energy productivity
In the Outlook Vision scenario, households take advantage of energy efficiency and affordable low-emissions energy to reduce electricity bills and in combination with higher wages this will drive down household electricity costs as a proportion of income by between 58% and 64%.
Australian industry has a similar opportunity and through continuous improvement can become one of the most productive users of energy in the world by adopting the most efficient technologies.
The report envisages two main drivers for more productive power use:
First, Australia can adopt available cost-effective technologies to become more energy efficient in homes and businesses, but we'd need to improve the rate of adoption, in line with global best practices.
Secondly, an important role will be played by electrification – that is, using electricity instead of other power sources. For example, if households take advantage of the low-cost, low-emission electricity by switching from natural gas to low-carbon electricity, electrical space heating could be up to sixfold more energy efficient than gas heating for the same result.
The improvements in energy productivity from energy efficiency and fuel switching mean the economy will be able to produce more than three times the output for each unit of energy compared to today, the report states. "This results in an economy that is less sensitive to changes in energy costs and more competitive than that of other countries."
The report states that although rates of uptake have been slow to date, they could be increased by incentive schemes or different business models.
Importantly, productivity measures greatly help mitigate the risk of energy poverty, where people choose to go without energy for heating, cooling or cooking as a result of financial strain.
But alleviating energy poverty will also require support from governments and industry, because those at risk have fewer options to reduce their energy costs because many energy efficient technologies such as solar panels or double-glazed windows have significant upfront costs.
Develop new energy exports
Global action on climate change will mean a tougher long-term trading world for one of Australia's largest export sectors – raw energy in the form of liquid natural gas (LNG) and coal.
However, Australia is well positioned to develop new energy exports that leverage Australia's natural resource advantage, such as energy in the form of hydrogen or even electricity through direct transmission via high voltage cables.
Hydrogen can become a commercially viable energy carrier from 2030, and cheaper than LNG from 2036, and Australia is well positioned to become a major exporter of hydrogen due to its natural energy resources and its LNG engineering knowledge, the report states.
A recent report commissioned by the Australian Renewable Energy Agency (ARENA) examined the hydrogen export opportunities for Australia, estimating that by 2040 demand could be valued at between $2.6 billion and $13.4 billion, followed by a continued growth projection.
In response to the report, NAB will be announcing significant commitments informed by the report findings.
For a more in-depth analysis of the report findings, download the executive summary or the main report. Or access an overview of the other four shifts required to achieve Outlook Vision
Speak to a banker