July 25, 2023
Credible ESG data and disclosures critical for transition
Credible data and climate-related financial disclosure will play a critical role in transitioning the nation to net zero.

NAB has said credible data and climate-related financial disclosure will play a critical role in transitioning the nation to net zero, as a new global standard-setting body prepares to release its approach to sustainability and climate statements.
The bank's Chief Climate Officer Jacqueline Fox said NAB was an author and user of climate-related disclosures, and had supported the Labor Government's proposed mandatory disclosure regime in industry consultations.
"Comprehensive and comparable disclosure of sustainability information will be key in providing the clarity and transparency required to show progress towards net zero and assist in informed decision making in the process," Ms Fox said.
"It will also be a game changer for financial institutions for a number of reasons, including as we work to make more capital available for new and emerging technologies which currently have complex risk profiles."
Ms Fox's commentary came as ASIC chair Joe Longo said in a speech this week that environmental, social and governance (ESG) issues were driving the biggest changes to financial reporting and disclosure standards in a generation.
"This is a transformational issue for global markets, and we need to be ready to meet that change at every step of its development," Mr Longo told a Committee for Economic Development of Australia (CEDA) conference.
Before the end of June, the International Sustainability Standards Board (ISSB), established under the oversight of the IFRS Foundation in 2021-22, will release highly anticipated standards for general sustainability requirements and climate risk.
Locally, the Australian Institute of Company Directors has consistently supported efforts to "consolidate global reporting frameworks on sustainability and environment issues".
Canberra, as well, has legislated its ambition to achieve carbon neutrality by 2050, and published a consultation paper at the end of last year on mandatory climate risk disclosure requirements, with Treasury also tasked with developing a comprehensive sustainable finance strategy.
New standards – or taxonomies – are expected as part of the strategy, along with further initiatives to reduce greenwashing and strengthen ESG labelling.
Last month, the Federal Budget built on the announcement, allocating more funding to sustainable finance initiatives, including further support for ASIC to ensure the integrity of sustainable finance markets.
"The signal is clear: major, transformational change has begun," Mr Longo said.
"And we all need to be ready."
The ASIC chief said Australia, as an importer of capital, had to meet the demands of international capital markets.
The regulator had therefore encouraged voluntary reporting under the Task Force on Climate-Related Financial Disclosures, which was set up by the Financial Stability Board.
The message was that companies should be well-advanced with implementation of robust corporate governance practices ahead of the ISSB's imminent, more rigorous reporting requirements.
"These ambitious standards will require companies to adopt a more systematic approach to collecting and analysing data across the company itself, and supply chains," Mr Longo said.
"Preparation for that should be starting now."
Treasury, he said, also intended to put out a position paper on the standards, with a scaled introduction expected, depending on the size of the entity.
Again, the signal was clear: "change isn't just coming; it's happening".
ASIC would play its part in the development of a carbon market, recognising the role of such markets in supporting action by the private sector to reduce emissions.
This would include promoting standards of integrity and transparency.
"But … we can't let our preparations for the future mean a drop in compliance with existing legal obligations," Mr Longo said.
"As ASIC has made clear on many occasions, we must maintain high standards of governance and disclosure today, and ASIC will not overlook current misconduct, including greenwashing, because of the continuing developments in ESG.
"This is obviously not negotiable."
Also at the CEDA conference, Origin Energy chief executive Frank Calabria outlined a number of challenges faced by Australia in its drive to net zero by 2050.
First, the nation had to be honest with the community that reliable power supply was not possible "without building new gas peakers".
"We will need more firm, dispatchable capacity to support secure, reliable energy supply under all future scenarios," Mr Calabria said.
"Let me be clear, gas use will decline over time, consistent with our nation's climate objectives, but it remains critical as a feedstock for essential industry such as fertiliser and cement manufacturing, and to support growth in renewables.
More broadly, Australia had to build more renewables faster than it had ever done before.
A consistent and coherent story was needed to bring impacted communities together during a significant infrastructure program, which would inevitably create local opposition.
The phasing out of coal and phasing in of renewables would also require careful management to maintain the system's security and reliability, and an extra 10,000km of transmission lines was needed to just meet 2030 targets.
"Progress has been slow, and this transmission will be crucial for connecting the renewable energy we need to build to the grid," the Origin chief said.
"Gaining approval from landowners is challenging, and while compensation may help, it is a bigger challenge to get community buy-in for this very large infrastructure build.
"The task ahead is herculean and should not be underestimated, nor should the potential for this transition to have an impact on energy affordability.
"I believe the Australian public responds well to good information and that we must bring them along on the journey of decarbonisation, showing tangible progress along the way."
Originally published on NAB News.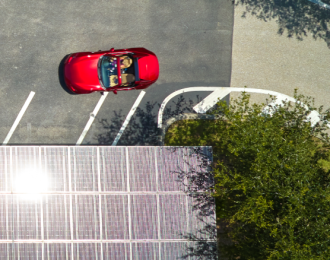 Stay informed with our latest climate transition insights
Read now