June 21, 2022
Dentists pull out stops to help during crisis
This article first appeared in the Australian Financial Review - Mark Eggleton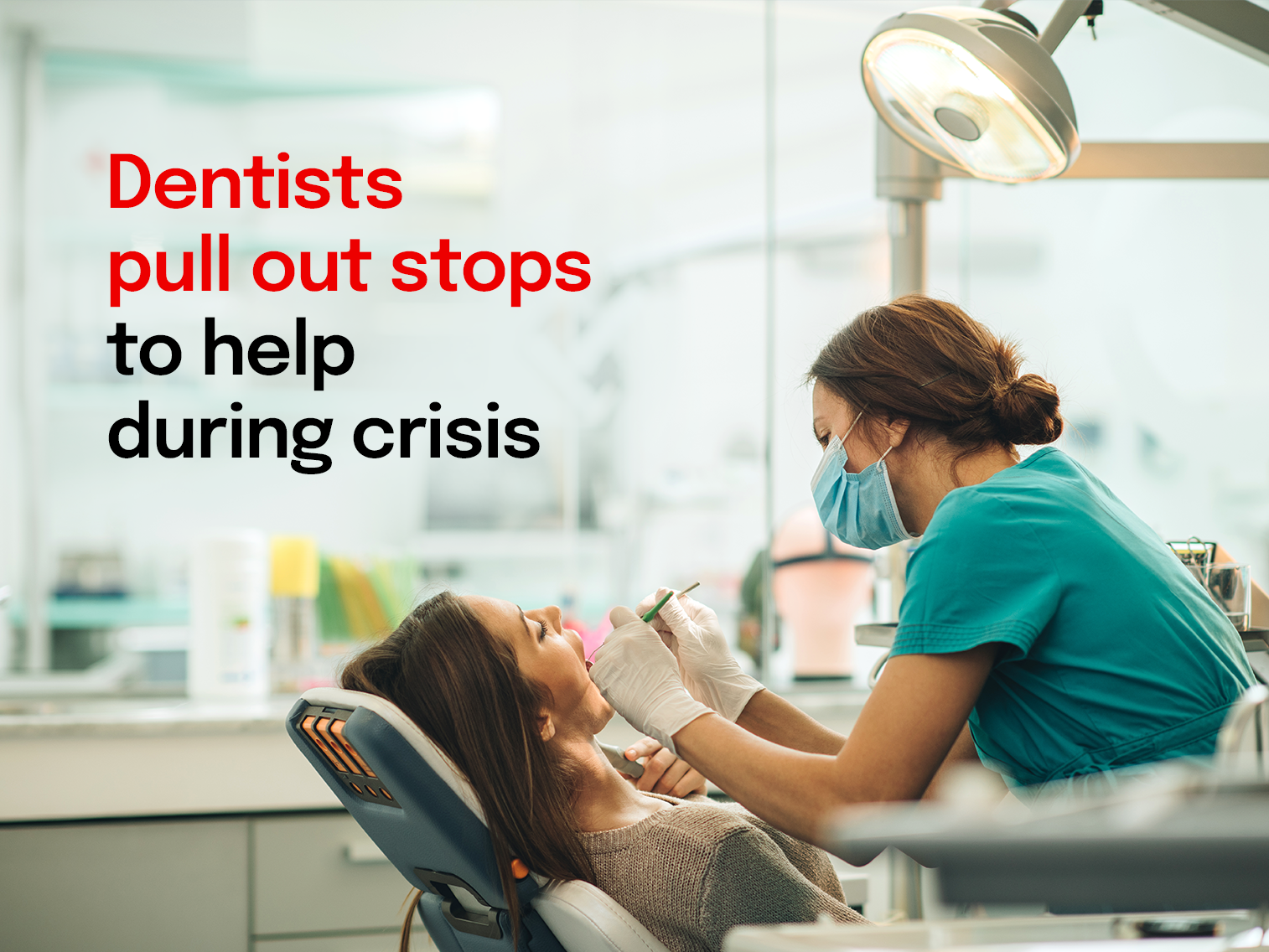 The nation's allied health practitioners really stepped up during the pandemic, especially in rural areas where professionals from physiotherapy, speech pathology and psychologists among others were administering vaccines and even testing for the virus. 
A recent ABC report featuring Australian Medical Association's Council of Rural Doctors chair Dr Marco Giuseppin suggests this wider remit of health services performed by allied health professionals could become the new normal and a potential new model of care as COVID had helped highlight the "importance of the generalist scope" in rural areas. 
It's an interesting development considering the allied health sector was hit relatively hard by the pandemic with many practitioners kept in the dark as to what their responsibilities were and whether they could continue to see patients when the pandemic first hit our shores in early 2020. 
In Australia, the sector comprises around 200,000 allied health professionals representing almost a third of the health workforce and they deliver more than 200 million health services annually, according to industry group Allied Health Professions Australia (AHPA). 
There's no definitive answer as to what professions are included in the sector but a loose definition is they are university-educated health professionals that are not part of the medical, dental or nursing professions. 
While dentistry is not considered part of the allied health sector, many of the nation's dental professionals shared similar experiences during the pandemic. 
The immediate past-president of the Victorian branch of the Australian Dental Association (ADA), Dr Angelo Pacella, says it was difficult in the earliest days of the pandemic as the nation was going into lockdown, the ADA was working with the federal and state governments to keep dentistry open for emergency treatment only. 
The government was contemplating closing dentistry altogether, which would have resulted in significant morbidity for patients with oral and dental problems. 
"The process moving forward was not clear as information from overseas wasn't straight forward," Dr Pacella says. 
Bearing this in mind the ADA developed a roadmap of how its members should approach the pandemic and "we were one of the first professional associations to do so". 
"Even the regulatory bodies were referring to the ADA recommendations as a guide," he says. 

Dr Pacella says there were a number of steps involved in the ADA roadmap and each depended on how widely COVID spread through the community with a focus on "keeping our practitioners safe and their staff safe at the beginning, which in turn protected the families of the practitioners and our patients". 
"Dentists were seen to be at the coalface when we were dealing with the patient, trying to work out exactly how to triage these patients or whether they were close contacts of someone or whether they were infected. 
"It was a challenge at the time because although these things are common today, these were all new terms," Dr Pacella says. 
A key reason the ADA hit the ground running was because there was so much at stake. 
Dental practices are usually very expensive to run with a lot of equipment kept on the premises. In many ways, each practice is a mini operating theatre and if there are multiple dentists on the site, they resemble small hospitals. 
Beyond the equipment there are numerous staff as well, so what most practices were initially forced to do was to pare back staff and get costs under control as less people were able to visit their local clinic. 
Dr Pacella says a key challenge was the fact that dentistry doesn't really lend itself to telehealth because "we're pretty much a surgical team as opposed to a general medicine team where you can just write scripts out". 
"Often with us, you have to physically get in there and fix the problem. Sometimes you can write a script and that'll buy a patient time, but when you've been in lockdown for weeks, sometimes you need to get back in there and do something operatively," Dr Pacella says. 

According to Dr Pacella, the game changer for the industry early in the pandemic was how quickly the federal government acted with the implementation of initiatives such as JobKeeper, which meant staff could be paid while practices were shuttered. 
"And then later, the Victorian state government provided grants that kept practices afloat. If JobKeeper and the grants hadn't been put in place, I think we would have seen a lot of practices close permanently beyond the many practices that did close," Dr Pacella says. 
"Furthermore, it was a different situation in every state and even when we were allowed to become operational again after lockdowns, patients didn't go back quickly. Reason being was there was a general fear and apprehension in the community about going out and potentially catching the virus –  even though practices are very safe places to visit with some of the highest levels of infection control in the land." 
Beyond the reticence of patients to visit their local dentist, Dr Pacella says many practices are now experiencing staff shortages after the pandemic as a lot of dental assistants left the profession. Moreover, cuts to immigration haven't helped and although the government announced federal budget extra funding for vocational training in the federal budget, the labour shortage spreads way beyond dentistry and allied health. 
And while "the pandemic is still at the forefront of most government decisions", Dr Pacella is confident the profession will bounce back very strongly. 
"As the economy returns to normal and unemployment hits new lows that will feed into our profession as patients will have the confidence to come back in. Unfortunately, with dentistry, sometimes it can be looked as discretionary spending but with things looking quite promising, we're starting to see some strong results in terms of practice visitation." 
In regard to support beyond the government, Dr Pacella says the financial sector and banks such as NAB were instrumental in helping all businesses, "whether it be directly or through government guidance". 
"They allowed businesses to buy time and (with many dental practices being small businesses), our members have reported local bank managers have been very helpful and positive." 
NAB Business and Private Banking Customer Executive Health, Andrew Loveridge, says he'd never seen a situation where "you've had the banks, the government and the regulators work together to support a whole sector before". 
"If you think about the importance of healthcare, in particular through COVID, we had to do something and there were a number of initiatives that NAB and the industry presented around deferral of home and business loans, and more recently, expansion loans and recovery loans," Loveridge says. 

"At NAB, we have been very focused on our health business customers during something we have never seen before and we've been supporting these small businesses throughout the pandemic. Some of them have been around for 50 years and will be around for another 50 so we know they're sustainable businesses – albeit caught up in something that was totally out of their control," Loveridge says. 
In Dr Pacella's summation of where we are today he urges all Australians to go back to their dentists and get a check-up and clean as the ADA's research indicates patients with poor oral health, "whether it be infection or whatever else, are at greater risk of developing heart disease, type 2 diabetes and for women who are pregnant, having low-birthweight babies". 
"If you have a niggle, get it sorted out, because that niggle could be nothing or it could be the beginning of something a little bit more prominent," Dr Pacella says.