Enhanced yields from corporate bonds
High net worth and sophisticated investors are increasingly looking to corporate bonds as a way to preserve capital while delivering higher yields than cash or government bonds.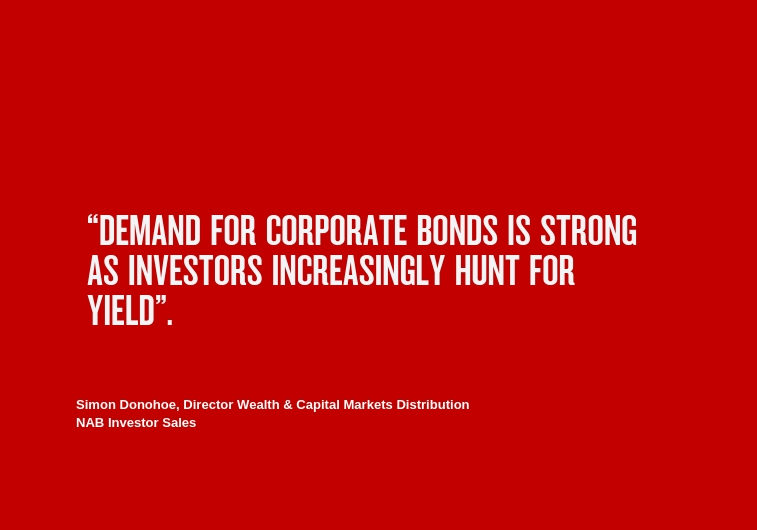 As senior financial advisor at Affinity Wealth, Daniel O'Leary specializes in preserving and growing the wealth of his clients, many of whom are retired or nearing retirement.
When he was approached by NAB with the opportunity to invest in a corporate bond issued by Perth-based developer PEET, several things about the deal struck him as a good fit for his clients.
The fixed rate tranche of the bond offer had an attractive 7.5% coupon, which would deliver a solid, steady income over the five-year term to maturity. At the same time, this was a company that was financially sound and focused on a relatively low risk sector of the property market – affordable housing – and the bond was secured by underlying land.
"While higher risk than cash and not a direct replacement, we are comfortable with the risks of select bonds and the role they play in a well-diversified portfolio," O'Leary says. "The PEET bond offered an excellent level of income for clients, above the pre-franking levels of many dividend paying stocks and without the underlying equity risk of owning the stock.  While the Peet bonds weren't without risk, the bond structure offered an extra level of comfort by providing some further capital protection."
Income and stability
The PEET bond is one of several corporate bonds that Affinity Wealth has invested in on behalf of its clients, who generally have portfolios ranging anywhere from $800,000 to $40 million.
"For clients with a self-managed super fund or a family trust, or clients who are retired and living off their income, corporate bonds provide a good level of income in their portfolio and generally, stability because you aren't sharing in equity upside or downside," he says.
O'Leary says income combined with stability is especially sought after by investors in the current environment of heightened equity market volatility and low cash rates.
"Corporate bonds we look at generally provide income between 5% and 8% and are probably averaging 7% at the moment. Many first time issuers will pay a higher overall coupon on their first issue, which may reduce on a subsequent issues as the company's underlying fundamentals improve and the market sees there were no problems with the first issue," he says. "By contrast, if the fixed interest allocation of client portfolios was all sitting in cash, we would be lucky to achieve a cash return of 1-1.5% depending on what underlying investment platform or bank accounts we were using."
Corporate bonds have a fixed interest rate or a floating rate pegged to benchmark interest rates, and are paid back in full on maturity. Interest payments are backed by the company's cash flow and in some cases, as in the PEET example, the company's assets. They're generally less risky than shares issued by the same company because if the company fails and can't pay all its debts, bond holders generally rank higher than shareholders and must be repaid first.
A role in growth
Corporate bonds aren't just for retirees or those transitioning to retirement, O'Leary says. Many of Affinity's growth and accumulation phase clients also have corporate bonds in their portfolio.
"We at times also use bonds if we're taking a view on markets and we don't want a huge exposure to equity markets or risk assets, especially at the moment with low cash rates. We can sell the bonds when we think equity markets are cheap and reinvest that money back into equities, and we're getting income along the way," O'Leary says.
Generally, around a third of the capital in the portfolios of Affinity's clients is allocated to fixed income, with another third allocated to equities and the final third allocated to property and infrastructure – though that varies somewhat according to Affinity's macro view on the markets.
"Corporate bonds have been very good investments for us. People probably think of bonds and think low paying government bonds, and they don't realise there's a whole corporate market out there, good earning businesses, that, because they're higher risk than government, they're going to have to pay a higher coupon," O'Leary says.
Levelling the playing field
The Australian corporate bond market has grown by more than 40% since 2010 and there are now more than $1 trillion of corporate bonds outstanding in Australia. That's more than two thirds the size of the listed share market. However only 16% of high net worth individuals in Australia directly own corporate bonds, according to a survey by Deloitte Access Economics¹.
The report found that for many investors, it's a lack of awareness of the benefits of corporate bonds that forms a barrier to entry. Of those who have accessed the market, 86% of investors have had a positive experience and 37% intend to invest more in the next 12 months.
Simon Donohoe, Director Wealth & Capital Markets Distribution NAB Investor Sales, says demand for corporate bonds is strong as investors increasingly hunt for yield but the market remains dominated by institutional investors who have traditionally found it easier to gain access – partly because of the large minimum capital outlay required to buy into any given deal.
Investment in fixed income by self-managed superannuation funds is particularly low. Debt securities represent around 1.5% of their total portfolio on average², whereas commercial superannuation funds have on average around 21% of their portfolios invested in fixed interest investments.³
That's something NAB is working to change, says Donohoe: "A key driver for NAB is to bring institutional grade investment to the non-institutional market, creating an access point to allow them to build out this part of their portfolio."
Innovation creates opportunity
As Australia's biggest business bank, NAB has relationships with thousands of companies as a lender. As these businesses grow, many seek to go beyond bank funding and to tap the bond market in order to diversify their sources of capital. NAB frequently arranges bond issuance for these customers as well as arranging issues for other companies who don't bank with NAB.
While institutional investors are major buyers of these bonds, Donohoe heads a team at NAB working specifically to distribute those deals to non-institutional third parties such as financial advisors, family offices and family trusts.
Affinity invests via a Managed Discretionary Accounts (MDA) platform, which allows it to buy wholesale bonds and split them up across client portfolios, meaning clients with smaller account sizes can still access the market.
However, for those who don't have access to an MDA platform, NAB is also providing innovative ways of accessing the market. Through the NAB Access Bond Service, professional and sophisticated investors can access corporate bonds with a minimum of just $50,000 – not the usual $500,000.
Another way NAB is helping to broaden access to the market is through the structure of issues. The PEET bond was structured as a simple corporate bond, which makes it easier for retail investors to participate. PEET was only the second issuer to issue under this regime, which was introduced in 2014.
Listed on the Australian Securities Exchange (ASX), simple corporate bonds are limited to a maximum face value of $1,000, and have a simpler structure than the over-the-counter bonds that are available to wholesale investors – making them easier to understand and easier for investors to access with smaller amounts of capital.
Due diligence is key
Affinity prefers to invest in high yielding bonds, which are often issued by smaller companies and first time issuers, and O'Leary says it's important to understand the company's fundamental financial situation, such as their existing debt levels and ability to make interest payments.
"NAB is our main source of the higher yielding corporate bonds – they can bring a business client through as a first time issuer. It's always a comfort for us that NAB knows the business quite well. It makes it a lot easier to look at a deal from NAB compared to a third party that doesn't know the full metrics," he says.
Affinity also undertakes its own comprehensive appraisal of the business, and often meets with the issuer's senior management and conducts onsite visits where relevant.  Before investing in a bond issue by data centre operator NEXTDC last year, in another deal arranged by NAB, O'Leary and his team visited the firm's data centres, to inspect first-hand the quality of the assets.
For the PEET deal, Affinity attended the investor roadshow arranged by NAB as well as face-to-face meetings with PEET management, also arranged by the bank.
While Affinity doesn't buy corporate bonds for capital gains, O'Leary says there have been opportunities to boost its total return on a bond by reselling it above its purchase price – and this was the case with PEET.
"When corporate bonds are getting close to maturity, a lot of institutions will buy them and treat them as a pseudo term deposit. We traded the PEET bonds because the margins compressed, with the security trading above par, or in other words above its issue price. At the same time we also found other opportunities to invest in," he says. "Our total return was up around 9-10%, with the capital plus the income. That's an excellent return, with less risk and volatility than holding equities.  We only advise our clients that over the long term, we look to generate a return in the order of 7-8% per annum. So that's beating that hurdle – we're pretty happy with that."
Speak to a specialist
¹ https://www2.deloitte.com/au/en/pages/economics/articles/corporate-bond-market.html
² https://www.ato.gov.au/About-ATO/Research-and-statistics/In-detail/Super-statistics/SMSF/Self-managed-super-fund-quarterly-statistical-report—September-2018/#Assetallocation
³ https://www.superannuation.asn.au/ArticleDocuments/269/SuperStats-Jan2019.pdf.aspx?Embed=Y
More from NAB