Frustration with police checks inspires start-up success
In an increasingly risk-averse and security-conscious world, Martin Lazarevic had an idea – to revolutionise the police check process. He now heads a $14m business recording stunning annual growth.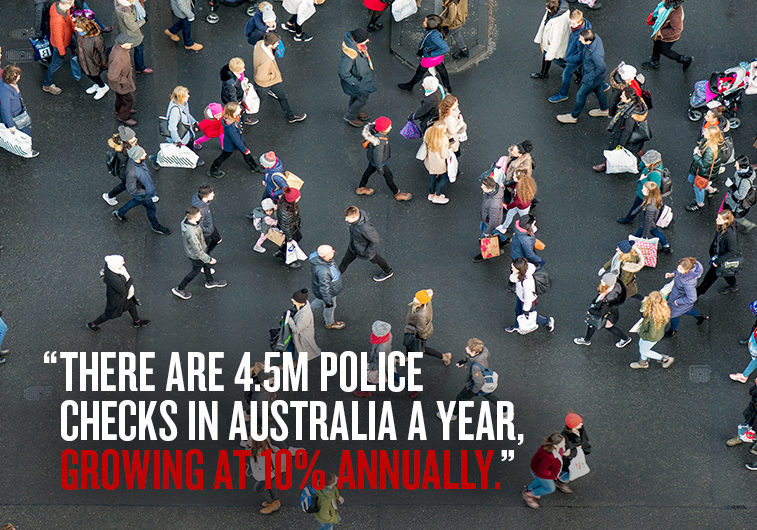 Working on his business plan for a new start-up – a police check platform with a difference – Martin Lazarevic projected he needed to perform about 2,000 checks a month to make it viable.
Eight years later, his booming business National Crime Check (NCC) is processing 36,000 police checks monthly. It's had revenue growth of more than 173 per cent over the past three years, with turnover last year of $11.27 million and projected turnover for the 2017/18 financial year to be north of $14 million.
"I remember sitting in my study doing some forecasting and saying if we processed 2,000 [a month] this could be a bit of an earner," Lazarevic says. "These days… every year we smash our forecasts."
The Adelaide-based company started back in 2009 is riding a wave of growing demand for criminal history checks for individuals and businesses as rising numbers of organisations make it part of their recruitment process. Growth in industries like health and aged care, which have long mandated police checks for employees, continues to fuel the need for checks, as does the rise of gig economy businesses.
NCC spearheaded a revolution in the sector, offering checks that were ultimately easier and more convenient than traditional methods by developing online processes allowing a turnaround of about two days rather than weeks.
Inspiration
Lazarevic's idea for NCC was born from frustration. Working in the labour hire and recruitment sector, first running his own company and then with the large Melbourne-based company that acquired his business, he experienced first-hand the clunky checking process.
"We used the traditional police services," he says. "The process involved applicants completing an application form, us photocopying their ID, faxing it to the police, posting a cheque and then waiting three to five weeks before we could place the person into employment.
"It created a bottleneck and also disengagement issues with the predominantly casual workforce we were dealing with, but at the time we thought this was the only option."
Charged with investigating ways to improve the company's HR processes, Lazarevic found a better way. He discovered it was possible for private operators to conduct criminal checks under accreditation from the Australian Criminal Intelligence Commission (ACIC, formerly CrimTrac).
His tenure at the company over, Lazarevic returned to Adelaide with his family, researched the idea further and realised the opportunity. He began the eight-month accreditation process with the ACIC and engaged local applications development company Karmabunny to build the systems. NCC was born – with Lazarevic's former employer as his first client.
"And they're still a client today," he says.
From cumbersome to quick
Since launch, the business has continued to innovate, taking the lodgement process entirely online with the introduction of facial recognition in 2014.
Lazarevic says the key to NCC's continued success is a dogged focus on providing a high level of customer service to help its clients deal with what is regarded as a "burden" but becoming widely required.
"It's an administrative burden that we set out to make quick, easy and straightforward," he says. "That's the mantra I've had since the start and want every experience to incorporate. All our processes, from our customer support to our systems to our email support, are geared to that."
Playing a role in the customer experience, NAB has provided NCC's e-commerce solution from launch. "Our [NAB] relationship managers have been great, pointing us in the right direction and helping us facilitate it," Lazarevic says. "Our business relies on stability because we're transacting online – and NAB has provided that stability."
The perception hurdle
Lazarevic says the biggest challenge for the business today is the same as it was at launch – convincing customers the business is legitimate. However, with the increasing number of large organisations incorporating the NCC platform into their HR processes, that's changing.
"Police checks were always the responsibility of the police station… and people still thought they needed to go to a police station," he explains. "There's been a constant need for us to build that awareness and trust. We've invested in marketing but also worked to build trust through our service and the way we communicate with our customers. The increasing number of bigger clients coming on board is building that as well."
Trusted industry leader
Lazarevic's plans for the future include expansion into international markets. But he says the Australian market continues to grow strongly – NCC broke lodgment records in January, again in February, then again in March. That was NCC's best month to date, with Lazarevic saying the strongest growth came from "the big end of town".
"We've seen a trajectory away from smaller clients to the 500- to 1000-plus checks per annum clients," he says. "We've made that journey from start-up to being a leading player that's trusted and respected.
"There are 4.5 million police checks in Australia every year, growing at 10 per cent annually – it's a large market."
Continuous improvement remains a focus. "We're in a good position to just keep doing what we're doing but that's not us," Lazarevic says.
"We're always innovating, finding ways to do things better for clients, building more valuable solutions."