June 15, 2018
Man of mettle: how Peter Doonan built a big business in the back shed
Sweat, smarts and steely resolve have seen Peter Doonan transform his Sunday backyard business into a thriving supplier of steelware to the rural market.
Hard graft and hands-on experience with his own cattle have helped former boilermaker Peter Doonan turn a backyard fabrication business into one of the Top End's most successful suppliers of steel-based products to the agribusiness sector.
Founded in 2004 in the north Queensland town of Charters Towers, the eponymous Steel Supplies Charters Towers (SSCT) employs a staff of 18 who manufacture sheds of all sizes. In addition, SSCT manufactures galvanised pipes, gates and livestock handling equipment, including races, hay feeders and cattle grids.
Surging demand over the past 18 months from graziers and rural enterprises as far afield as Halls Creek in Western Australia has pushed the company's annual turnover to $15 million.
While most customers buy direct, SSCT also distributes its wares via a network of 18 resellers across north Queensland and the Northern Territory. The firm has built strong relationships with a clutch of transport companies which deliver its wares Australia-wide.
Ethical cattle handling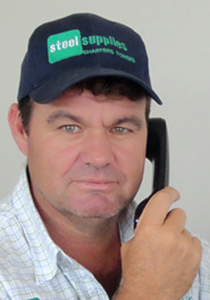 Running his own herd of Brahmans piqued Doonan's interest in the business of cattle handling.
Over the past decade, he's designed a range of equipment, including loading ramps, races, drafts and dips, which encourages ethical livestock management. Drawing on his years of hands-on experience, his designs help reduce the stress on animals while delivering great outcomes for farmers.
"We focus on low stress handling – things like safety, efficiency and no bruising of the animals," Doonan says. "We try to create products and facilities that are easy to use and assist the natural movement of cattle. It's all about improved management and happier animals."
Built to order and made to last
Doonan's reputation for creating premium bespoke items was the impetus for establishing SSCT and custom orders were a speciality of the house from the get-go. Raised in the small Queensland township of Drillham, Doonan did a spell in the Roma meatworks after leaving school then worked as a boilermaker, salesman and manager for a fabrication firm before striking out on his own.
"I was 33 at the time and I had the goal that by the time I was 38 I didn't want to work for anyone again," he says.
"A good mate and I owned some cattle and we used to weld together on weekends, making special orders for people. He encouraged me to make something more of it and that's how SSCT got going. It was a backyard business that quickly grew into something more."
Doing the hard yards
Started on a shoestring and self-funded for the first four years, SSCT was never short of sweat equity, thanks to a work ethic which saw Doonan put in 15-hour days.
"How do you do it? Really simple," he says. "You start with $100,000 and keep a close eye on your money! You don't go and put on a ridiculous amount of staff. The money we made, I put back into the business for the first few years. I took no wages for two years; I lived on equity from my house."
It meant foregoing quite a few social occasions. "While everyone else was having a beer on a Friday night I was hitting the shed, sniffing welding fumes. While everyone else was at the races or watching footy on a Sunday, I was in the shed welding."
What's more, at 5am, when everyone else was sleeping, Doonan was entering accounts in the system or paying bills.
Seeing his parents struggle throughout his childhood helped him keep hammering away. "My dad was a timber cutter and when it rained you had no money because you couldn't work," Doonan says. "I remember Mum and Dad being hard up and as a kid that was pretty embarrassing so there's always been the drive to get somewhere better."
Partnering with NAB
A long-time NAB customer, SSCT set up a funding facility with the bank in 2008 to manage cash flow when large orders came in.
While the company's average spend is $7,000, major customers regularly drop in excess of $150,000 at a time and juggling payment terms can be a tricky affair.
"For us it works very simply," Doonan says. "If we sell $100,000 worth of steel and all the customer's details are on the docket, NAB's funding facility will finance 80 per cent of that invoice within 24 hours."
It's given him a safety net, where he can pay his bills on time without waiting for the money to come in from customers. "Having the facility has meant we can grow the business without worrying about the possibility of a cash-flow crunch."
Passion and persistence
So what's Doonan's formula for turning a backyard business into a multi-million dollar metalware merchant?
Besides hard yakka and an unwavering dedication to the on-time delivery of top quality products, you need passion, prudence and people skills, he says.
"If you haven't got the ability to work with anyone, you shouldn't go into business. Being straight with people – staff and customers – is important. If there's a problem, you've got to be confident, firm and fair and aim for a good outcome."
But that's not all. "You have to focus on your cents for the dollars to work," Doonan says. "You can't let the small money things slide by while you focus on the big money things."