Markets Today: Add the US debt ceiling to the list of concerns
Week ends quietly after Evergrande/FOMC related volatility earlier in the week
Todays podcast
Overview North South
Week ends quietly after Evergrande/FOMC related volatility earlier in the week
Evergrande contagion so far confined to southern hemisphere; northern hemisphere stocks outperform
Bond yields end week higher, more hawkish central bank speak/actions dominating
USD end week firmer but only marginally so, AUD net little changed
German elections too close to call – SPD has nose ahead of CDU in exit polls/counting so far
US fiscal policy developments to usurp Fed policy as key global event risk this week; watching China PMIs
It's gonna be a burn out, All around this town, The
South

North is up, But the

North

South is down – The Clash
Friday data:
IFO Sep German Business Confidence 98.8 from 99.6 and 99.0 expected
IFO Sep German Current assessment 100.4 from 101.4 and 101.8 expected
IFO Sep German Expectations 97.3 from 97.8 and 96.5 expected
US August New Home Sales +1.5% to 740K from an upward revised 729K in July, above the consensus 715K
The FOMC meeting and travails of Chinese property developers Evergrande hogged all the headlines last week. The net effect was outperformance (and net small scale gains) for major northern hemisphere stock markets, while all major APAC bourses lower. The Hang Seng, on which Evergrande and other Chinese property developers are listed, was by far the biggest loser. The USD ended Friday – and the week – slightly higher and the AUD virtually unchanged on the week, after giving back a good chunk of Thursday's gains on Friday. US and other benchmark bond yields were all higher on the week – Australia more so than elsewhere – while the US yields curve exhibited both strong flattening and steepening tendencies between the FOMC decisions being handed down on Wednesday afternoon US time and Friday's New York close – curves ending the week little changed overall.
Equities Friday & Weekly

Looking across stock market globally, of some note is that all major European and US stock indices ended higher (or at worse flat in the case of the NASDAQ) while all Southern Hemisphere stock market were lower (but with a hat tip to the NZX50, which finished the week +0.2% and was the exception). Arguably this does reflect some contagion from the travails of Evergrande – who by all accounts did not meet its coupon payment obligations on a dollar bond by close of busines of Thursday, but who cannot be declared in default on the bond until 30 days from the date of the missed payment.
Evergrande and broader Chinese property sector worries showed up in iron ore prices hitting a low of $90 on the Singapore futures exchange on Monday, before ending the week at $116.50, while Japanese stocks have reversed some of the recent strong outperformance – earlier driven by hopes for stronger fiscal support for the economy into and out of the upcoming elections.  Japanese firms with exposures to Chinese property sector all suffered last week (paint, toilet and air conditioner makers most notably). Hang Seng aside (-2.9%) the ASX 200 and Nikkei were the worse two performing stock market globally last week, both down by 0.8%.
Benchmark Bonds Friday & Weekly 

Bond markets enjoyed a proverbial roller-coaster ride last week, with significant curve flattening in the immediate aftermath of the FOMC (e.g. the 5s30s curve down to around 95bp from above 100bps) most of which was reversed on Friday to leave US curves little changed overall but yields smartly higher in outright terms (e.g. 2s up 5bps and 5s through 30s all up by 8-9bps). No doubt the relatively hawkish utterances out of the Fed have been a major driver, while at the global level the likes of the Norges Bank, being first cab off the G10 rank with a rate rise and promise of another by year end, and another twist to the lately more hawkish Bank of England tale, both contributing. While the RBA continues to buck the trend of other central banks in its signalling,10 year Aussie bonds fared amongst the worst in G10 last week, 10s up 10bps against 8-9bps for Gilts and Treasuries and 6bps for Bunds.
Fed Chair Powell didn't make any market moving remarks in the town Hall he hosted on Friday, while Cleveland Federal Reserve Bank President Loretta Mester and Kansas City Fed President Esther George both said that the economy had made "substantial further progress" toward the Fed's maximum employment and 2% inflation goal. "I support starting to dial back our purchases in November and concluding them over the first half of next year," Mester said during an event organized by the Ohio Bankers League, while George told the American Enterprise Institute, "The rationale for continuing to add to our asset holdings each month has waned". Mester also admitted hers is one of the 2022 rate hike dots.
FX Friday & Weekly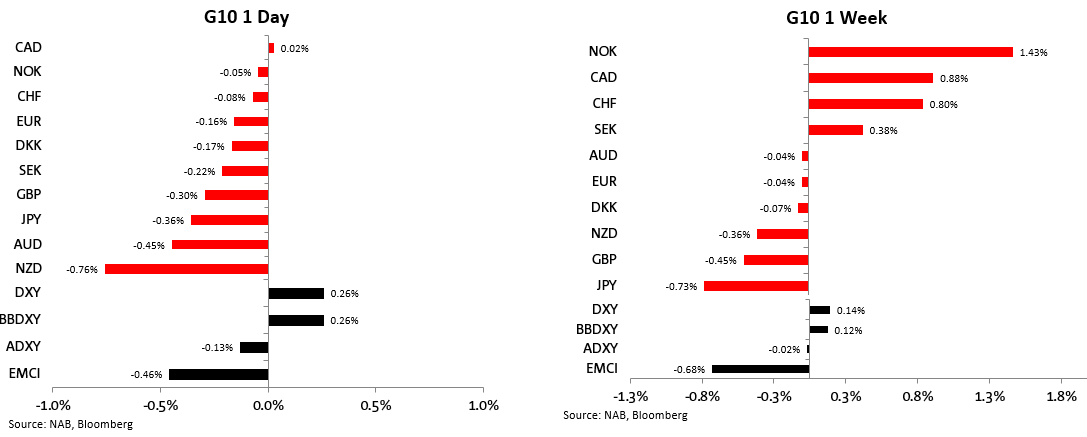 The PBoC response to Evergrande and fears of financial sector contagion (read credit crunch) has been to make generous liquidity provisions to banks, with a further net addition of CNY50bn announced on Sunday, following a net Y70bn addition on Friday and closer to Y100bn at mid-week. The Yuan has so far been notably unaffected, still trading comfortably inside a 6.40-6.50 range, consistent with our view that the authorities have no interest in a weaker Yuan at this point (and also suggesting we are not seeing large scale capital outflows sufficient to counter ongoing strong inflows from current account surpluses).
In G10 currencies, Friday saw the USD regain some of its mojo lost after the FOMC meeting and which had seen AUD lift to as high as 0.7315 on Friday morning. The DXY and BBDXY indices both ending Friday about 0.25% stronger and on the week just over 0.1% firmer. AUD (-0.5%) and NZD (-0.75%) were the worst performing major currencies Friday but on the week AUD/USD is little changed and NZD/USD off a lesser 0.4%. USD/JPY was the largest G10 mover on the week thanks to the lift in US Treasury yields, while GBP continues to give back outperformance won early in the year.
GBP weakness, in the face of an unexpectedly hawkish Bank of England last week – is in the context of ongoing chronic supply chain issues in the UK, with something like half of UK petrol stations having 'no fuel at the inn' and long queues outside those that do have supplies. The UK government at the weekend announced that up to 4,000 people will be trained up as HGV drivers and short-term visas will be offered for foreign hauliers, as part of a package of measures aimed at helping tackle the driver shortage. How much of a dent this can make on the estimated 100,000 shortfall remains to be seen; we suspect not a lot.
Finally, in commodities and despite the travails of Evergrande that saw iron ore in particular under strong additional downward pressure at the start of the week, everything we track, bar lead, had an up-week while gold was flat. Iron ore ends the week some 9% stronger than when it began, crude up 2.8-3.7% and base metals ex-lead all higher with the LMEX index +0.9%. Hardly consistent with the Chinese property sector collapsing in a heap.
Commodities Friday & Weekly 

Coming Up
We suspect  US fiscal policy matters – including the need for Congress to pass a stop-gap funding measure no later than Thursday to prevent a government shutdown – will be stealing the limelight from the Evergrande saga this week. The Outcome of Sunday's German federal elections are an initial point of focus at the start of the week, currently too close to call but likely requiring at least three parties to form a working Coalition government.  What will that mean for, amongst other things, fiscal policy in the post-pandemic era (e.g. will the 'schwartze null' or 'black zero' balanced budget policy survive?
There is nothing on the local/APAC calendar on Monday and offshore this evening just US durable goods orders (where the core non-defense ex-aircraft' series is expected +0.4%).  The Fed's Brainard and Evans (both doves) are due to speak.
In Australia, 'Freedom Day' is getting closer, rendering most second tier data to the rear vision mirror. NABs latest analysis is 70% adult vaccination in NSW could be reached by October 5 with the NSW government briefing business that October 11 will be Freedom Day (NSW first doses exceeded 85% on Saturday) with  running at 84.1%, while full vaccination is currently 59.25% of the eligible population fully vaccinated Victoria should reach the 70% hurdle around October 20 – 47% as of Saturday, with some Freedoms announced at the weekend starting on Wednesday(e.g. travel up to 15km from home). As for data we have Retail Sales on Tuesday, Building Approvals and Credit Statistics on Thursday, and Housing Finance on Friday.
China focus will for now move on from Evergrande, after reports late Friday that bond holder due coupon payments on Thursday had not been paid, but where any formal default will not be for a further 30 days.  Sporadic Delta outbreaks are continuing in China 31 new cases today, posing a problem for the economy. The PMIs on Thursday may give some flavour for these themes with non-manufacturing already in contractionary territory at 47.5 and manufacturing is on the cusp on 50.1. Note National Day/Golden Week Holidays are from Friday October 1.
Beyond today, US Fed speak continues to come in spades with no less than another 13 Fed speakers. Powell speaks to Congress on Tuesday with Treasury Secretary Yellen; both will be tub-thumping with respect to the imperative of a timely lift to the debt ceiling with government cash expected to run out sometime in the second half of October or latest early November. Post today's durable goods orders, the Personal Income, Consumption and PCE deflators are a highlight, on Friday. Also on Friday is the ISM Manufacturing (expected to be steady at 59.7). The consumer confidence reports will also be important with the Conference Board measure on Tuesday and a final version of the University of Michigan on Friday.
In the Eurozone the ECB's central banking forum which is usually held in Sintra is online again this year on Tuesday and Wednesday. This year's topic is "beyond the pandemic: the future of monetary policy ". The event also draws in a number of speakers from other central banks including the Fed's Powell, BoE's Bailey and the BoJ's Kuroda who are all speaking on a panel on Wednesday. The differing outlooks for the BoE and the Fed – signalling rate hikes, against the ECB and BoJ will be a highlight. Data wise it is a very quiet week with only flash CPIs on Thursday. Monday focus on the German Election result.
Market Prices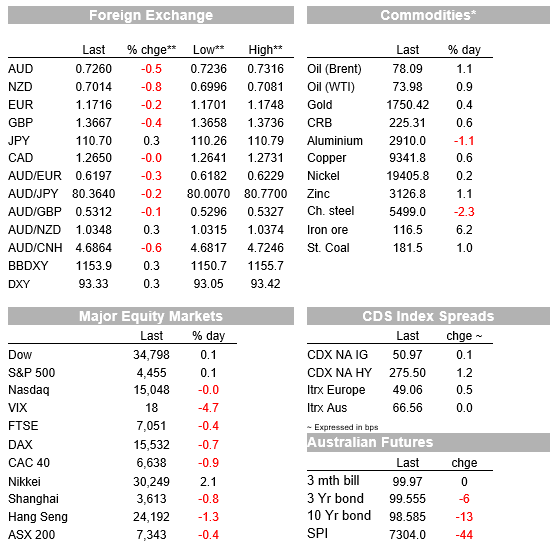 For further FX, Interest rate and Commodities information visit nab.com.au/nabfinancialmarkets