Markets Today: 28 March 2018
Early in the session it looked like share trading in the US was going to build on the upward momentum of yesterday, but then a sudden shift in sentiment.
Today's Podcast
Phil Dobbie asks NAB's David de Garis, why the sudden change in mood?
Carryover positive risk sentiment spills over to European stocks
US equities open higher but reverse course
US protection of its tech sector to blame reinfecting risk sentiment
US bonds rally; AUD/USD back below 0.77 as risk-off mood reasserts
It was a night of two halves. European stocks benefited from the perceived easing in trade tensions (the recent Mnuchin "we're sitting at the table and negotiating" comments) that sparked the over 600 point rally in the Dow for the previous session.  The Eurostoxx 600 index rose 1.2%, the DAX up 1.56% and the FTSE up 1.62%.  LME base metals also saw rises for most metals, the LMEX index up 0.39%.  Interestingly, Dalian iron ore futures eased further yesterday, although Chinese steel rebar rose.  Oil prices eased overnight, while gold did too! It was a night of very little hard data with the release of the Eurozone confidence surveys for March that usually have little to no market impact and the Conference Board's Consumer Confidence, both surveys for March, and both a little weaker than expected.
Initially, the carryover risk-on mood was given some further kick along with US Commerce Secretary Wilbur Ross appearing on Fox News offering some comments that were soothing in effect to the market's ears, Ross saying that "we're ending up with negotiated deals, not trade wars".  But then there was a wire story that the US was looking to protect US tech sectors with curbs on China, the US said to be considering the use of an emergency law.  This plays very much to the recent Trump Administration blocking of Broadcomm's takeover of Qualcomm, so in that sense it's not new news, but it's been enough for investors to become defensive again.  Further expulsion of Russian diplomats – this time from NATO – has also been announced. The Russian rouble is down by 0.63% overnight, among the larger falls against the US, though we note that oil prices were also lower, WTI down 1.25% and Brent by 0.71%.
The Nasdaq has led the charge lower, sharply reversing its positive open and down by 2.93%.  The negative sentiment gripped the wider market, the Dow and the S&P 500 off by 1.43% and 1.73% respectively.  Bond yields are notably lower for longer tenors, the VIX back up and the AUD/USD taking the brunt as far as the FX majors are concerned, trading back down below 0.77 a few pips within sight of this year's low.
The data had an inconsequential effect on markets, though the pull-back in the Eurozone overall Business Climate Indicator, and in Industrial and Services Confidence components does play to the growth momentum pullback in the preliminary Eurozone PMIs last week.  After the UoM Consumer Sentiment reading for March had surprised with yet another stellar reading last week, last night's Conference Board's Consumer Confidence measure eased back, though high.  In fact it's still very high with the net Jobs Plentiful index increasing further signifying even better consumer perceptions of still rising job opportunities.
Finally, Atlanta Fed President Raphael Bostic was speaking in an interview with the WSJ said that the Fed could soon face rising chances the economy grows faster than forecast and leads to a slightly faster pace of rate rises. He cited the uncertainty over how the economy would respond next year to tax cuts and increased government spending that could complicate monetary policy.  He said that "the risks are more to the upside now", though he doesn't see imminent inflation or overheating.  He drew attention to the uncertainty of what the impact of fiscal policy will be, whether it simply boosts demand and thus inflation as opposed to lifting the economy's productive capacity, that lift helping to contain inflation.  "The range of possibilities has broadened, at least in my mind. It could be that 2019 is going to be where more of the action is."
Coming Up
NZ ANZ Business Survey, Mar (L: -19 for Business Confidence).  In February it had continued to clamber up from the abyss it went into in November, post word of the new government. Even so, it was still clearly negative in confidence and a little below-par regarding activity expectations. Can it get a firmer grip in March?
Tonight: US Goods trade balance, February (more grist for the political mill?); US GDP, Q4 possible revision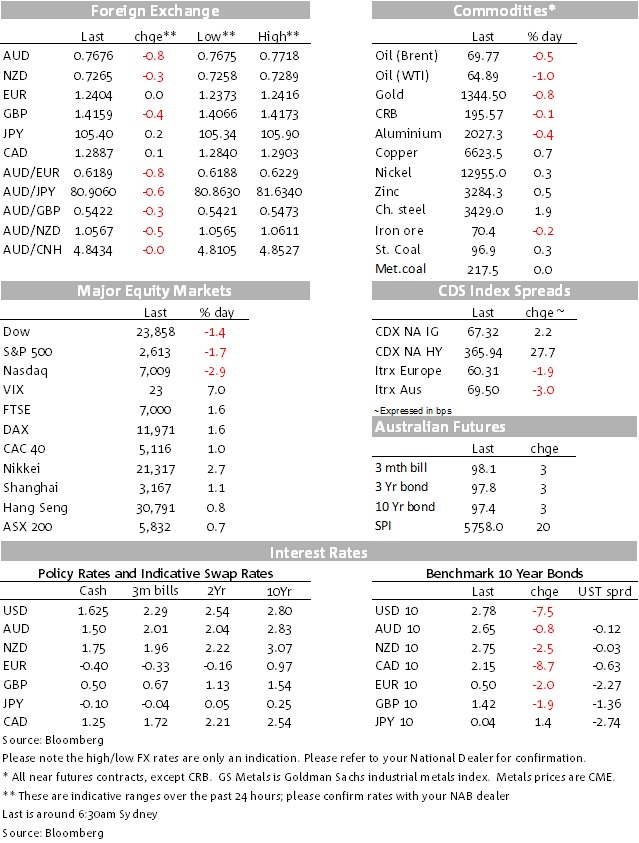 For further FX, Interest rate and Commodities information visit nab.com.au/nabfinancialmarkets