Markets Today: Going bond crazy
A volatile night for rates markets with short-end rates shooting up driven by hawkish signals from yesterday's Aussie Q3 CPI and Bank of Canada meeting, but longer-end rates tumbling after the UK budget showed a sharply lower debt profile.
Todays podcast
Overview Horror Movie
Volatile session with BoC hawkish, UK fiscal tightening, and yesterday's Aussie CPI
BoC interesting, ends QE, signals CPI target achieved by mid-2022, March 2022 hike priced
But, global yields sharply higher at the front end, but sharply lower at the long-end after the UK Budget
Weak US data sees the Atlanta Fed's GDP Now at 0.2%, talk of a of a negative GDP print
April 2024 now at 0.305%, look for RBA intervention at 11.15am for commitment to 2024
Coming up today: RBA's Debelle, BoJ, ECB, US Q3 GDP and Jobless Claims
"Horror movie, right there on my TV; Shockin' me right out of my brain; Shockin' me right out of my brain; It's bound to get you in; Get you under your skin; Hit you right on the chin, oh yeah" Skyhooks 1975
A volatile night for rates markets with short-end rates shooting up driven by hawkish signals from yesterday's Aussie Q3 CPI and Bank of Canada meeting, but longer-end rates tumbling after the UK budget showed a sharply lower debt profile. Weak US data also contributed with the Atlanta Fed's GDP Now estimate revised down to just 0.2% annualised, with some analysts warning of the risk of a negative print – note consensus is higher at 2.6% annualised. As for moves, 2yr year yields jumped after the BoC's hawkish surprise in ending QE and signalling the conditions for rate hikes by mid-2022 (previously late 2022). Markets now fully price a BoC rate hike by March 2022 and 100bps of tightening is priced by July 2022. The Canadian 2yr yield also leapt 20bps, spilling over to the Aussie 3yr future which was off by 11bps after yesterday's 3yr yield rose 15.7bps to 0.93%, while the US 2yr yield was also up 5.6bps to 0.50%. Longer-end yields though tumbled after the UK Budget slashed bond issuance, with UK 10yr yields -12.4bps to 0.99. The US 10yr yield followed suit, down -7.4bps to 1.53%. Curves have flattened with the US 2s10s curve tumbling -12.4bps to 104bps, ditto the 5s30s curve down -6.3bps to 80.2bps and its lowest since April 2020. As for other markets, the S&P500 fell 0.5% after yesterday's record high, while USD was broadly flat with commodity currencies outperforming (AUD +0.3%, NZD +0.3% and USD/CAD -0.3%).
First to the Bank of Canada (BoC) which was the catalyst for the sharp moves in short-end rates. The Bank of Canada shocked markets with an immediate end to its QE program and bringing forward its guidance on when it would achieve its inflation target to the middle of 2022, from the end of 2022. The change in view was driven by much higher inflation projections and, with inflation above the top of the target range and expected to stay there for some time, "the upside risks are of greater concern ".  The market was already well priced for a series of rate hikes next year, but that didn't stop a further lift in short-term rates, with the OIS market suggesting a first hike in Canada as early as March and the 2-year rate up 20bps to 1.08%. Supporting market pricing that the BoC may move as early as March was the comment that "The Bank is closely watching inflation expectations and labour costs to ensure that the temporary forces pushing up prices do not become embedded in ongoing inflation".
The BoC surprise came in the wake of the higher than expected Aussie Q3 Core CPI (0.7% q/q vs. 0.5% expected) which saw Aussie yields sharply higher and markets pricing more rate hikes into the Aussie curve. To a central bank which is guiding unchanged until 2024 and targeting the April 2024 bond at 10bps, it must be like watching a horror movie. Markets are now pricing 50bps of tightening by mid next year, 100bps by year end with the market looking for lift off in early 2022. The yield on the April 2024 bond is also 0.305%, well above the 17.2bp level at which the RBA intervened by buying $1bn last Friday. We will be watching at 11.15am to see whether there is another intervention which would confirm 2024 is still the RBA's central case ahead of the November Board Meeting on Tuesday. Before then, RBA Deputy Governor Debelle could be asked about this today in Senate Estimates, but we think he will likely brush aside the question given the blackout period ahead of the RBA Meeting on Tuesday. Media sources with known links to Martin Place emphasise 2024 is still the central case, but that QE could be ended earlier and by as soon as February 2022 with last night's Bank of Canada moves feeding into that view.
As for the UK budget, that saw a sharp rally in longer-end yields. Revisions to the fiscal projections allowed the Debt Management Office to surprisingly cut gilt supply for FY22 to £195bn, down by a fifth (or a £57.8bn) from the April projection and less than the £220bn that markets had expected. Note bill supply was also cut by £25bn (for details please see the UK DMO ). The lower debt issuance has eased concerns about the impact on the market when the BoE stops QE and halts reinvesting proceeds of maturing bonds. Similar trends are likely to be seen in other economies as activity returns to pre-pandemic levels and the automatic stabilisers of taxes/welfare payments kick in. Additionally, there is pressure on fiscal authorities to tighten the purse strings given higher inflation due to global supply chain pressures and energy prices, in order to reduce the likelihood this gets embedded into inflation expectations. It is no surprise then to see the sharp rally in UK bonds (down -12.4bps to 0.98%, its biggest 1 day move since March 2020) spilling over to other markets. As for economic projections, they were upgraded and cemented expectations the BoE will hike rates by 15bps next week to bring it up to 0.25%.
Moves in equity markets in contrast were relatively calm. The S&P500 fell 0.5% after yesterday's record close. So far roughly 38% of the S&P 500 have reported with 83% topping earnings expectations. FX markets have also been broadly steady with the USD flat with the BBDXY down just 0.1%. Commodity currencies have outperformed, led by the CAD with USD/CAD -0.3%, followed by the AUD +0.3% after the higher than expected Core CPI print. The limited AUD reaction after an initial 25-point pop higher is testament to the minor impacts that revised central bank policy expectations – other than for the Fed – have had on currencies for much of 2021, NZ providing the template in this regard. EUR and GBP are little changed against the USD over the past 24 hours and overnight, seeing NZD/GBP and NZD/EUR crosses a little higher.
As for data, it was on the softer side with US Durable Goods Orders falling (albeit a by less than expected), while the goods trade deficit widened to a fresh record high of $96.3b in September, driven by a fall in 4.7% fall in exports. The Atlanta Fed's GDP Now estimate for Q3 was revised down to just 0.2% annualised, with some analysts pointing to the risk of a negative print. Finally, oil prices fell sharply overnight after the EU agreed to restart negotiations with Iran on the 2015 nuclear accord. European gas prices have also fallen after President Putin ordered Gasprom to refill European gas storage facilities from early next month. China is also looking to limit the price miners sell thermal coal as it seeks to ease a power crunch that has resulting in a rationing of electricity supply.
Coming up today:
Domestically RBA Deputy Governor Debelle is speaking at Senate estimates. Offshore it is a busy day with the ECB, BoJ and US Q3 GDP. Earnings season also continues with Amazon and Alphabet reporting. Details below:
AU: RBA Deputy Governor at Senate Estimates: RBA officials are up before senate estimates at 10.40am AEDT, though given the blackout period before the RBA Board Meeting on Tuesday it is unlikely Deputy Governor Debelle will expand on the RBA's thinking on monetary policy. A question though could still be asked around the higher than expected inflation figures and whether that changes the RBA's view on 2024. Also out are import/export prices, though these do not tend to be market moving and there is no consensus available .
JN: BoJ Meeting and Retail Sales: No change is expected from the BoJ, while Retail Sales are expected to rebound by 1.5% m/m after last month's -4.0% m/m.
EZ: ECB Meeting and German Prelim CPI: No change is expected from the ECB, but commentary around the risks on inflation will be closely watched. Germany's preliminary CPI is out ahead of the wider Eurozone figure tomorrow. Consensus sees the headline inflation in Germany at 0.4% m/m and 4.5% y/y.
US: Q3 GDP and Jobless Claims: Consensus sees Q3 GDP at 2.6% annualised which is above the Atlanta Fed's GDP Now estimate of 0.2%.
Market Prices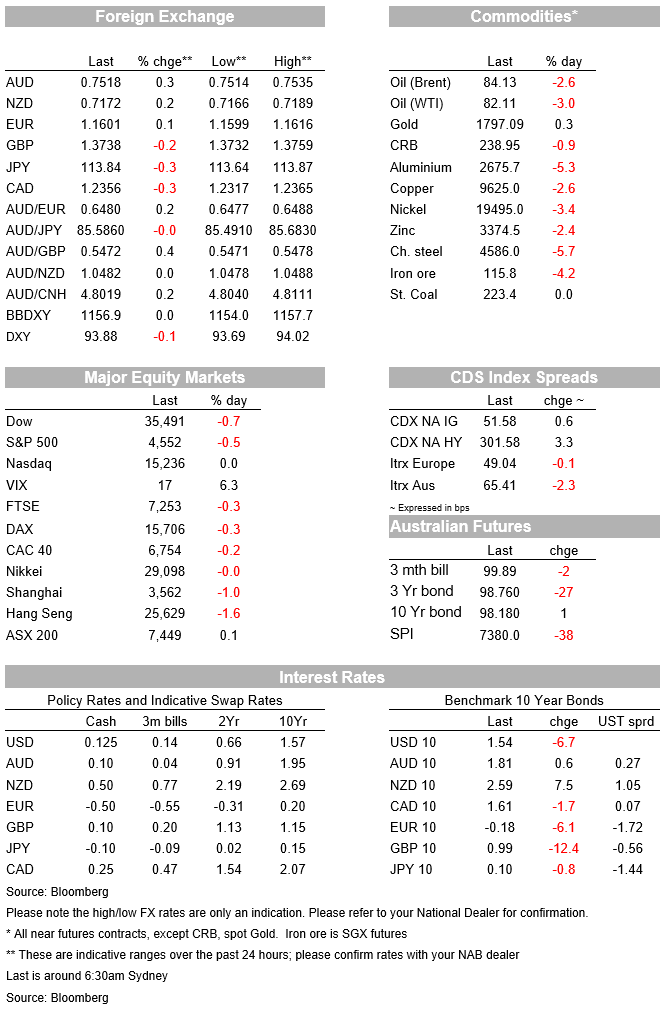 For further FX, Interest rate and Commodities information visit nab.com.au/nabfinancialmarkets