Markets Today: High stakes, higher prices, bigger hikes?
US inflation comes in hot again with core measures showing wides-spread inflation pressures
Todays podcast
Overview The Only Way Is Up
US inflation comes in hot again with core measures showing wides-spread inflation pressures
Fed's Bullard now super hawkish, 100bps of tightening by July, open to 50bps in March
Yields surge with US 2yr +20bps to 1.54%; 10yr +9.3bps to 2.03%; and curves flatten further
Equities crater with the S&P500 -1.6% and NASDAQ -1.5% as we head into the last hour of power
USD broadly flat in a volatile session even as Fed Funds pricing lifts to 6.3 hikes in 2022
MNI understands RBA is unlikely to reinvest QE purchases when it starts to hike rates
Coming up today: RBA's Lowe, NZ Inflation Expectations, UK GDP, US Consumer Confidence
"Ooh, aah, baby; hold on; (Hold on) ooh ooh aah; The only way is up, baby; For you and me now; The only way is up, baby; For you and me now", Yazz 1988
US inflation came in hot and one Fed voter (Bullard) became even more hawkish after the numbers, advocating for 100bps of hikes by July and opening up the possibility of inter-meeting hikes. US Fed Funds pricing has soared with 6.3 rate hikes now priced in 2022 (from 5.5 yesterday) and a 50bp hike in March is now 85% priced (from 30% yesterday). Yields have surged with US 2yr yields +20bps to 1.56% with the curve flattening with 10yr yields +9.3bps to 2.03% – the first breach of 2% since August 2019. Equities have cratered in a volatile session with the S&P500 so far -1.6% as we head into the last hour of power. The USD reaction has been mixed, initially spiking higher on CPI, before reversing and then getting a small boost on Bullard's hawkish tones. The BBDXY is +0.2% with notable falls in JPY (USD/JPY +0.4%) and SEK (USD/SEK +2.0%) – BoJ flagged it will defend its YCC target with a JGB auction on February 14, while the Riksbank came across as dovish.
US CPI came in hot with both core and headline one-tenth more than expected. More importantly price pressures were very broad based. Core inflation was 0.6% m/m and 6.0% y/y (consensus 0.5/5.9) and Headline was 0.6 m/m and 7.5% y/y (consensus 0.4/7.3), and highest since 1982. Price increases were very broad-based according to the Cleveland Fed's 16% Trim which was also at 0.6% m/m and it's annual rate of 5.4% y/y is also the highest in the history of the series that dates back to 1983. As for the main contributors, rents were up 0.5% m/m, with notable increases in household furnishings (+1.6% m/m), used cars (+1.5% m/m), prescription drugs (+1.3% m/m), apparel (+1.1% m/m), personal care (+1.0% m/m) and recreation (+0.9% m/m). The US BLS noted only a few items decreased in price in January.
Broad-based price pressures should see the Fed become more hawkish. Bullard (voter) was one taste of that overnight, arguing the case for 100bps worth of tightening by July 2021 (via back to back meeting hikes; note FOMC meetings are March, May, June and July). Bullard also noted he was undecided on the need for a 50bps hike in March. The Fed's Daly also gave an interview noting that while a 50bps move is "not my preference", gave some support to back to back meeting hikes ("My own view is that March is the live meeting when we would raise interest rates for the first time, and I could imagine raising at subsequent meetings as well, but I just want to see the data").
Bullard also substantially ramped up the hawkish rhetoric by noting the Fed should not rule out inter-meeting hikes ("there was a time when the committee would have reacted to something like this to having a meeting right now and doing 25 basis points right now…I think we should be nimble and considering that kind of thing") – note the last inter-meeting hike was in April 1994. Bullard also advocated the Fed should consider an active sell down of the balance sheet (" I would very much like the committee to consider that as a possibility, so we can do that if we need to — because inflation is not decelerating as we had hoped"). (see Bloomberg: Fed's Bullard Backs Supersized Hike, Seeks Full Point by July 1).
Market pricing for the Fed has moved swiftly higher with 6.3 rate hikes now priced for 2022, up from 5.5 yesterday. Pricing for a 50bp move in March has also lifted to 85% from only 30% yesterday. Bonds sold-off with further large increases in global bond yields overnight. In the US, the 2-year rate is up some 20bps to 1.55% while the 10-year rate is 9.3bps bps higher and has broken above 2% for the first time since 2019 to be at 2.03%. The move has been driven by real yields which rose around 7bps to -0.45% with the implied 10yr breakeven little changed at 2.46% from 2.44% yesterday. Terminal Fed Funds pricing has also lifted a little with 5Y1Y FWD OIS Swaps at 1.89% from 1.83% yesterday, though still below where the Fed thinks neutral is which is closer to 2.50%. Curves have flattened with 2y10yr now at 46.9bps while 7y10y is on the cusp of inversion at 0.3 bps. US rates moves have spilled over to other markets with the German 10-year yield 7bps higher, at 0.28%, and the yield on the Australian 10-year bond future up 13bps overnight.
Equity markets have cratered in a volatile session as we head into the last hour of power. The S&P500 so far -1.6% and the NASDAQ is also -1.8%. All major sub-indexes are in the red with the biggest falls in Tech (-2.5%), Real Estate (-2.3%, Utilities (-2.3%)  and Industrials (-1.6%). Equity markets are likely to continue to be jittery given fears of an aggressive Fed. Curiously, the CPI figures while seeing a spike in the USD, wasn't sustained with the USD quickly falling back before rallying again on Bullard's comments to be broadly unchanged.. The BBDXY index is now 0.2% on the session. The EUR made a fresh three-month high, just below 1.15, although it has since reversed to 1.1453 after Bullard's comments. The AUD reached as high as around 0.7249, although it too has eased back post Bullard to trade at 0.7176 to be -0.2%. It is also worth noting Chinese Aggregate Financing figures came out last night and was better came in better than expected at 6,170bn against the 5,400bn consensus.
Other notable FX moves were JPY and Swedish krona. USD/JPY has increased 0.4% to around 116, near its highest level since early 2017. The BoJ announced that it will conduct an unlimited fixed-rate JGB purchase at on Feb 14 as it shows a commitment to defend its YCC target. The SEK is also down more than 1% after a dovish policy assessment by the Riksbank, which indicated it expects to raise rates in the second half of 2024. Governor Ingves used his casting vote to block a push from officials for stimulus withdrawal with dissents from Deputy Governors Anna Breman, Martin Flodén and Henry Ohlsson and who all favoured ending QE by Q2 2022 (see Riksbank for details).
Finally, an MNI understands piece suggests the RBA is unlikely to reinvest maturing bond holdings when the RBA starts to lift interest rates. No mention though was made to bonds maturing before the RBA starts to hike rates (see MNI: RBA To Let Bonds Mature As It Hikes Rates ). The MNI piece is very similar to Maley's AFR piece last week, perhaps suggestive of some degree of backgrounding. Note in Maley's piece Dr Lowe was interpreted as hinting the RBA could decide to wind back some of this monetary support in May, if the Australian economy continued to perform strongly and that the RBA will also be keeping a close eye on the decisions of other central banks – particularly the Fed (note the BOE has already decided to allow its maturing bonds to roll off) (see: AFR: Will the Reserve Bank start a stealth tightening in May?).
Coming up today:
Domestic focus will be on RBA Governor Lowe who is speaking in parliamentary testimony. Offshore the UK has Q4 GDP figures and the US has the Uni Michigan Consumer Confidence survey. Details below:
AU: RBA's Lowe: Governor Lower speaks in parliamentary testimony at 9.30am AEDT. Key for markets will be the Governor's words on how the RBA would react to future inflation surprises. Although the Governor noted the RBA is navigating towards full employment, his recent speech noted that "countries with higher rates of inflation have less scope here" and the RBA has also brought itself wiggle room by not precisely defining what sustainable inflation is: "we do not have a specific definition as to what 'sustainably in the target range' means. The actual rate of inflation is relevant as are the trajectory and the outlook. So too is the breadth of price increases and the factors driving them". NAB continues to see the RBA lifting rates in November, with the risk of an earlier move in H2 2022.
NZ: Inflation Expectations/PMI: The RBNZ's inflation expectations survey is out today.  2-year ahead inflation expectations, which tend to track the direction in headline inflation, seem likely to increase from their last reading of 2.96%. The RBNZ has previously said that medium-term measures are a better gauge of whether inflation expectations are anchored, so it's worth keeping an eye on the 5-year and 10-year ahead series, both of which were close to 2% last quarter.
UK: Q4 GDP/Industrial Production/Trade Balance: Q4 GDP figures are out with the consensus at 1.1% q/q. Also out are the monthly reads for industrial production and the trade balance.
US: Uni Michigan Consumer Confidence: The inflation expectations are the key thing to look for with no consensus available on the 5-10yr expectations. Various Fed officials have highlighted the need to monitor inflation expectations in case they become inconsistent with the inflation target, in which case a more aggressive tightening cycle would likely be needed. As for the headline index, it is expected to be little changed at 67.0.
Market Prices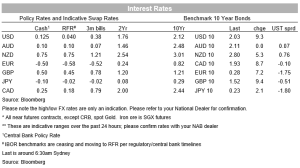 Read our NAB Markets Research disclaimer
For further FX, Interest rate and Commodities information visit nab.com.au/nabfinancialmarkets