Markets Today: China cuts tariffs, Aussie retail pushes rate cuts back
The sun continues to shine on the equity market with the S&P500 making a new record higher, +0.3% to 3,344.
Today's podcast
Overview: Sunshine on a rainy day
Equities hit record highs on strong earnings, while Twitter soars 17.8%
Coronavirus fears still contained, short-term disruptions now making headlines
USD also makes 2020 highs, DXY +0.3% helped along by weakness in GBP (-0.6%)
US least dirty t'shirt narrative holds with German Factory Orders weak
AUD resilient (aided by retail sales), a full rate cut now not priced until November
Coming up: RBA's Lowe and SoMP, China Trade, US Payrolls
The sun continues to shine on the equity market with the S&P500 making a new record higher, +0.3% to 3,344. Yesterday China said it would halve tariffs in place on some $75bn of US imports, while corporate earnings have been solid with Factset reporting that 71% of companies have beat earnings expectations. Coronavirus fears also remain contained with markets taking the view the virus will only have a short-term economic impact.
The USD (DXY) also made a record high for 2020, up +0.3% to 98.46, with broad-based gains against most major pairs. Weak factory orders out of Germany and low jobless claims in the US highlights the least dirty t'shirt narrative which has underpinned the US dollar over the past year. GBP underperformed, down -0.6% to 1.2931 as London's financial access to the EU comes under focus. Most other major pairs were +0.2% with EUR -0.2% and USD/Yen +0.2%. The AUD has been resilient (helped by solid retail sales yesterday), though still succumbed to USD strength, down -0.2% and at 0.6733.
First to the coronavirus
Fears remain relatively contained driven by a falling mortality rate even as the number of absolute deaths rise. In terms of numbers, deaths now sit at 567 from 28,403 cases, with the implied mortality rate now 2.0%, down from 2.3% a week and a half ago. The World Health Organisation also noted Wednesday was the first day that the overall number of new cases in China had dropped, though they also remain very cautious about making any predictions.
Short-term economic interruptions from containment efforts are now coming to light with reports of supply chain issues from automakers to Airbus. There are around 288m migrant workers in China which account for around one-third of China's labour force and virus containment efforts likely mean a majority of those are unable to return to their workplaces. According to Beijing's transport authority, among the 10m people that left ahead of the Lunar New Year holidays, 8m have still not returned. "Force majeure" has been declared on some LNG cargoes as well as by one copper smelter. Australia here is heavily exposed given Australia supplies 44% of the LNG shipped to China some reports suggest Chinese LNG demand may have dropped 38%. The AUD though has taken the news in its stride, and it is likely buyers will first try and on-sell or recontract cargoes first, putting further pressure on Asian LNG prices.
Data out overnight emphasised the narrative of the US economy remaining the least dirty t'shirt in the laundry basket. US Jobless Claims fell to their lowest level since mid-April 2019 at 202k, below the 215k consensus, and another positive sign ahead of Payrolls later tonight. The Fed's Kaplan also noted that he expects US GDP growth of 2.25% this year, with his outlook even firmer if not for Boeing and the coronavirus. In contrast, German Factory orders fell sharply, down -8.7% y/y against 6.6% expected. Not only was the headline awful, but the details showed the main drags come from sharp declines in new orders for both capital and consumer goods to monthly other Eurozone economies.
Earnings continue to come in stronger than expected with 71% of companies reporting having beaten analyst expectations according to Factset. Twitter was the outperformer last night, up 17.8% after it post its first billion-dollar quarter, while monetizable daily user numbers hit a record 152m users, well ahead of the 147.5m expected by analysts. The overall S&P500 hit another record higher, +0.3% to 3,346.
In Australia
Retail sales yesterday were mixed with stronger than expected volumes, but weak values in the month. Quarterly volumes rose 0.5% q/q against 0.3% expected and was the strongest volume increase since Q2 2018. Markets read that as perhaps adding to the RBA's gentle turning point narrative with RBA rate cut pricing further pared – a full rate cut is now not priced until November. An alternative way to read it would be that it took heavy discounting to get a lift in volumes.
Finally, in the UK
Reports have emerged that EU officials are looking to amend the financial concessions made to the UK as part of MiFID II.
Coming up
It's all about the RBA this morning with Governor Lowe giving Parliamentary Testimony and the publication of the Statement on Monetary Policy which contains more detailed forecasts on the economy. Internationally, focus will be on the Chinese Trade Balance and US Non-farm Payrolls:
AU: RBA's Lowe and SoMP (9.30am then 11.30am AEDT): Governor Lowe speaks in Parliamentary Testimony starting at 9.30am in Canberra. More detailed forecast will also be published in the RBA's Statement on Monetary Policy.
AU: AiG Services Index (8.30am AEDT): not market moving, but could pick-up some of the bushfire impact on the services side of the economy.
CH: Trade Balance (time unknown): likely to get lots of focus to see how the measures to contain the coronavirus are impacting on international trade flows. Consensus looks for only slightly y/y declines for imports (-0.8% m/m), though a larger decline in exports (-3.5% m/m).
CH: Foreign Reserves (time unknown): Unlikely to be market moving.
GR: Industrial Production/Trade (8.00am local, 6.00pm AEDT): Industrial production the focus, markets expecting a -3.7% y/y decline.
US: Payrolls (8.30m local, 12.30am AEDT): Payrolls are expected to remain solid at 162k, enough to keep the unemployment rate unchanged at 3.5%. Wages growth is forecast to be 3.0% y/y with the m/m number bounces after a weaker than expected December print.
Market prices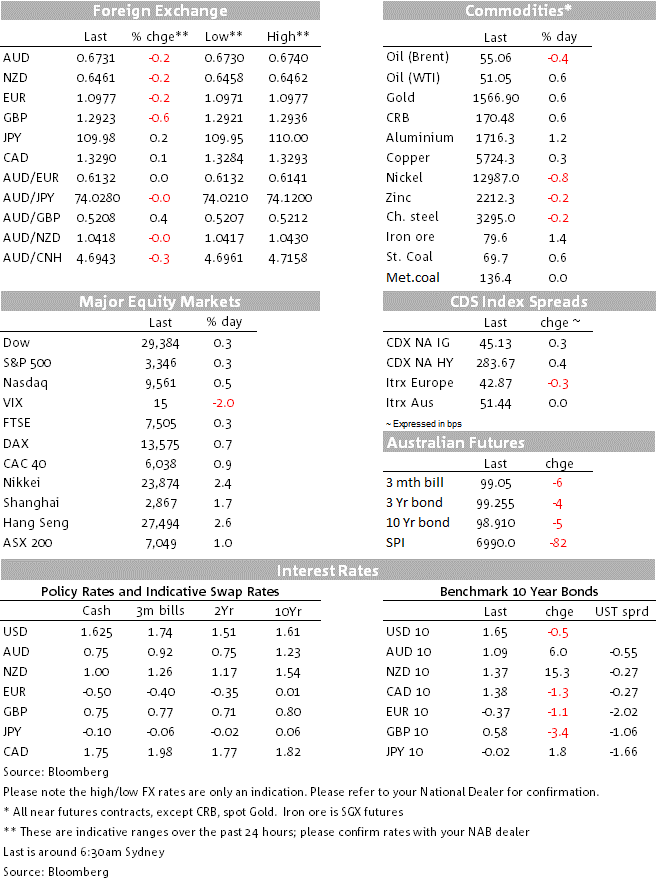 For further FX, Interest rate and Commodities information visit nab.com.au/nabfinancialmarkets