Markets Today: China deal close & another vote on Brexit
There's been significant progress on the two stories that have hindered markets this year.
Today's podcast
Overview: Relax
Trump hints of a delay in China tariffs boost global equities
President Xi focus on "stable growth" a key driver too for the big jump in Chinese equities
Improvement in risk appetites sees EM FX along with AUD and NZD outperform
Another tweet from President Trump sends oil prices crashing, calling on OPEC to "relax and take it easy"
GBP moves above 1.31 on Labour's move for a new Brexit referendum
RBNZ Bascand speaks on Bank Capital Review this morning, Fed Chair Powel testifies before Senate tonight
Relax don't do it, When you want to go to it- Frankie Goes to Hollywood
President Trump has stolen the show yet again with his tweeter account and commentary largely responsible for most of the main market moves over the past 24 hours. Major equity indices have had a solid start to the new week after a twitter posting yesterday morning by President Trump suggesting that he will be delaying the increase in China tariffs scheduled for March 1st. Comments from President Xi focusing on "Stable growth" also boosted Chinese equities and early this morning another tweet from President Trump sent oil prices crashing. The big dollar is little changed against most majors, but it has lost ground against EM FX while the AUD and NZD have led the charge within G10. UST yields are a few bps higher.
It all started with a couple of tweets.. yesterday during our morning President Trump twitted "I will be delaying the U.S. increase in tariffs now scheduled for March 1. Assuming both sides make additional progress, we will be planning a Summit for President Xi and myself, at Mar-a-Lago, to conclude an agreement. A very good weekend for U.S. & China! The news boosted risk appetite with APAC equities performing across the board while EM FX and commodity linked currencies also joined the party.
Chinese equities were the outstanding performers with both the Shanghai and Shenzhen Composites up almost 6%. President Trump tweets was one supporting factor, but another key driver came from weekend news noting commentary from President Xi at a Politburo meeting on Friday emphasising "risk prevention should be done on the basis of stable growth". The commentary was interpreted as yet another signal that China's policy makers are deemphasising their crackdown on leverage and as a result financial shares were the big winners yesterday up more that 7.5% in the Shanghai Composite index and 9.51% in the Shenzhen index. In comparison, major European equity markets closed with modest gains ( STX Europe 600 +0.26%) while US equities are up between 0.30% and 0.5%.
Insistence from US trade negotiators that a deal with China needs to include strong enforcements including a "stable yuan" is keeping many investors cautious. In this regard China's official Xinhua News Agency reported that while "substantial" progress has been achieved the talks may face "new uncertainties" adding that bilateral trade frictions are "long-term, complicated and arduous". Speaking to the media overnight and as true showman President Trump said "We are going to have a signing summit, which is even better," adding that "We are getting very, very close" only to then curb everyone's enthusiasm by noting that a  deal "might not happen at all."
Early this morning oil prices have crashed more than 3% following another tweet by President Trump "Oil prices getting too high. OPEC, please relax and take it easy. World cannot take a price hike – fragile!". The tweet comes two months into a new round of production cuts from OPEC and friends. The producers are scheduled to meet again in mid-April to review the deal, which is planned to last through the first six months of 2019.
Looking at currencies in more detail, the big dollar is little changed against the majors although as we type GBP is getting a boost following news reports that  on the back of pressure from his own party, UK opposition Labour Party Leader Jeremy Corbyn has  agreed to support a new Brexit referendum. The change in tactic comes as the Labour Party tries to halt a wave of defections from party members who want to stop Brexit. A propose referendum amendment is not expected to take place this week with the Labour Party still in need to do a fair bit of work if it wants to get the Referendum vote over the line. Bloomberg notes that even if all 246 Labour MPs voted for a referendum – along with the 65 other opposition MPs who might back one, and around 10 members of May's Conservative party — they would only just have a majority. The report also suggest that there is probably about 25 Labour MPs that would disobey any instruction to vote for a referendum. GBP now trades at 1.3107, up 0.41% over the past 24hrs.
AUD (@0.7174) and NZD (@0.6885) are the other two outperformers, up 0.63% and 0.57% respectively with the US-China trade news and broad improvement in risk appetite the main drivers for the antipodean gains. Buoyant risk appetite and commodity prices are currently more than offsetting the domestic concerns over a subdued consumer, declining house prices and cautious RBA. As noted yesterday, our fair value model has continued to tick higher, suggesting  a move above 72c looks reasonable from a fundamental basis.
Global rates have moved higher amidst the risk-on tone to markets.  The 10 year Treasury yield is 2.2bps higher to 2.675%, reversing its fall on Friday.  There was no major economic data overnight, although Atlanta Fed President Raphael Bostic (a non-voter this year) commented that he expected one more hike this year and one further rate rise in 2020, assuming the economy was "running fine".  Fed Chair Powell testifies before the Senate tonight, and markets expect he will reiterate his intention to be "patient" with further interest rate increases.  Powell is likely to be quizzed on the Fed's plans for the balance sheet, and the circumstances under which it could resume rate hikes.
Overnight data releases
NZ: Retail sales ex-inflation (q/q%), Q4: 1.7 vs. 0.5 exp.
Coming up
NZ RBNZ Deputy Governor Bascand speaks on Bank Capital Review
GE GfK Consumer Confidence (Mar)
UK BOE's Carney, Ramsden, Vlieghe, Haskel at Parliament Committee
US Housing Starts /Building Permits (Dec), Richmond Fed Manufact. Index (Feb),  Fed Powell testifies Before Senate Banking Panel, Conf. Board Consumer Confidence (Feb)
Market prices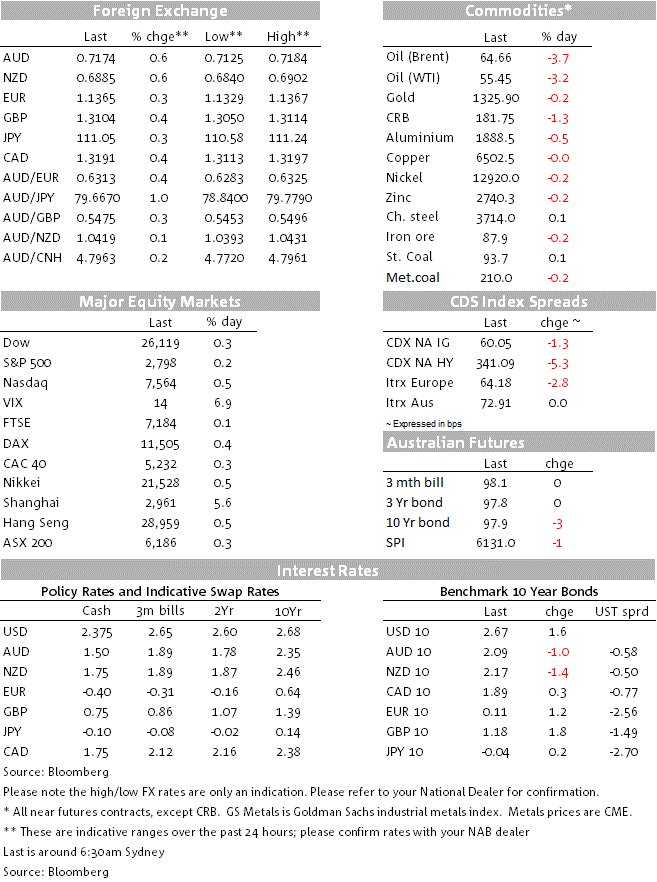 For further FX, Interest rate and Commodities information visit nab.com.au/nabfinancialmarkets