Markets Today: China news and virus news
Markets opted to take the positive news on Friday, sending shares higher and the US dollar lower.
Today's podcast
Overview: High hopes
US stocks back on the rise Friday to round out a positive week; Shanghai -2% but still +7.3% on week
USD touch weaker Friday but AUD weakest G10 currency; but on the week, AUD up and USD down
US equities back up Friday, led by banks, energy shares and positive Remdesivir trial news
More strong China credit data published Friday evening
No improvement in COVID-19 news flow over the weekend, 15,300 (record) new infections in Florida
Trump not interested in talking 'Phase-2' trade deal due to China 'plague'
Globally, big week ahead including US earnings, China Q2 GDP and June activity, EU Summit
Locally, Australia Labour Force Survey Thursday and NAB Business Survey tomorrow, NZ Q2 CPI Thursday
Thursday's wobble in US stock markets (ex-Nasdaq) proved to be just that, bank shares driving the rebound just as they had led Thursday's decline and in front of Tuesday's start of bank earnings season.  Ostensibly positive news of Gilead's Remdesivir drug in reducing mortality rates was also widely cited Limited moves in currencies Friday though squinting though some of the intra-day noise and looking at markets over the course of last week, the negative correlation between risk sentiment and the USD is intact, as too the positive one vis-à-vis AUD.  It's a very big week ahead.

The S&P 500 on Friday more than recouped Thursday's 0.5% loss to end 1% up on the day and 1.8% higher on the week (and the NASDAQ +4% w/w). Bank shares and energy stocks, which led Thursday's fall, drove the rebound, banks +5% and the energy sub-sector +3%. The latter was aided by a rebound in oil prices and the former seemingly on a new wave of 'FOMO' ahead of the Q2 US earnings reporting season that sees JP Morgan, Citigroup, and Wells Fargo all reporting on Tuesday and a view that the bar has been set pretty low for them to report the almost obligatory 'better than expected' results (the absence of forward guidance from many S&P500 firms in Q1 notwithstanding). Elsewhere Shanghai was far and away the best performing stock market last week, the Composite index +7.3% on the week even after Friday's 2% loss.
Gilead's news
Was that it said its Remdesivir antiviral drug cut the death rate of those in its trials by 62% compared to those not using the drug (7.6% of patients in its trials died compared to 12.5% of patients in a representative real-world sample).  Gilead's study, which compared the results of its 312 patients to a selection of 818 patients with similar characteristics in the 'real world', is not seen to be as authoritative as a randomised controlled trial, but it boosted risk appetite nonetheless.
Ongoing grim US COVID-19 infection news continues to be summarily ignored in favour of ongoing optimism regarding the time-line for the discovery and rapid roll-out of an effective vaccine (which Remdesivir of course is not) and/or more policy support for asset prices the US economy. The US on Saturday night reported more than 66,000 new cases in the prior 24 hours including 15,300 in Florida (a new one record one-day rise not just for the Sunshine State but all US States). There were also new daily records for both North and South Carolina. In Australia Victoria yesterday reported 273 new cases in the prior 24 hours and in NSW, 9 cases of community transmission linked to the Crossroads pub in Casula, south-west Sydney.
Also ignored
(Perhaps because the surprise factor was zero) U.S. President Trump said on Friday he's not currently thinking about negotiating a "Phase 2" trade deal with China as relations between Washington and Beijing sour over the coronavirus pandemic and other issues. Asked by reporters aboard Air Force One about the possibility of second phase trade deal following implementation of a Phase 1 agreement this year, Trump said "I don't think about it now," adding that he has many other things on his mind. "The relationship with China has been severely damaged. They could have stopped the plague, they could have stopped it. They didn't stop it," Trump said. (Reuters reporting)
The most important piece of economic news Friday
Came around the time of the Australian market close – China's June credit and money supply data show the broadest Aggregate Financing measure rise by a bigger than expected Y3,430b, up from 3,190b in May and 3,050 expected. New Yuan bank loans were much as expected at 1,8010b (1,480b prior). Aggregative credit growth of this magnitude is in the order of 3.5% of GDP – per month – so consistent with the PBoC's desire to see aggregate credit growth of at least 30% this year, which in turn tells us: (i) why further PBoC monetary easing measures aren't required at this stage and; (ii)  just how weak the 'credit multipliers' are in China these days given GDP growth of between 3% and 4% is looks to be implicitly targeted for 2020. Thursday's June activity data will give us clues as to whether this is on track (see 'Coming Up' below).
Elsewhere
Canadian employment in January jumped by 952.9k, above the 700k expected but a rise in the participation rate from 61.4% to 63.8% meant that the unemployment rate fell only fell back by as much as expected, to 12.3% from 13.7%. Added to May's 289.k rise, about 40% of the roughly three million jobs lost in March and April have now been recouped.
US producer prices were much weaker than expected in both headline (final demand) and ex-food and energy terms, -0.2% and -0.3% m/m respectively versus 0.4% and 0.1% expected. Services prices (-0.3%) were responsible, mostly accounted for by a drop in profit margins for machinery, vehicle sales and gasoline (the latter due to higher spot oil prices which only fell through to gasoline prices with a lag). Excluding food energy and trade prices, producer prices rose by 0.3% on the month to be -0.1% y/y up from -0.4% in May.  The essential message from PPI the data though is that producer prices are, as is the case in China, a strong disinflationary force on consumer prices – globally.
Earlier
Italian industrial production leapt by 42.1% in May, almost twice the bounce expected (23.0%) but this still leaves production in annual terms down 20.3%, Similarly, in France the 19.6% monthly rises still leaves production -23.4% y/y.
FX markets were relatively subdued on Friday
USD DXY index -0.05% – and while the AUD was the worst performing G10 currency over the 24 hours to Friday's NY close (-0.2% @ 0.6950) it strengthened from the end of the local day along with improved risk sentiment. On the week, the positive correlation between risk sentiment and AUD (as well as NZD) is still intact, as it is the negative correlation between risk and the USD. The DXY index lost half a percent last week and the broader BBDXY a third of a percent.  Emerging market currencies also gained ground last week (both the AXY and JPM EMCI up by more than 0.3%) even though USD/CNH ended Friday night back on a seven handle (7.01).
In bond markets
The positive risk session Friday saw Treasury yields firmer, 10s by 3bps to 0.645% and the 30-year +2bps to 1.335%.
A positive Friday for commodities
saw Brent and WTI crude both up more than 2%and all base metals higher with copper +1.8% and aluminum +1.5%.  Gold's recently won $1,800 crown slipped slightly, losing $4.85 to $1,798.73.
Coming up
It's a very big week ahead for 'conventional' data and events but only starting on Tuesday, which has China June trade, the NAB June business survey and the probable highlight, Q2 earnings reports from JP Morgan, Citigroup and Wells Fargo.
Wednesday sees Goldman Sachs and BoNY report, and on Thursday Netflix and Morgan Stanley, et al.
Thursday sees China Q2 GDP and June activity numbers, where GDP is seen +9.5% on the quarter so almost fully reversing the 9.8% Q1 drop to be 2.5% YTD on the first half of 2019. Of the monthly indicators, we'll be looking most closely at Retail Sales to see if the so far sluggish pick-up in consumer spending remain the case (YTD sales are seen -11% up only slightly from -13.5% in May).  Thursday also see the June local labour market report, and NZ Q2 CPI (latter ahead of Australia's on the 29th).
Friday will see EU leaders meet in person for the first time since the pandemic began, for an EU Summit that runs through Saturday and where the EU Recovery Fund is the lead item on the agenda but where final agreement on the size and form is not expected so soon as this month spite it being a stated priority for Angela Merkel whose country has just assumed the rotating EU chair.
The BoJ, BoC and ECB all meet this week, none of whom are expected to make any major policy shifts .
Market prices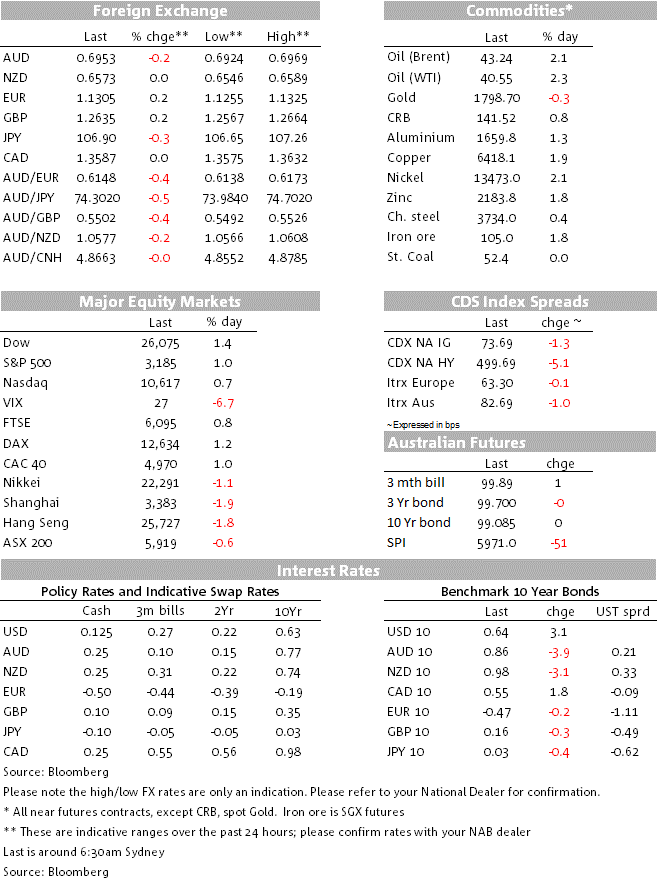 For further FX, Interest rate and Commodities information visit nab.com.au/nabfinancialmarkets
More from NAB