Markets Today: China to go shopping, UK to vote again?
There was renewed hope at the tail end of last week the answer to the US China trade dispute isn't far away.
Today's podcast
Overview: Riding high on trade ceasefire hopes and solid data
Friday night price action saw an extension of the feel good vibes from previous days boosted by news that China had offered to buy more than $1trn in US goods over 6 years in order to reduce China's trade surplus with the US. Mostly solid US data releases also helped eased concerns of a US slowdown. US and European equities closed the week with strong gains, the USD was broadly higher recording a fourth consecutive day of gains. The improvement in risk appetite also helped UST yields move higher along the curve while oil prices led the gains within commodities with WTI trading above $53 for the first time since early December.
China has offered to increase goods imports from the US by a combined value of more than $1trn over the next six years in order to bring the trade surplus to the US down to zero by 2024. The offer was made early in January and it was met with scepticism by US negotiators, still the report suggests US officials asked to go further and clear the surplus in two years. Later on Friday a Reuters report noted that US negotiators were looking to impose  "regular reviews of China's progress on pledged trade reforms as a condition for a trade deal" while the "threat of tariffs is not going away, even if there is a deal". Although China is not keen on the compliance checks, positively these US demands have yet derail the negotiations.
Yet again trade news on Friday raise more questions than answers. From a practical perspective it is difficult to see how the US will be able to increase export to China by $1trn in four years, let alone two years. Also worth noting that this could be good news for US exporters, but not so good news for other countries exporting to the China. Less Brazilian soybeans in exchange for more U.S. soybeans? Similarly does the deal mean more LNG from the US instead of Australian LNG?. Also worth noting to that the US angst with China is not just about trade, concerns over protection of intellectual property malpractices and state support of industry are also major sticking pointing and it is unclear if any progress has been made in this regards.
For now markets are going ahead with the growing perception that there is a lot of willingness by both parties to make a deal, but as the March 1st deadline approaches the market is also likely to demand more concrete evidence that a deal looks more likely than not. Now that not much can be expected from Davos, given the downgrade by US and China officials attending, China's Vice-Premier Liu He US visit at the end of the month will be an important test for the current positive trade vibes.
US and European equities posted solid gains on Friday with the S&P 500 now off to its best start since 1987. Positively as well the rebound in the index since the start of the year has been broad based with all 11 sectors up year to date. US data releases on Friday also helped ease concerns of a US economic growth slowdown, US factory production expanded in December by the most in 10 months, but in less positive note Consumer confidence fell in January amid concerns over tariffs and government shutdown (see more below).
The improvement in risk appetite and positive US data releases also helped pushed UST yields higher with the 5y part of the curve leading the move, climbing 5.2bps to 2.62%. The 10y rate climbed 3.4bps to 2.78%, its highest level year to date.
The USD also had good night outperforming most currency pairs within G10 and EM FX. On Friday both DXY and BBDXY indices posted gains for a fourth day in a row and now trade close to the upper end of their 6 month range. Last week safe haven currencies such as JPY and CHF losst over 1% against the USD with USDJPY closing the week at ¥109.67 and while CHF closed at 0.9954. Notably, NZD and AUD to a lesser have been unable to benefit from the improvement in risk appetite.
Last week, NZD was the big G10 underperformer, down 1.30% and closing the week at 0.6754. The CPI release will be important for the kiwi this week, market and BNZ expectations are for a flat result for the quarter. NZ CPI also tends to be regarded as a good guide for Australia's CPI, due for release the following week. The confirmation of soft inflation readings for both New Zeeland and Australia will raise question of what to expect from central Banks meeting in February and are a potential downward force for both antipodean currencies.
GBP gave back Thursday's gains, but still managed to be one of the two G10 currency to make some gains (0.22%) against the USD for the week. CAD was the other up 0.05% for the week, stronger than expected Canadian CPI reading along with higher oil prices were two factors helping the Loonie perform. Meanwhile Brexit news remain very fluid, however there is still no clear guidance of what is likely to happen next. PM May is due to present her Plan B on Monday and weekend news suggest senior Labour figures have made  major inroads in order to steer the party to backing a fresh Brexit referendum while a new Opinium poll for the Observer noted voters would back staying in the European Union over accepting Theresa May's Brexit deal,
Oil prices have lead the move higher within commodities with WTI gaining over 3% on Friday (closing at $53.80) while Brent jumped 2.5% to $62.7. Gold lost a bit more ground (-0.8%) and iron ore edged a little bit higher.
Fed Williams spoke on Friday night and emphasised the Fed message of data dependency. He cautioned that "a softer economic outlook doesn't mean we should prepare for doom and gloom" as he forecast growth of -2-2.5% in 2019. However he also noted that as growth tailwinds fade "prudence, patience, and good judgment" are needed while a prolong shutdown is a rising risk to the outlook.
Key data releases summary:
S. factory production expanded in December by the most in 10 month. Manufacturing output rose 1.1% from the prior month after an upwardly revised 0.1 percent rise
US total industrial production, which also includes mines and utilities, advanced 0.3 percent after a revised 0.4 percent increase
The University of Michigan's preliminary January Survey of Consumers resulted in a Consumer Sentiment Index of 90.7, down 7.6 points (7.7%) from 98.3 in the final December survey. The survey noted: "the loss was due to a host of issues including the partial government shutdown, the impact of tariffs, instabilities in financial markets, the global slowdown, and the lack of clarity about monetary policies"
UK retail sales ex auto fuel -1.3% m/m (-0.8% consensus), with a 2/10 downward revision to November to +1% m/m. Annual sales at 2.6%.
Canada: Headline CPI beats by three-tenths with y/y at 2.0% against 1.7% expected. Core though was mostly in line at 1.9% y/y
Coming up
The US is out today observing Martin Luther King Jr. Day, leaving China's data releases as the focus. At 1pm Sydney time China will release its Q4 GDP (consensus 6.4% y/y from 6.5%) and likely too lagging to see any upside surprise from more recent stimulus efforts. However also released Monday are December monthly activity data in the form of retail sales, industrial production an d fixed asset investment which could help give a clearer steer on the impacts of the increase in lending and easier monetary/fiscal policy.
Link to China's news, worth noting that over the weekend news reports suggest the Trump administration is preparing an executive order to restrict Chinese Telecoms operations in the US. If so this could raise some concerns over the current positive feeling regarding a China-US trade truce.
AU Jobs; NZ CPI; US Earnings season; Brexit; ECB and BoJ Meetings; US and EZ Flash PMIs are the calendar highlights for this week
Please refer to our what to watch publication for more details.
CH  Retail Sales YoY Dec
CH  Industrial Production YoY Dec
CH  Fixed Assets Ex Rural YTD YoY  Dec
CH  GDP YoY 4Q
UK  BOE's Place, Fried Speak in London
Market prices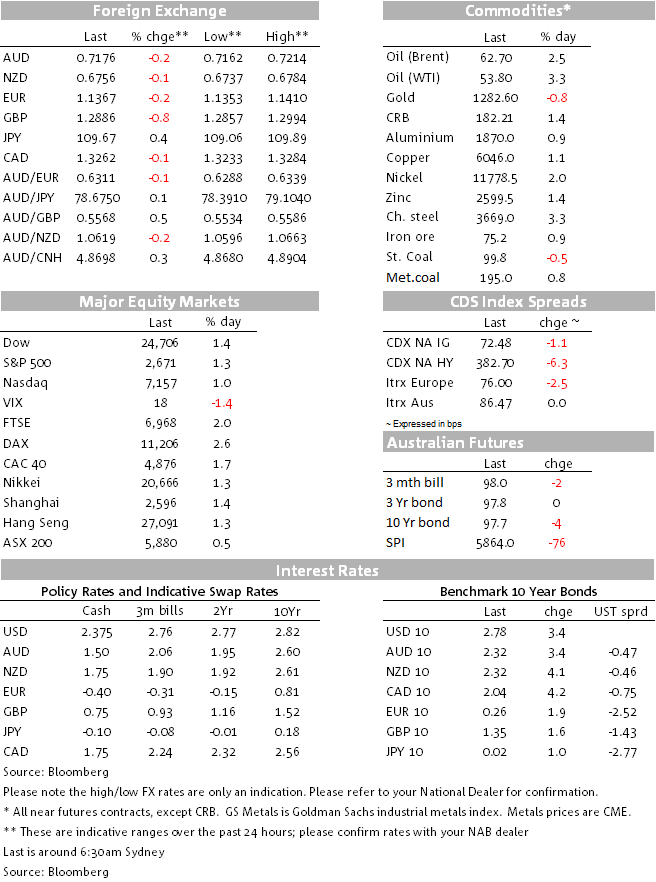 For further FX, Interest rate and Commodities information visit nab.com.au/nabfinancialmarkets