Markets Today: Fed minutes trumped by ECB strategy review
The FOMC minutes did little for cautious markets. NAB's Gavin Friend says the outcome of the ECB's Strategic Review should hold more interest.
Todays Podcast
Overview Talk Talk
FOMC Minutes don't move the dial on bonds, FX or equities. S&P closes at new record high
Further fall in UST yields, AUD still back mired below 0.75 with USD firmer
ECB said to agree to set new inflation goal at 2% with some allowance for overshooting
RBA's Lowe to speak at 12:30 AEDT, but doubtful we'll learn anything new on policy front
Talk that talk to me, yeah, Talk that talk to me, yeah – Rihanna
Overnight, US 10-year Treasury yields have continued to leak lower (10s spending a brief time below 1.30%), the S&P500 has closed at another record high (+0.3%) while the USD is slightly stronger (DXY +0.2%) to leave AUD still mired back below 0.75.  FOMC Minutes have not been market-moving, confirming as we already knew that taper talk is now underway.
FOMC Minutes published a couple of hours ago revealed that the Committee's standard of "substantial further progress" was generally seen as not having yet been met, though participants expected progress to continue. Various participants mentioned that they expected the conditions for beginning to reduce the pace of asset purchases to be met 'somewhat earlier' than they had anticipated at previous meetings in light of incoming data. Some participants saw the incoming data as providing a less clear signal about the underlying economic momentum and judged that the Committee would have information in coming months to make a better assessment of the path of the labour market and inflation.
On the question of whether agency MBS purchases might be tapered ahead of Treasuries, 'several' participants saw benefits to reducing the pace of these purchases more quickly or earlier than Treasury purchases in light of valuation pressures in housing markets. 'Several other' participants, however, commented that reducing the pace of Treasury and MBS purchases commensurately was preferable because this approach would be well aligned with the Committee's previous communications or because purchases of Treasury securities and MBS both provide accommodation through their influence on broader financial conditions.
The Minutes suggests no unusually hawkish commentary relative to expectations, of some relief to the market, evidenced in a 0.4bps fall in the 2-year note yield to 0.214% and very marginally softer USD.  10s are unchanged meaning that the further 3.5bps decline in 10 year Treasuries ahead of the Minutes is maintained (currently 1.315%). Equities have ended the NY day little changed on their pre-FOMC minutes levels, with the S&P +0.4% (new record) and NASDAQ about flat.
Post the Minutes, Atlanta Fed President Raphael Bostic has been out saying that he expects high inflation pressures to abate, but doesn't see a return of sub-2% inflation, that the Fed is getting close to a time where bond buying taper will be appropriate but can't predict exact date and that (self-evidently) a premature rate increase would weigh on the economy.
In other releases, JOLTS job openings just rose to a new high 9.209 million in May from a revised 9.193 million in April, a little shy of expectations (9.325mln). So after the near 1m boost in April, job openings were almost unchanged, still very high but no higher after large rises through the first half of the year
Ahead of next week's Bank of Canada meeting, where a tapering of its current C$3bn per week QE bond buying programme is expected, the June Ivey Purchasing Managers Index jumped to 71.9 from 64.7, so back almost to its post-covid cycle high of 72.9 in March. So another tick in the box in favour of more tapering.
Lower US yields have patently done nothing to undermine the USD even though o/n yield slippage is in conjunction with positive risk sentiment, unlikely on Tuesday. DXY is +0.2% with currency losses led by NOK and SEK (both -0.4%) and EUR (-0.3%).  AUD has spent time both above and below 0.75 since Wednesday's local close, but a stronger USD has left it languishing below at the New York close, 0.7485.  Further slippage in oil prices explains NOK underperformance, Brent off by more than $1 to $73.40 post the 'failed' OPEC+ meeting and so now lack of faith current production curbs will be adhered to.
Coming Up
RBA Governor Lowe gives a (virtual) speech at the Economic Society of Australia, slated to start at 12:30 AEDT. Its hard to think we'll learn too much new after Tuesday's post meeting speech and Q&A session.
The ECB will announce its strategy review results at 1PM CET (midday UK time).  A Bloomberg source report says ECB policy makers have agreed to raise their inflation goal to 2% and allow room to overshoot it when needed. If confirmed, then a more symmetrical target than the current 'close to, but below 2%;, though shy of formal adoption of the Fed's recently installed AIT framework. There will then be a news conference 90 minutes later to discuss the review
There is no top tier data in either APAC or Europe, while the US has only weekly jobless claims (expected at 350k after 364k last week).
Market Prices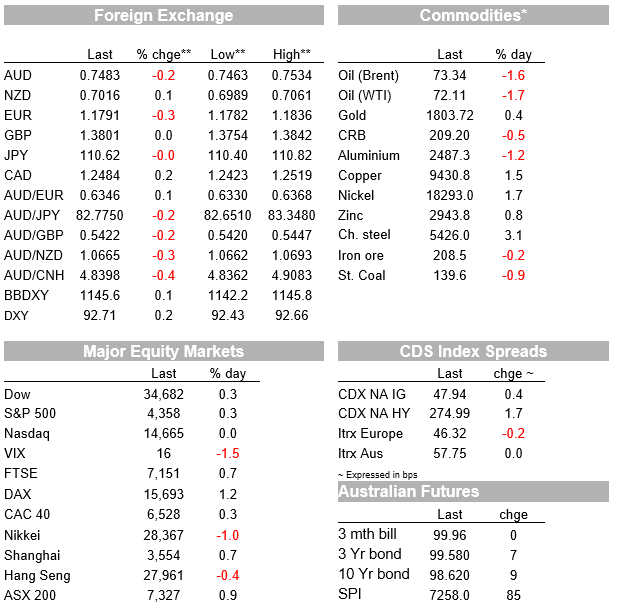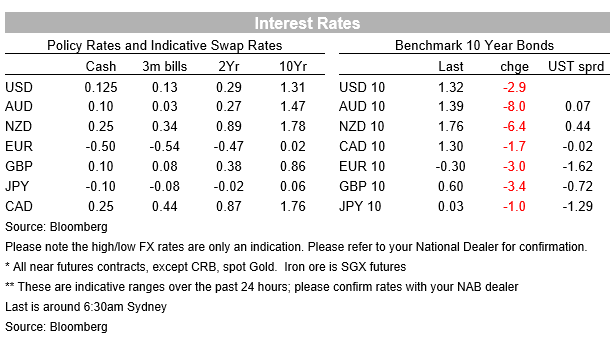 For further FX, Interest rate and Commodities information visit nab.com.au/nabfinancialmarkets