Markets Today: FOMC on hold, Brexit unknown, Italy in trouble
The FOMC has kept interest rates on hold. Meanwhile Italy and the EU seem to be at loggerheads on budget numbers and the UK's Brexit secretary appears a little uninformed, as one cabinet minister breaks ranks on Theresa May's plan.
Today's podcast
Overview: Flying high again
FOMC leaves rates on hold as expected; a statement only and only finessed; market still firmly priced for further Dec hike; USD gets some renewed support
AUD back to mid 72s after being initially lifted from the better than expected growth tone of yesterday's Chinese trade numbers, but CNY softness and some support for USD has weighed
Draghi speaks in Dublin; positive on Euro outlook, but warns against complacency; still on track to end QE this year
Brexit: still lots of the political argy bargy but some investment houses betting on a Brexit deal/Pound rally
RBA Monetary Policy Statement today to confirm upgraded growth forecasts today; the essence already revealed on Tuesday and positive growth story still dogged by consumer/housing worries
Currencies: USD back up
It's not been a big night for market moves, equity markets making some gains in Europe, but soggy in the US after yesterday's post Mid-Terms bounce.  The dollar has been a little firmer, not so much from anything that stands out particularly on the market's radar than perhaps the realisation that it remains attractive on a yield basis, up on net since this morning's FOMC.
For the Aussie, while yesterday's solid Chinese export and import growth in October (despite the increase in US tariffs from September 24) provided an understandable immediate fillip to the AUD, it's not been able to make further headway higher, held back by some further incremental weakness in the CNY/CNH and the post-FOMC USD support.
It's also hard to see the AUD getting too much of an additional boost out of today's RBA quarterly Monetary Policy Statement.  Tuesday's post-Board media release revealed their upgrades to economic growth for this year and next year from 3¼% to 3½% and an almost obligatory cut to the medium term unemployment rate to 4¾% for 2020 from 5-5¼%, given unemployment is already at 5%.  (We get the October labour force report next Thursday.)  While the RBA upgraded the growth outlook, even they noted the uncertainty over the outlook for consumption and housing market worries, something the market and commentators are well attuned to.
The US dollar has been choppy since the release of the FOMC statement earlier this morning.  In net terms, as we go to print, it's higher.  It dipped initially as the little-changed statement did call out that growth in business fixed investment has moderated from its rapid pace earlier this year, but just as quickly the USD reversed course higher.  The Statement also noted that the unemployment rate had "declined", previously describing it as having "stayed low".  Both of these changes are nowhere near where you would describe them as at all seismic, but marginal changes in characterisation.  They continued to describe the risks to the outlook as roughly balanced.  The statement is a half nod to market pricing expecting a further increase in the Fed funds rate at its December 18-19 meeting.
The Euro has also pulled back overnight and since the FOMC, but again it's very much a US dollar story. ECB President Draghi was addressing the Irish Parliament overnight and noted a still positive outlook for the zone's growth though emphasised that he needed to retain lots of optionality in being able to adjust the Bank's forward guidance if need be.  Draghi came in for a deal of flak in favouring the financial sector big end of town and not European citizens with its low rates policy.  He retorted that he was not the favourite of European banks for his low rate policy and that if there was any doubt, just read about low rates in German newspapers!
Brexit
While there have been no definitive announcements, there was apparently a draft timetable doing the rounds of Whitehall suggesting that it could all be finalised as early as the first half of next week, culminating in a statement to the Commons from the PM on Wednesday.  Take these stories for what they are worth, but there have been some noteworthy investment names cited as now placing bets on a rebounding Pound, something that my colleague Gavin Friend from London noted on The Morning Call yesterday, expecting a 3-5% Sterling rally should a deal be made.  EUR/GBP remains heavy, the pull-back in Sterling this morning since the FOMC a big dollar story, as it has been for the other majors.
Equities
It's been a choppier session for stocks, European markets making some gains, but the US main boards have been giving back part of the immediate post Mid-Term bounce, the S&P down 0.4% at the time of writing in the last hour of trade.
Bonds and commodities
Bonds have been little changed with again some mild steepening of the curve, 2s up less than a basis point as the market continues to price in a hike in December.  The exception has been Italy as the stoush with the EC continues over their Budget, Italian 10y bonds up 5.9bps against flat to a marginal rise in core European yields.  In the commodity space, oil has weakened further.
Coming up
RBA Statement on Monetary Policy: growth upgraded to 3½; end point for unemployment sub 5%; at NAIRU, minor growth sticker shock diffused by still uncertain consumption and housing outlook
AU Housing Finance Approvals, Sept:  L: -2.1%, F: -1.0%; NAB +0.5%
China CPI and PPI, October: CPI L: 2.5%, F: 2.5%
Tonight: Brexit watch, UK Q3 GDP (L: 0.4%/1.2%; F: 0.6%/1.5%) UK trade & industrial production; Fed's Williams and Harker speak at a workforce event; Fed Governor Quarles too, on stress testing (bank-related?); UoM Consumer Sentiment
Key AU labour market wages and unemployment data next week; NAB Business Survey too
Market prices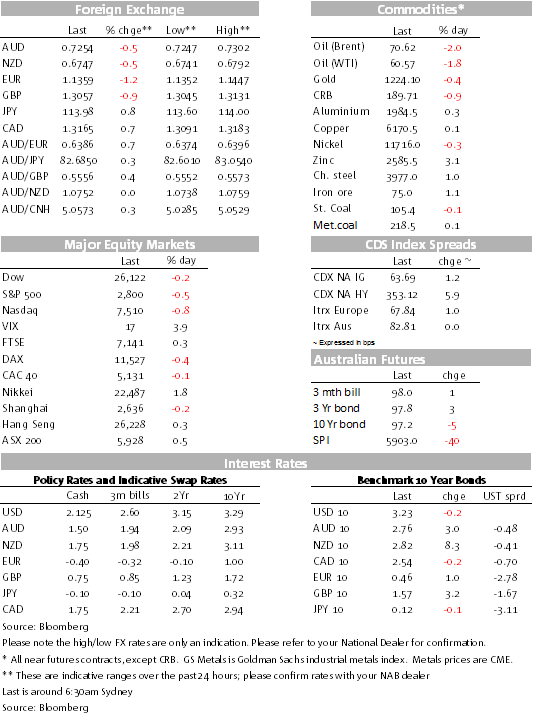 For further FX, Interest rate and Commodities information visit nab.com.au/nabfinancialmarkets