Markets Today: Inflation – mixed signals and opinions
Bond yields have fallen further overnight, in some cases to levels not seen for several months.
Today's podcast
Overview: Sweet but psycho
Bond yields fall in what looks like a positioning led move (US 10yr -4.6bps to 1.49%; low of 1.47%)
Equities tread water again with the S&P 500 down -0.2%, a touch below their recent record high
FX little moved with USD BBDXY +0.1%, GBP -0.3% underperforms, while AUD -0.1% is little moved
Coming up today: CH Aggregate Financing?, ECB Meeting, US CPI & Jobless Claims
"No, no you'll play along; Let her lead you on, on, on; You'll be saying, "No, no"; Then saying, "Yes, yes, yes"; 'Cause she messin' with your head", Ava Max 2018
Global yields fell overnight with the US 10yr breaking its recent range to trade as low as 1.47% and is currently trading at 1.49%. In the absence of any clear macro catalyst, the likely culprit for the move lower is market positioning given short positions were the highest since 2018 according to JP Morgan positioning data last week. Also at play was some thought that risk parity hedge funds may have shifted their bond allocation based on the lower volatility in the bond market seen recently. The fall in US yields spilled over to other markets with German 10yr yields also -2.0bps to -0.24%. Outside of rates, markets were relatively quiet ahead of the major risk events tonight of the ECB and US CPI. The S&P500 was little changed at -0.2% and is still hovering near its recent record high. Meanwhile G10 FX has been relatively quiet with the USD DXY +0.1%. GBP (-0.3%) has underperformed on EU-UK trade headlines, while the AUD (-0.1%) is little changed.
First to the move in rates
Moves were seen across the US curve with the 5yr -2.2bps to 0.7484% (intra-day low of 0.7244%), 10yr -4.9bps to 1.49% (intra-day low of 1.4705%) and 30yr -4.4bps to 2.1677% (intra-day low of 2.1483%). The 5s30s curve has subsequently flattened by 2.2bps. It is unclear what the catalyst was for the rally which started to gain momentum at around 4pm Sydney time yesterday with intra-day lows achieved around midnight Sydney time. In the absence of any macro catalyst, most analysts are attributing to positioning with JP Morgan survey last week showing investors were the shortest they have been since 2018. In contrast to that, CFTC data for speculative investors suggested mostly neutral positioning at the 10yr. Also possibly part of the narrative is a notion that risk parity hedge funds may have shifted more towards bonds based on the lower volatility recently. The move in yields also coincided with headlines of President Biden breaking off stimulus talks with Republicans, though this shouldn't have been market moving given the heavy discounting already applied to the proposed infrastructure package.
Regardless of the catalyst for last night's moves, it is clear that the past two Payrolls reports have seen bonds rally, while the inflation narrative also appears to have lessened a little on persistent Fed rhetoric of it being transitory. 10yr implied inflation breakevens are now sitting at 2.32%, well down from the 2.59% they reached back in early May. Meanwhile investor demand for Treasuries appears strong with a $38bn 10-year Treasury Auction drawing a yield 1bps below the prevailing market yield (1.497% vs. pre-auction yield of 1.507%), the fifth straight auction to see a lower-than-expected yield to the prevailing.
Elsewhere it was very quiet ahead of the key risk events later today of the ECB and US CPI. The S&P500 closed down -0.2% ad at 4,220 is still hovering just below its recent May 7 record high of 4,233. Like rates until last night, US equities have largely been stuck within a narrow range since late April.
G10 FX was also relatively quiet with the USD (BBDXY) little moved at +0.1% and still remaining near its multi-year lows. Most G10 pairs are within +/- of 0.3% with the biggest underperformer being GBP at -0.3% to 1.4112. Renewed tensions between the UK and EU over Northern Ireland flared overnight with the EU threatening sanctions. The trade jitters reversed the small rise in GBP seen in the wake of hawkish comments from outgoing BoE Chief Economist Haldane. Dr Haldane warned on inflation risks, noting "this is the most ¬dangerous moment for monetary policy since…1992 " and that waiting too long to raise interest rates risked an overheated economy and a more aggressive monetary policy response down the line. Such sentiments have also been expressed by several former US Fed and Treasury officials recently, though not by current Fed members who continue to repeat the transitory line.
Bucking the subdued inflation narrative yesterday was the higher than expected Chinese PPI which came in at 9.0% y/y against 8.5% expected and 6.8% previously. Meanwhile CPI in China was softer than expected at 1.3% y/y against 1.6% expected. The divergence between the PPI and CPI is worth noting, so too the PPI for the global goods inflationary impulse and some added heft to the views of the inflation hawks out there.
Elsewhere in G10 FX
The NZD also underperformed, down -0.3% to 0.7176. In contrast the AUD was little moved at -0.1% and currently trades at 0.7731. There is nothing market moving on the Australian calendar so the AUD will continue to be driven by international developments. Australian data and RBA commentary had little impact on the AUD, though two observations are worth noting: (1) RBA's Kent notes that while the RBA has been surprised on the real side of the economy, the RBA has not been surprised on either inflation or wages which aligns wth their view of " inflation unlikely to be sustainably within the target range of 2-3% until 2024 at the earliest"; and (2) the 5.2% fall in consumer confidence appears to have been driven by the Victorian virus outbreak with confidence in Victoria down 7.5% compared to being little changed in NSW at -1.1%.
Finally
The BoC meeting last night came and went without much fanfare. The Bank of Canada kept all its policy settings unchanged, as universally expected. The BoC said it would maintain its bond buying at $3b/week, although the market expects a further tapering to be announced at next month's meeting. It reiterated the same guidance around the cash rate, saying it would keep rates at 0.25% until economic slack was fully absorbed, which on the Bank's forecasts takes place in the second half of 2022.  The market prices a slightly better than even chance that the BoC will raise rates in 12 months' time.  The CAD fell back after the statement was released, to now be unchanged on the day, although the move coincided with the broader turnaround in the USD.
Coming up today
A quiet day domestically with only consumer inflation expectations. All international focus will be on the ECB and US CPI – details below:
AU: Consumer Inflation Expectations: While not market moving, consumer inflation expectations remain important to watch with inflation expectations in Australia still below pre-pandemic levels, whereas in the US they have soared well above pre-pandemic levels.
NZ: Card Spending Data:
CH: Aggregate Financing: due anytime this week with greater than usual focus given the slowing seen in liquidity indicators recently
EZ: ECB Meeting & Presser: The ECB is likely in no rush to deliver a taper message and we think the ECB Statement will continue with the line of "significantly higher pace" of bond purchases over the current quarter. The key question is whether the ECB provides guidance on the pace of purchases in Q3 and we do not think President Lagarde will go there. Nevertheless the ECB will need to acknowledge the better tone from recent data with modest upgrades to growth likely to be unveiled, though medium term inflation is likely to remain short of their target.
UK: BoE's Haldane: speaks on consequences of technological change
US: CPI & Jobless Claims: CPI the one to watch with consensus for core at 0.5% m/m and 4.7%y/y. An upward surprise is easily conceivable with a fair amount of ground covered by the distribution of forecasts all the way from 0.2% m/m to 1.2% mm. As for Jobless Claims the consensus looks for 370k, down from 385k previously.
Market prices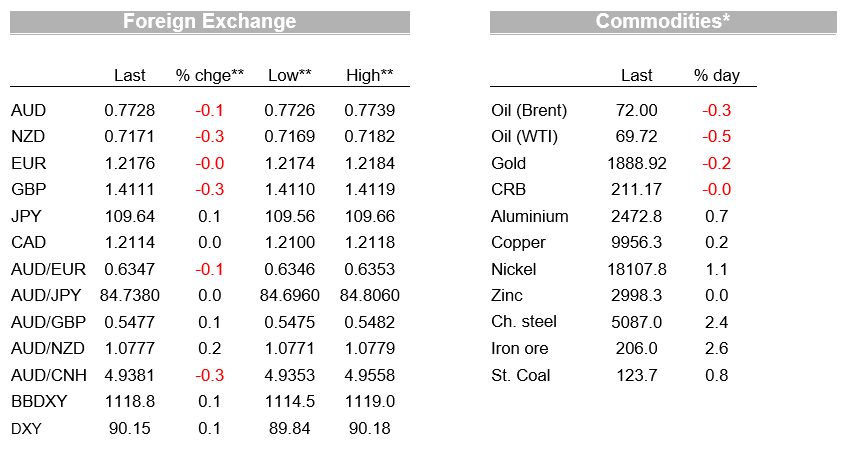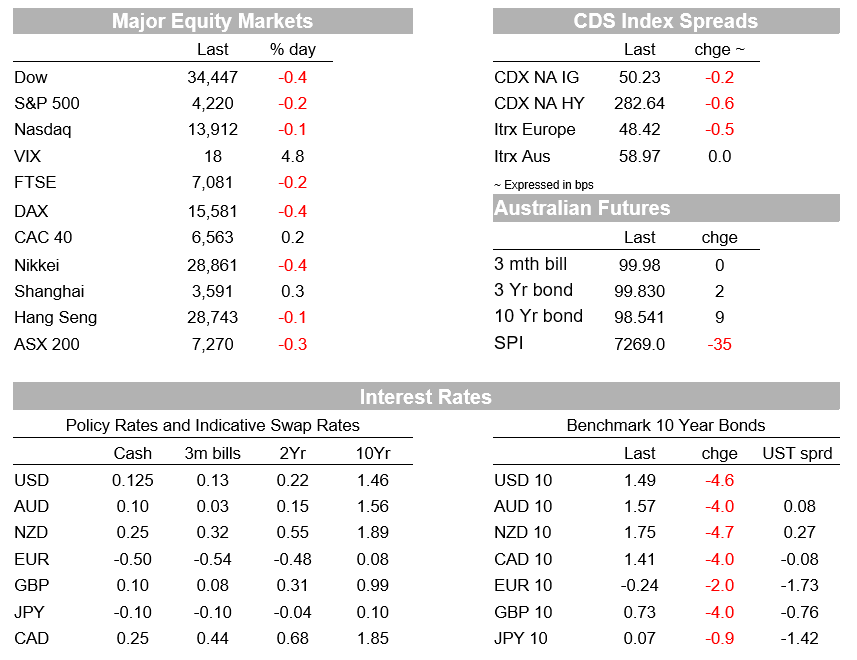 For further FX, Interest rate and Commodities information visit nab.com.au/nabfinancialmarkets