Markets Today: Markets dazed and confused by trade talk
The markets are a little uncertain about how to price the rising tariff confusion, with equities hit hard today but other risk-off signs – such as gold and bonds – hardly moving.
Today's podcast
Overview
Trade spat tit-for-tat spooks investors
Equities on the defensive; but Euro gains, EU and China forming up against the US; bonds bid but only in small moves
Italian yields pop again on League's positive showing in municipal elections
Meanwhile, China's cut to its RRR and currency fixes providing some economy support
Elements of risk off, but Euro outperforms, AUD under-performs
AUD back to just over 0.74; Euro in the ascendancy; EUR/AUD up 0.9% to 1.579 (vestiges of safe haven)
With an absence of major data, trade talk has been consuming most of the attention of markets overnight, with the threats of more from the Trump Administration on Friday, Europe retaliating with tariffs on $3.3b of US imports, the EU and China getting together to chew over strategy, and more.  Moreover, July 6 is looming when the specified $34b of additional tariffs kick in with the additional threat of another $200bn from the US side should China  retaliate, which they did.  Where to begin and what is the market to make of all of this?  It's been a very messy past 24 hours or so.
There were threats yesterday from an FT report pointing to restrictions of investment from China in US technology companies, an announcement due in days, though the US Trade Council head Navarro headline this morning appears to be downplaying this.  Specific restrictions on Chinese investment are apparently designed to prevent Beijing from moving ahead with plans outlined in its "Made in China 2025" report to become a global leader in 10 broad areas of technology, including information technology, aerospace, electric vehicles and biotechnology. The Treasury Department is reported to be crafting rules that would block firms with at least 25% Chinese ownership from buying companies involved in what the White House calls "industrially significant technology." To that were added reports that the National Security Council and the Commerce Department are putting together plans for "enhanced" export controls, designed to keep such technologies from being shipped to China, said the people familiar with the proposals. As noted above, whether Navarro is voiding this remains to be seen in this rapid headline changing world.
Stocks are down on all of the above news, the Shanghai down 1.05% yesterday, the Dax off 2.46% overnight and the Dow down 328 points, off 1.33%, a similar proportionate decline in the S&P 500 and a 2.09% decline in the Nasdaq.  Stocks pared some losses after the Navarro headline.  Harley-Davidson share are down a cool 5.97%, near the top of the declines in the US broader market.  Harley-Davidson has said that they could look to produce more motorbikes bound for the EU offshore to tariff-friendly locations, EU tariffs on Harleys increasing from 6% to 31% that the company estimates would be an additional $2,200 per HOG.  On the US data front, US New Home Sales in May surprised on the higher side despite tightening lending standards and higher mortgage rates; these numbers can be revised.  (On the local home mortgage rate front, one regional bank increased rates by 9-15 bps yesterday.)
In comparison, dips in global bond yields overnight have been mild, German 10 year bunds down one basis point and US 10 year Treasuries off a net 1.46 bps.  Running against the tide were Italian short and long end yields both rising in size (2s by 11.7bps and 10s by 13.2 bps) on news of the League having a strong showing in Italian municipal elections. This has not stopped the Euro from sitting at the top of the FX leader board this morning, ostensibly on safe buying and perhaps on the meetings between China and the EC over the weekend to discuss trade, though that's not a very satisfactory explanation given the market's focus on China.  Liu He, top Chinese economic adviser has said that "unilateralism is on the rise and trade tensions have appeared in major economies.  "China and the EU firmly oppose trade unilateralism and protectionism and think these actions may bring recession and turbulence to the global economy."
Endeavouring to work out the end game and winners/losers at this point in the war of words is premature.  Trade frictions and trade access with China in focus though has rightly centred some renewed selling attention on the AUD, that's at the other end of the FX leader board, back just above 0.74 this morning, having tested just below the figure in the NY session.  Base metals prices took a hit overnight, as did gold, though the Chinese benchmark 62% iron ore price rose ¼% yesterday with Met Coal and Steaming Coal prices up marginally.  BHP raised its end year price target for Met Coal yesterday from $160 to $168/t.   The VIX is up 3.56 points to 17.33.
What we also note is that China cut its bank reserve requirement ratio (RRR) on Sunday to cut the amount of cash some lenders must hold as reserves, unlocking about 700 billion yuan ($108 billion) of liquidity, as it seeks to control leverage and support smaller companies. The required reserve ratio for some banks will drop by 0.5 percentage point, effective July 5 to support small and micro enterprises, and to further promote the debt-to-equity swap program. The move was widely expected after China's cabinet said on Wednesday that it would use monetary policy tools, including cutting reserve ratios for some banks, to boost credit supply to smaller companies. In addition, USD/CNY has been fixed at higher levels, up 2.2% since the middle of the month, adding a measure of external support.
Coming up
Trade tension headlines?
Virtually nil for local/APAC data today
RBNZ Deputy Bascand speaks on digital currencies (9.00 AEST); ahead of Thursday's OCR, the RBNZ has released a "Statement of Intent" this morning, noting that the NZD remains at an elevated level and that policy remaining accommodative for a considerable period
The ECB's Coeure is speaking in Singapore (11.20) and Hansson at 18.00
BoE headlines tonight from a BoE MPC nominee hearing and the BoE's McCafferty speaking
US CBI Retail sales
Merkel is meeting with her coalition leader colleagues over refugee policy
The US has house prices, Conference Board Consumer Confidence and the Richmond Fed Manufacturing index and Dallas Fed Kaplan speaks in Houston.  He gave a very good speech on US shale oil developments recently, worth a read.  Let me know if you'd like the link.
Market prices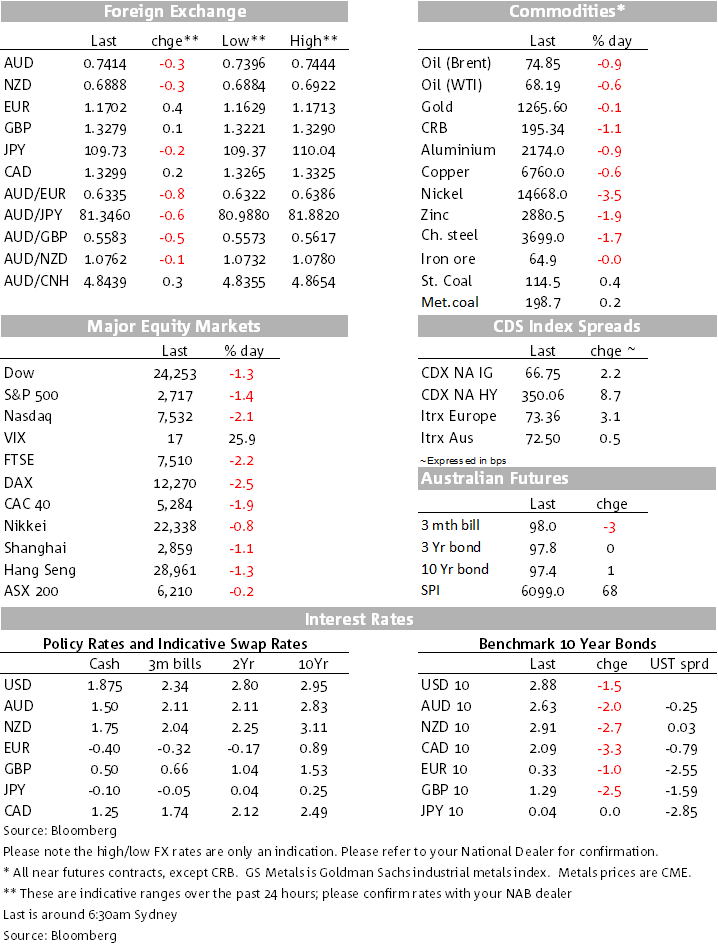 For further FX, Interest rate and Commodities information visit nab.com.au/nabfinancialmarkets