Markets Today: Oil's four year high on Iran talk; Tonight's Budget
Will tonight's Budget satisfy the ratings agencies?
Today's podcast
Overview
Trump to announce US decision on Iran nuclear deal at 2pm Washington time Tuesday – watch for 'leaks'
US Stocks firmer, Treasuries flat, USD firmer; latter meaning AUD spends time back below 0.75
Retail sales, China trade both due before Powell, Budget tonight
In what has been an otherwise quiet night with London out for the first of its two May bank holidays, the focal point has been news that President Trump will tell the world at 2pm on Tuesday whether or not he is pulling the US out of the 2015 Iran nuclear deal. This is ahead of the May 12th official deadline for re-ratification of the existing deal which, recall, dropped sanctions against Iran in return for verifiable cessation of nuclear weapons development, allowing Iran to pump as much as one million more barrels of oil a day than previously.
Belief that Trump will announce the US is pulling out were fanned by weekend comments from 'this week's Trump lawyer' and former NY major Rudolph Giuliani, saying Trump would almost certainly pull out. But in the last few hours we've had reports of a possible EU-US agreement that would keep the US in. This follows, among other things, an appeal to Trump from UK foreign secretary Boris Johnson via the President's favourite news outfit, Fox News, which evoked shades of what Lyndon Johnson was reported to have said about J. Edgar Hoover in the early 70s (re, it being better to have him inside the tent than out – you known the other bits).
The news of a possible deal to keep the US in the deal has seen Brent crude quickly drop to the low $75s from an earlier new cycle high of $76.34. There's much to play for here. We'd reckon there's still several dollars in the oil price based on a presumption the US will pull out.  So if Trump says he's staying, we could swiftly see another $2-3 off crude prices. If the decision is to leave, then Brent will likely be knocking on the door of $77 in short order. The latter, we'd surmise, is not risk friendly outside of the US energy sector (as well as the fact it heightens geopolitical tensions) and can compound some of the recently building pressures on various Emerging Markets (in turn a negative for the AUD).  Vice versa if the US is staying in. We might learn the answer during our time zone today if the recent history of 'source reports' from the West Wing is any guide.
US stocks have closed in positive territory with the S&P up 0.35% (Including a stronger energy sector) while US Treasury yields are pretty much flat across the curve. The US dollar is stronger (except versus GBP, the night's best performer) with the DXY index up 0.22% to a new recent high of 92.77.  This is the main reason AUD/USD is off 0.3% to 0.7516 and has spent a little time back below the 0.75 figure level.
Yesterday the AUD drew a little support from the latest NAB business survey which saw conditions match their all-time high of 21 (+6) and confidence lift by 2 points to +10, well above its +6 long term average. All sector bar retail report reasonable conditions, while at the state level NSW and VIC. took up the baton from QLD and WA in driving most of the improvement.  At the same time, evidence of higher price or wage inflation remains lacking, though employment indicators continue to suggest that the official ABS figures (and latest RBA forecasts) are under clubbing the strength of the labour market.
Coming up:
All eyes on the US President's decision on Iran and whether we learn the fate of the deal ahead of the 2pm Tuesday formal Washington announcement.
Fed chair Jerome Powell speaks on a panel at a conference in Zurich at 17:15 AET this evening, but its doubtless we'll learn much more on what is now as key Fed policy topic – just how tolerant is the Fed prepared to be of inflation pushing further above 2%, as seem highly likely in coming months? The panel title is 'Monetary Policy Influences on Global Financial Conditions and International Capital Flows'.
China trade numbers are due sometime this morning (time not yet known) where both exports and imports are seen lifting in annual terms relative to March – if so AUD positive at the margin.
Australian March and Q1 retail sales are due at 11:30. 0.2% for March nominal and 0.6% for Q1 real is the NAB call and consensus.
Then tonight (19:30 AET) Scott Morrison hands down what will be the last Budget before a general election slated to take place no later than May 2019.  We will learn the detail of planned tax cuts for low and middle income earners, new infrastructure spending plans across all states and territories, and that the Medicare Levy increase previously planned from 2019 will not now proceed.  Doubtless there are other pre-election lollies to be handed out.
At the macro level, the Treasurer is expected to report that higher revenues and spending parsimony have improved the Budget bottom line by $7bn or more this year (and going forward) reducing the projected Underlying Cash Balance to a deficit of about $13bn versus $20.5bn in the last MYEFO.  A question is whether Morrison will now project a budget surplus in 2019-20, a year earlier than previously planned (Sky News yesterday was reporting that he will).   We expect the ratings agencies to be favourable impressed by the Budget, but whether it will be enough to see S&P dropping its negative outlook on the AAA rating remains to be seen.
Market prices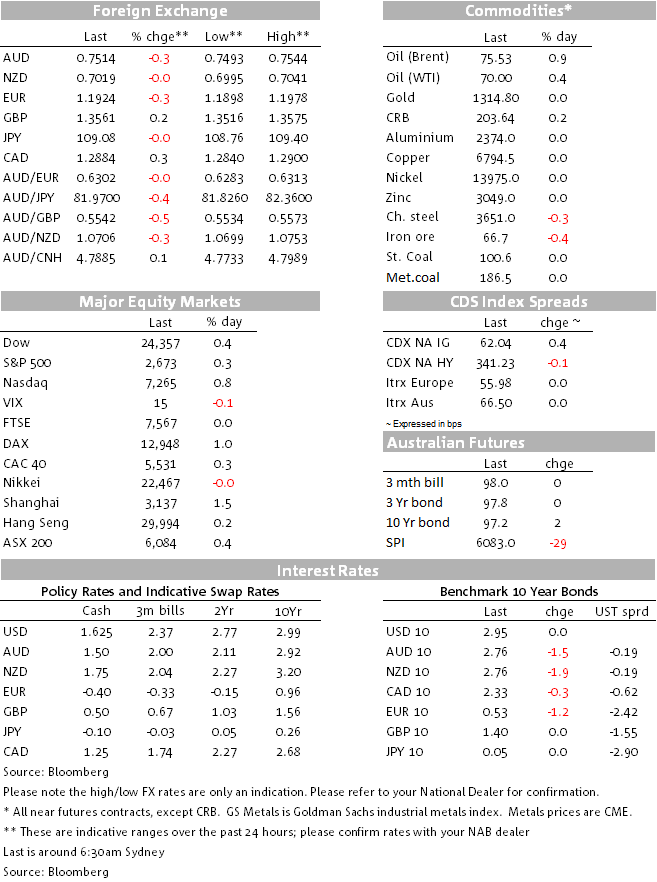 For further FX, Interest rate and Commodities information visit nab.com.au/nabfinancialmarkets