Markets Today: RBA rate cut, Fed to follow
The RBA is expected to cut interest rates today, but more interesting will be what Philip Lowe says this evening.
Today's podcast
Overview: Amazona
No let-up from falling US yields, falling USD and falling US equities; latter 'FAANGS' driven on antitrust concerns
US Manufacturing ISM falls to 52.1 from 52.8 against expected small rise
Fed dove Bullard says a rate cut "may be warranted soon"
NZD last night's currency lottery winner, +1%; AUD up to 0.6976.  Short covering and USD long liquidation
RBA expected to cut by 25bp today – assuming so Lowe speech this evening may be the more market moving event
The NASDAQ (-1.6%) has officially entered 'correction' territory, closing more than 10% lower than its May 3rd record high.  Maybe the adage "sell in May and go away" should read "sell before May…".  Shares in Amazon (-4.6%) Google parent Alphabet (-6.1%)  and Facebook (-7.5%) have all taken a bath, on news since last Friday's close that the Department of Justice (in the cases of Alphabet and Apple) and Federal Trade Commission (re Amazon and Facebook) will expand their oversight and take the reins in antitrust investigations into these technology behemoths.
Broader equity markets meanwhile continues to draw support from intensifying expectations the Fed might not be long in deciding it needs to cut rates in an effort to protect the economy from downforces soon to be unleashed in the next phases of President Trump's tariff war, assuming he is not about to pull up on his threat to increase tariffs on China and implement them on imports from Mexico (starting June 10th). Perhaps the earliest that might happen vis-a-vis China at least is only after the Fed has delivered the 100bps of rate cuts Trump and some of his adverse have been advocating ever since the Fed lifted rates last December and the US dollar is significantly weaker?  Just sayin'.
Overnight current Fed arch-dove James Bullard from the St. Louis Fed said that a rate cut "may be warranted soon to help re-centre inflation and inflation expectations at target and also to provide some insurance in case of a sharper-than-expected slowdown".  Bullard is a current FOMC voter, so it will be noteworthy how he votes at upcoming Fed meetings – the next slated for June 18/19th and which will also contain new economic forecasts and 'dots'.
Fed Funds markets meanwhile have again moved the dial on easing expectations, with two 25-point cuts fully priced before the end of this year and half a chance of a third, with a full 100bps priced by September 2020.
10-year Treasury yields are down another 5bps or so to 2.07%. A month ago those were above 2.60%. 2s are down a bigger 8bp to 1.84% as Fed easing expectations actions ratchet up.  German Bunds meanwhile ended their session little changed at minus 0.20% but after posting a record low of -0.22% intra-day.
Contributing something to US slowdown concerns, the May Manufacturing ISM was weaker than expected, coming in at 52.1 from 52.8 against expectations of 53.0.  The fall this month keeps the ISM at its lowest level since October 2016 and below its long-run average of 52.9. The headline decline was driven by Inventories, Supplier Deliveries and Production, while New Orders and Employment bounced smalls. The fall in inventories suggests firms are working through order backlogs (Backlog Orders Index -6.7 to 47.2) and thus implies that New Orders need to lift in coming months in order to sustain production. An escalation in trade tensions remains the major downside risk and should tariffs be raised further against China and imposed on Mexico, we would expect very sharp falls in the ISM in coming months.  Construction spending meanwhile came in flat against an expected rise of 0.4%, though March was revised up to 0.1% from -0.9%.
The inability of major non-US government bonds to come close to matching the fall in Treasury yields continues to eat away at US dollar strength, the DXY index losing 0.53% Monday on top of Friday's 0.4% fall, to now be about 1.25% back to its 6th June cycle high.  Safe-haven dollar characteristics are nowhere to be seen, or at least being overwhelmed by interest rates considerations, unlike in the JPY and CHF. Monday was the turn for Swissie to play catch up to earlier JPY strength, +0.8% on Monday versus just +0.2% for the JPY. USD/JPY spent some time sub-¥108 (o/n low of ¥107.88)
Given the negative news flow since Trump's May 5th announcement he was lifting the tariff rate on $200bn worth of Chinese imports from 10% to 25%, few budding traders and FX analysts would have predicted that the NZD and AUD would today be sitting little changed on where they were a month ago.  NZD is Monday's currency lottery winner, up just over 1% and almost 2% off its 23rd May lows.  AUD is 1.7% off its 0.6865 lows recorded either side of the May 18 federal election, gaining 0.5% overnight to 0.6976.
Short positioning in AUD and NZD (and near extreme long USD positioning vs. G10 currencies, judging from IMM data) goes a long way to explaining the recovery in the antipodean currencies together with the depressing USD impact of fast falling US interest rates. We'd also note that a lot of bad news is 'in the price' according to our short term fair value models (currently indicating AUD/USD fair value just above 0.69).  Yesterday the RBA's May commodity price indices served as a reminder of the recently strong countervailing force to the pull from lower interest rates, rising by 0.5% in SDR terms in May on top of an upward revised 2.7% in April.
Coming up
Assuming the RBA delivers a unanimously-expected rate cut on Tuesday (2:30pm AEST)  our view is that Governor Lowe's speech this evening (7:30pm AEST) will preview the RBA Minutes, explaining the June decision and perhaps signalling the RBA's timeline for further rate cuts, in the form of a conditional scenario. Any suggestion that a quick follow up to a cut this week is not a 'given' – after Governor Lowe earlier drew attention to the fact its forecasts were predicated on two cuts – has the potential to see AUD extend its recent gains.
This morning's remaining GDP partials covering net exports and government spending, could shift the dial on expectations for Wednesday's GDP if net exports comes in wildly different from the 0.2% consensus (also NAB forecast). This after yesterday's inventories data probably likely pushed the 'whisper number' for GDP back to the original 0.5% consensus after coming down to 0.4% at the end of last week.
Offshore, we get EZ May CPI, where NAB sees the downside risk to the 1.3% headline/09% core market consensus (NAB 1.1%/0.8%). The US has final April factory/durable goods orders and where the preliminary numbers two weeks ago showed substantial downward revision to the data through March and which together with the earlier weakness in Markit PMIs raised the first yellow flag that all might not be well in the US manufacturing sector.
Market prices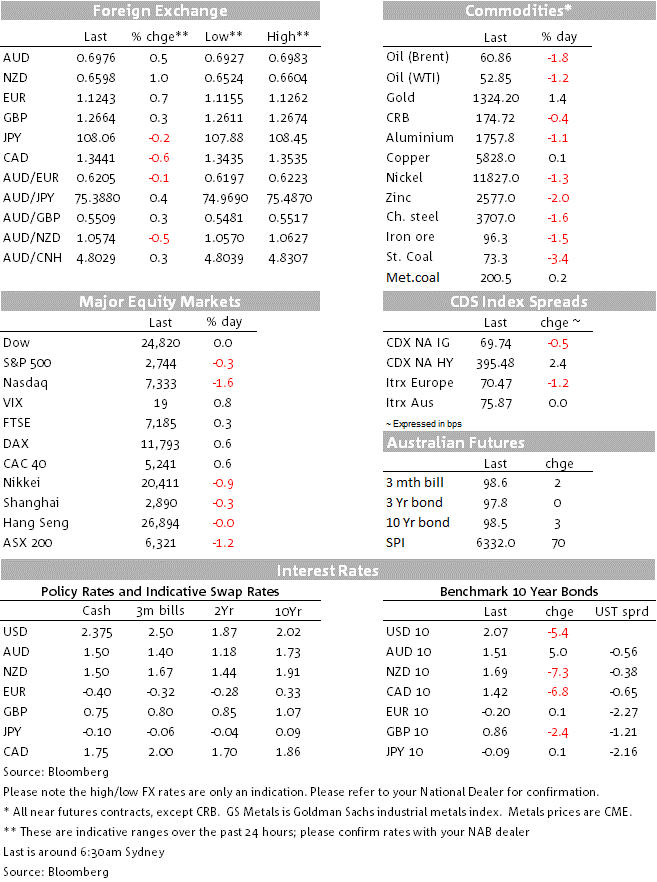 For further FX, Interest rate and Commodities information visit nab.com.au/nabfinancialmarkets