Markets Today: Reflation reigns for now
Equities are on the rise again as risk sentiment rises following largely positive data.
Today's podcast
Overview: When tomorrow comes
New Record highs for S&P, shrugging off tax hike concerns
AUD retests last week's 0.7815 high
German IFO and US Durable Goods Order mildly disappointing
BoJ today, China profits, US Consumer Confidence and Microsoft earnings
Wait till tomorrow comes – yea yea, Wait till tomorrow comes – yea yea – The Eurythmics
For a second day running, US stocks have moved higher, recovering further from last week's tax hike fear related slippage. Positive risk sentiment sees the USD slipping again alongside still-subdued US Treasury yields, with currency gains led by the AUD. Incoming US and European data has slightly disappointed expectations but not to any great market fanfare.
US stock market investors' attitude towards first the proposed partial reversal of the Trump era corporate tax cuts and then last week's reports that capital gains tax could be doubled for the richest Americans, looks to one of 'we'll cross those bridges if and when we come to them'. Specifically on last Thursday's capital gains tax reports and which spooked US equity markets before recovering on Friday – and further overnight – the FT reports a senior Biden official telling the paper that that  just 0.3 per cent of people filing taxes in the US would be hit by higher levies on their investments under its plan, at a time when wealth for the richest Americans has soared during the pandemic. Other reports suggest that the real aim of the plan is to abolish the ability of hedge fund managers and the like to treat the profits of their endeavours as so called 'carried interest' and which are taxed at the prevailing (20%) capital gains tax level rather than as income (and if so, something that is seen easily garnering populist support). We'll learn more on Wednesday night when President Biden addresses a joint session of Congress regarding his American Families Plan.
US equities have closed with yet another new record high for the S&P500, +0.2% to 4,188 while the NADAQ has done better still, up 0.9%. Tesla reported after the NSE close with adjusted earnings of 93 cents per share against a street consensus of 80 cents on revenue much in line with expectations ($10.39bn versus $10.41bn expected).  So cost reductions a big part of the story here. Tesla's stock was down about 1.5% in after-hours trade and ahead of the 7:30 AEDT investor call having risen by 1.2% pre-earnings,
Data highlights have been the German IFO survey and US durable Goods Orders.
On the heels of last Friday's better than expected PMI data, the German IFO survey for April came in on the disappointing side of expectations, the headline Business Climate index up marginally to 96.8 from 96.6 but shy of the 97.8 consensus. It seems that infection news over the past month or so and less than spectacular roll-out of the vaccines is dogging sentiment, the Expectations index was down to 99.5 from 100.3, while the Current Assessment index (that tracks activity more closely) was up from 93.1 to 94.1, marginally shy of the 94.4 expected. The survey is nonetheless consistent with some lift in activity, with much more to come in the service sector in coming months. In this respect, the German government has lifted its 2021 growth forecast to 3.5% from 3.0% previously.
Also on the 'weaker than expected' side of the data ledger, US April durable goods rose 0.5% m/m in April at the headline level, below the 2.5% consensus, though revisions were less negative across the board and better by 0.3%pts for the headline. Ex-transport, orders  were in line at +1.6% m/m, while Mar revised 0.6%pts better. The in-focus 'non-defense ex air cap goods orders' also missed with a +0.9% m/m rise vs 1.8% consensus (and here the story here is record Boeing orders offset by cancellations).
On the plus side, there was another beat on the regional Fed manufacturing indexes, today's from the Dallas Fed up from 28.9 in March to 37.3 in April (consensus 30.0) and where new orders are the highest in the 17-year history of the survey. Ahead of this Thursday's first estimate of Q1 US GDP, the Atlanta Fed pretty much sticks to its Nowcast estimate (GDPNow) at 8.2%, from 8.3% on April 16, well above the current 6.8% (the latter pretty much where the NY Fed has its Nowcast estimate, 6.9%.
The softer than expected durable goods numbers look to have had a modestly positive impact on the US Treasury market, with 10-year yields falling from 1.59% pre-release to a low of 1.555% before rebounding by a basis point or so. The sale of 2 and 5-year Notes went off without a hitch, 2s tailing by just 0.4bp and 5s coming 'on the screws' vis-à-vis immediate pre-action yields. Tonight's 7-yar auction might provide a somewhat sterner test of the sustainability of the recent fall back in Treasury yields.
FX market see the USD continuing to soften albeit not by much, BBDXY -0.08% and the DXY a lesser 0.03%. Losses have been led by the AUD, up by 0.8% on Friday's NY close to test – bit not yet break – last week's 0.7815 high (0.7798 now).  CAD (+0.6%) and NZD (0.5%) are Monday's other main gainers while at the other end of the G10 scoreboard USD/JPY is 0.2% higher at Y108.12 after earlier rejecting a test of important technical support around Y107.70. Note too USD/CNH has dropped from 6.4875 to 6.4725 (strongest CNH level since early March).
Supportive of Monday's gains for the Aussie has been an across-the-board rise in base metals, led by a 2.1% rise in copper to new post-2011 highs), with the LMEX index up 1.9%. iron ore futures are also up again, by some 0.75%.
Coming up
BoJ: After the much-awaited March policy review, the BoJ is expected to stand pat today A fourth covid wave has now erased hopes for a domestically driven economic recovery in Q2. More concerning, however, Japan's underwhelming vaccine roll out programme is now threatening the potential for any domestically driven recovery at all in 2021. BoJ's economic projections are looking too optimistic and at risk of downward revision today.
China has March industrial profits (which were up 20.1% year-on-year in February)
US Conference Board April Consumer Confidence should be buoyant given stimulus cheques and sharply rising employment, expected at 112.0 from 109.7 in March.
US tech sector earnings are flooding in this week; tonight sees Microsoft report after the NYSE close (so 6:00 AEDT Wednesday).
Market prices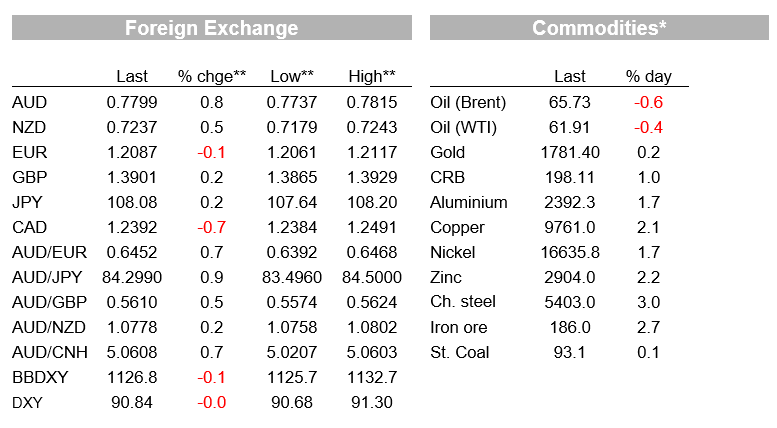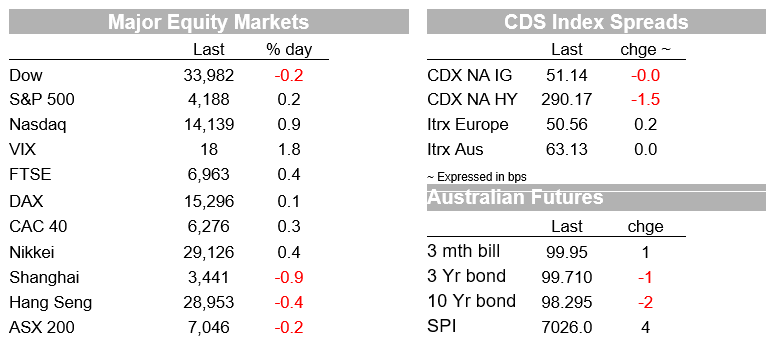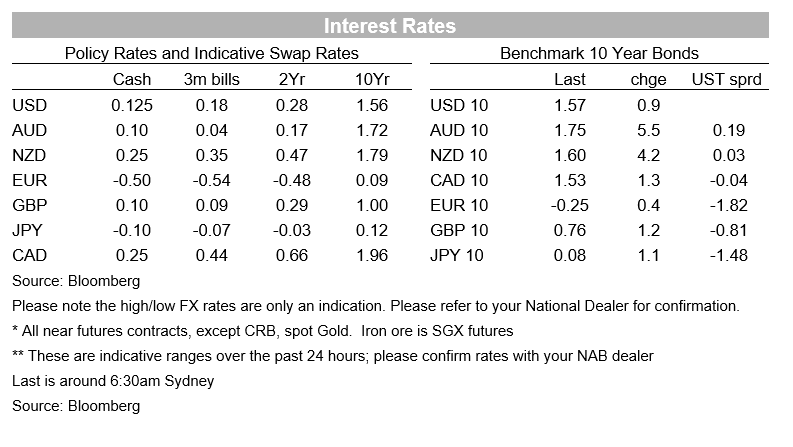 For further FX, Interest rate and Commodities information visit nab.com.au/nabfinancialmarkets
More from NAB