Markets Today: Shares up, Merkel to step down
Equities rebounded sharply at the start of the session in the US, but lost ground, but are still up on the day.
Today's podcast
Overview: Don't dream it's over
EUR eases as Merkel announces she will stand down at next election after bad showing in state election
UK Budget has little effect on the Pound, but weighs on tech stocks
Equities higher in Europe and initially in the US, but UK Chancellor's new Digital Services Tax weighs on the Nasdaq; the US session has a weak end to the session, ending in the red
USD making some ground higher across the board
US PCE deflator right in line with expectations
Wire stories suggesting US planning next tariff move if Trump-Xi G20 talks fail
AUD pulls back to just below 0.7060; loses some ground on most crosses too as positive risk sentiment fades
Equities
It's been an up and down session, marked initially by a good session in Europe, helped by a proposal out of China to cut its 50% car purchase tax, currently 10%, taking the tax to 5%, adding to the other stimulus measures announced by China in the wake of the US tariffs and some signs of growth moderating.
Not surprisingly, this proposal to cut taxes for cars sold in China helped European auto stocks, VW up 4.05%, Daimler up 2.06%.  This initial positive sentiment spilled over into what looked to be a positive first part for the US session.  The sentiment among risk assets soured late in the European session.  In an otherwise generally innocuous UK Budget as far as the markets were concerned, it was the announcement by UK Chancellor Hammond of a proposed Digital Services Tax that scuppered sentiment among tech stocks, the Nasdaq leading the march lower, momentum accelerating in the final part of the session, though what transpired as looking like it was in freefall in the past hour has seen markets gather some composure to close somewhat above intraday lows.  Note also that along with the UK Digital Services Tax was a wire story that another US move on tariffs could arrive if next month's proposed talks between Trump and Xi fail.
The Dow has closed down 0.99%, the S&P 500 by 0.66%, and the Nasdaq by 1.63%.  The S&P 500 is now off 9.9% from its early month high.
Currencies
It's been a relatively positive session for the USD, though not again fully from its own doing.  Weighing on the Euro this week has been press speculation, followed up by an announcement from German Chancellor Merkel, that after her Party's poor showing in the Hesse by-election at the weekend, she will step down from the leadership of her party at the next election, due in 2021.  The Chancellor's departure announcement as party leader of the CDU caused an initial 50pip fall in the EUR to 1.1360, though the Euro subsequently bounced to 1.1390, after Merkel later said she would stay on.
With the souring of risk sentiment in the second half of the overnight session, the AUD has been drifting off, but only at the margin, equities still the main show for markets.  The AUD is down from earlier touching 0.71, currently trading at 0.7057, toward the lower end of its recent range.  It's again been relatively orderly trading, the VIX up to 25.68 and commodity prices drifting lower overnight, including base metals, oil, and gold, iron ore little changed after some gains last week.
Economics and bonds
It hasn't been a big night for economic reports, the main one being the US Personal Income and Spending report for September, this one already embodied in last Friday's GDP report for Q3.  Real consumption increased by 0.3% in September, as expected, as did the headline and core PCE deflators, the headline deflator up 0.1%/2.0% and the core PCE deflator up 0.2%2.0%, both bang on the Fed's inflation target.
Along with the then positive sentiment in stocks, this provided some background support to Treasury yields, daily yield movement dipping in and out of positive territory, finishing less than a basis point from the previous close.  There's quite a lot of key data coming up in the US this week, culminating in payrolls on Friday with its focus on jobs and especially on earnings growth.  The Q3 Employment Cost Index is out tomorrow night and the ISM Manufacturing index is being released on Thursday.
Coming up
Building Approvals for Sep (11.30 AEDT): partial positive payback expected after out-sized Aug fall (L: -9.4%; NAB +5.5%; F: +3.8%).  It's a very choppy series but another fall would add to the view that the dwelling construction cycle is turning down further;
RBA's Michele Bullock (Assistant Governor, Financial System) speaks at Global Markets Conference (13.10 AEDT); no speech title available
Also this morning, ANZ-Roy Morgan weekly Consumer Confidence at 9.30 AEDT, L: 112.3
Tonight: EUR Q3 GDP (L: 0.4%/2.1%; F: 0.4%/1.8%); German CPI (L: 0.4%/2.2%; F: 0.1%/2.4%)), US Conference Board Consumer Confidence, Oct (L: 138.9; F: 135.9).
Market prices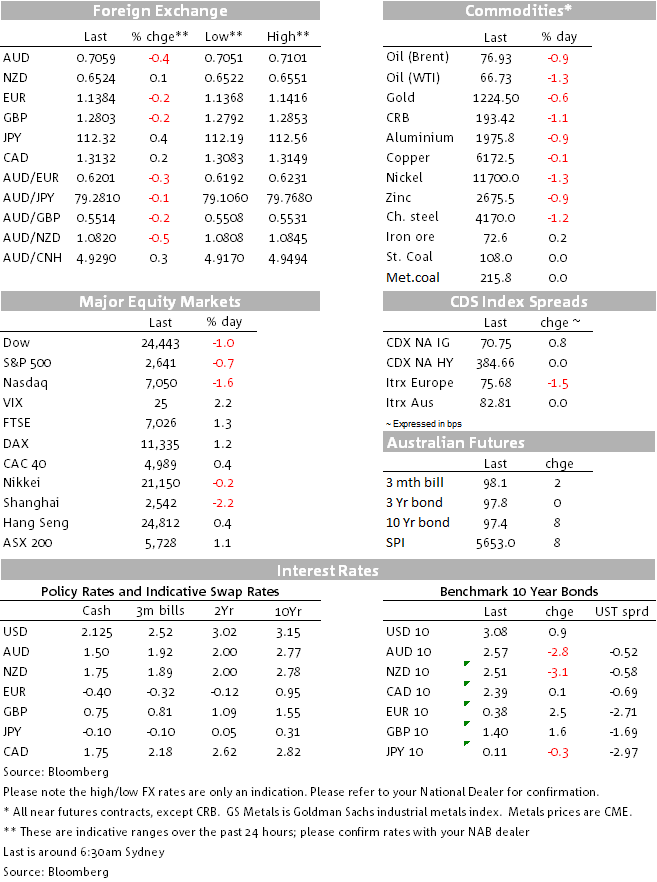 For further FX, Interest rate and Commodities information visit nab.com.au/nabfinancialmarkets