Markets Today: Talks with China "going very well"
US-China trade talks extended into a 3rd day.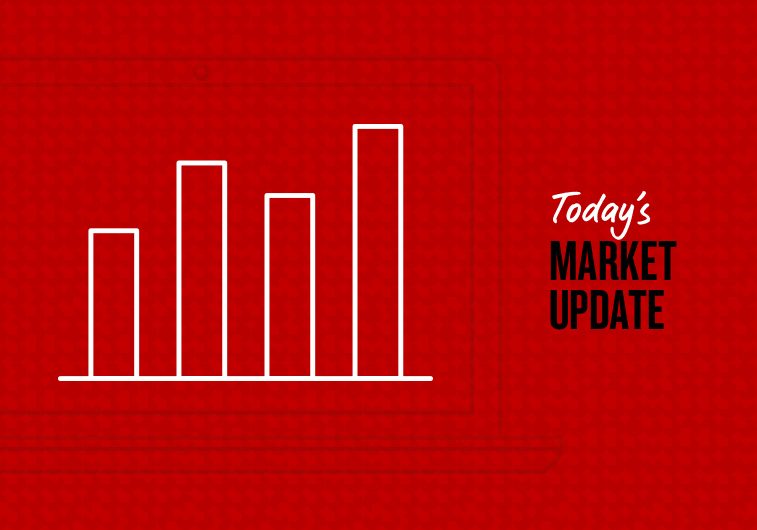 Trump tweets "talks with China are going very well!"  
US stock market rally extends, Treasury yields rise again, USD 0.25% firmer
The US stock market rally has now extended to a third day, a tweet from US President Trump saying no more than "talks with China are going very well!" and news that the current discussions in Beijing have been extended into a third day, enough to keep risk sentiment supported. This in turn sees US bond yields higher (moved accentuated by a relatively poor 3-year Note auction) and has offered some support to the US dollar. Allied to the latter, the US NFIB Small Business Optimism survey didn't drop back nearly as much as expected, while in Europe more poor data was revealed in the form of much softer than expected German industrial production and falls in whole range of EC consumer, business and economic confidence surveys.
FX
A relatively quiet night for currencies, AUD/USD spending most of its time since the Sydney close between 0.7120 and 0.7145 (0.7138 now). The Canadian dollar and Japanese yen are the only two G10 currencies up against an otherwise stronger USD; CAD outperformance explained by oil (and ahead of what is confidently expected to be an unchanged rates decision from the Bank of Canada tonight). USD/JPY is in fact pretty close to unchanged.
GBP is the weakest currency after the NZD, both off almost 0.5%, Sterling weakness is despite the UK parliament having just passed – by 303 votes to 296 – a bill that prevents the government from raising taxes (and funding 'No deal' preparation spending) unless there is either a Brexit deal, a decision to extend Article 50 or Parliamentary approval of a 'No deal' Brexit. At the margin this reduces the likelihood of the UK crashing out of the EU without a deal, so is ostensibly GBP positive but the FX markets doesn't as yet seem to care.
The weaker EUR/USD (-0.3%) and which is the main driver of the 0.25% rise in the DXY index, is best seen in the context of the renewed widening in US-German benchmark bond yields spreads so far this week, particularly at the shorter end where US 2s have risen by almost 10bp and German 2s by only about 2bps.
Equities
US equities come into the last hour of trade with the major indices showing gains averaging just less than 1%; It's a fairly uniform picture across sectors, Real Estate and Communication Services currently showing the strongest gains, financials the only sector in the red within the S&P 500. Earlier, European stocks all ended in the green, the Eurostoxx 50 up 0.7%.
Bonds
The further improved market risk tone has seen US Treasury yields progress higher led by the front end and where upward pressure culminated in a relatively weak first US Treasury auction of 2019, of 3-year notes. The sale produced the lowest bid-to-cover ratio since 2009 (2.44, vs. 2.59 at the prior – December 11th – auction). The yield was 2.559% percent, slightly above the prevailing market rate for the new securities ahead of the auction.
2yr yields are currently +4bp on the day at 2.581% and 10s +1.8bps at 2.714%. German 10 year yields earlier closed just 0.8bps higher at 0.223% yesterday Australian government 10 year yields finished the day flat at 2.297%. Overnight, 10 year bond futures have seen their implied yield rise by 6bps to 2.365%.
Commodities
Further advances from oil overnight with both Brent and WTI blends currently up 2.3% (+$1.32 and $1.14 respectively) while base metals are mostly lower (e.g. aluminium -1% and copper -0.3%); iron ore holds recent gains however, up another 0.1% while gold has slipped by $4, probably symptomatic of the slightly stronger US dollar.
Economic data summary
AU November trade balance A$1,925mn. (2,175mn.E, $2,013mn. P revised from 2,316mn)
Germany November industrial production -1.9% m/m (0.3%E, -0.8%P revised from -0.5%); yr/yr WDA -4.7% (-0.8%E, 0.5%P revised from 1.6%)
Euro Zone confidence indicators continued their year-long slide. While headline Consumer confidence was steady at -6.2 in Dec (after peaking at +1.4 in Jan 2018), economic confidence slipped to 107.3 from 109.5 (115.2 peak Dec 2017), business climate fell to 0.82 from 1.04 (peak1.62 Jan), industrial confidence slipped to 1.1 from 3.4 (peak 9.7 Jan and services confidence dropped to 12 from 13.4 (peak 16.9 Dec 2017). Industrial confidence the largest faller (presumably trade spat-related) with larger declines seen in France, Spain and Belgium.
US NFIB Small Business Optimism 104.4 (103.0E, 104.8P)
US JOLTS job openings 6.888mn saar down from an upward revised 7.131mn in October and 7.050mn. expected
Coming up
AiG Performance of Services Index (08:30 AEDT)
Australia November Building Approvals (11:30 AEDT). Ever-volatile, approvals have recently seen a downtrend in both house and apartments. In November, these trends are likely to continue, although NAB expects a small rebound in apartment approvals (+3.5% m/m) to more-than-offset a modest reversal in House approvals (-0.8% m/m). Taken together, NAB expects Approvals ticked up 1% m/m (-24% y/y).
President Trump to make prime time TV address on border security matters (9pm Eastern, 1pm AEST) with an equal time (8-minute) reply from House leader Nancy Pelosi and Senate Minority leader Chuck Schumer. Interest is in whether Trump declares his intention to invoke 'national emergency' powers to divert some of the defence budget towards "Wall" funding, which were he too would almost certainly invite a legal challenge.
Eurozone unemployment (8.1%E, 8.1%P)
Bank of Canada rates decision (no change expected)
FOMC minutes from Dec 18-19 meeting
Fed's Bostic, Evans, Rosengren to speak
Market prices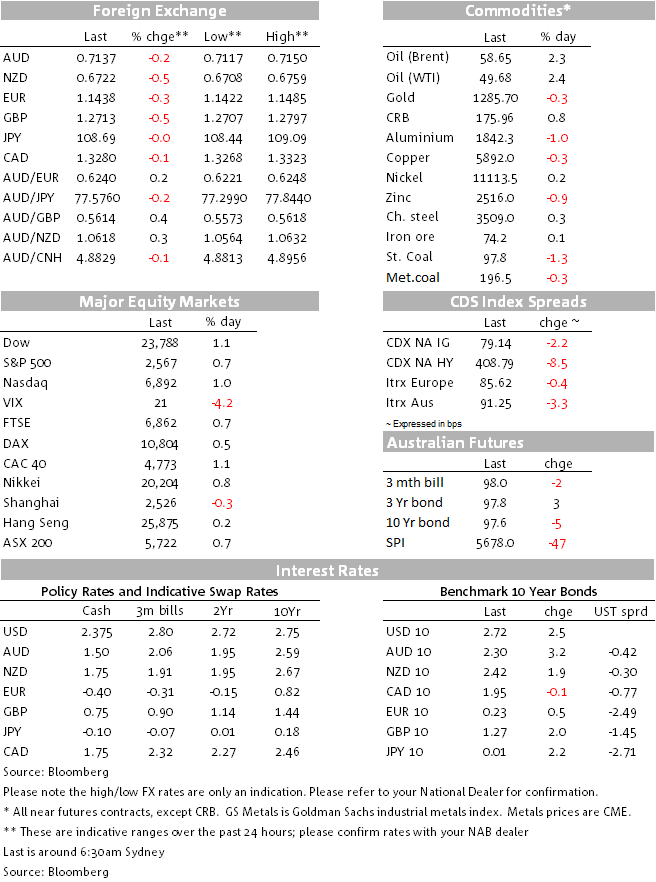 For further FX, Interest rate and Commodities information visit nab.com.au/nabfinancialmarkets