Markets Today: Trump ready to go the full 500
What will be the impact of a prolonged trade war? Is it bad news for the Aussie dollar?
Today's podcast:
Overview: The heat is on
Trump has another go at China, currency manipulators and the Fed
Kudlow : Trump won't let go of trade tension regardless of Nov. election
BOJ is likely to debate policy changes at this month's meeting
USD falls on Trumps remarks
The UST curve steepens with the move led by the 30y tenor
JPY gains on BoJ speculation, strong data helps the CAD
Jump in commodities boost commodity link currencies
NZD back above 68c and AUD back above 74c
Chancellor Merkel trade tensions are 'very serious situation"
Week ahead: AU CPI; EU's Juncker and Malmström meet Trump; ECB meets; US GDP; EZ Flash PMIs
President Trump turned the heat on again on Friday, threatening to increase trade protectionist measures against China, calling out currency manipulators and also had another go at the Fed for raising rates while others continue to ease (see below for a full tweet recount). Kudlow, Trump's economic adviser, noted the November election will not stop the President on trade issues adding that Trump sees equities as no barrier given they are 30%/40% higher.
The above tweet/remarks triggered a broad based USD sell off during Friday's overnight session and a steepening of the UST curve led by the back end of the curve. Speculation over BoJ policy tweaks help the yen and also played a role in the move higher in UST yields, strong data supported the CAD while the soft USD backdrop and gains in commodities helped the NZD move back above 68c and the AUD back above 74c. US equities ended the day marginally lower, European equities closed mostly weaker and earlier in the session, after 5 negative consecutive days, the Shanghai Composite gained over 2%.
Ahead of an important week of trade negotiations between the US and Europe, President Trump has sent a clear signal that he is not going to yield on his demands.  The outcome of Trump/Juncker tariff meeting on Wednesday will be quite binary for risk sentiment. The President's remarks also make it very clear he has a distaste for a stronger dollar, effectively limiting the greenback's ability to perform, at least near term. The CNY fixing on Monday (after a soft Friday for the USD and recovery in CNY)  will be important for the AUD at the start of the week before focus shifts towards Australia's Q2 CPI release on Wednesday morning with markets and NAB expecting solid prints for both the headline and core readings.
Equities
US equities posted small negative returns on Friday, losses in Europe ranged between 0.07% and 0.98% with the DAX the big loser and not helped by Chancellor Merkel's remark that trade tensions are a "very serious situation". Encouragingly for Asia/EM, the Shanghai composite ended a five day losing streak closing Friday with gains over 2%.
 Currencies
President Trump's disparaging remarks for a strong USD look to have capped any potential gains for the greenback near term. After flirting with the idea of making a new year to date high on Thursday, the DXY index is down more than 1%, closing the week at 94.62. That said, idiosyncratic issues in other currencies have also played into the weaker USD narrative.
On Friday, a Reuters report suggested the BOJ is likely to debate policy changes at this month's meeting. The Bank may discuss adjustments to the way it buys JGBs and ETFs to mitigate market distortions. However, the emphasis of any changes is being portrayed as step for policy sustainability, not tightening.
In a classic pattern of shoot first and ask questions later, reaction to the report gave a boost to the yen, probably not helped by a short squeeze on USD/JPY longs established in the prior week, USD/JPY closed the week at ¥111.44, just above key technical support levels. Strong CPI and Retail sales figures dragged USD/CAD from a high of 1.3290 to 1.3120 before closing the week at 1.3143. The soft USD backdrop and gains in commodities helped the NZD move back above 68c and the AUD back above 74c.Both antipodean currencies' remain confined to their recent tight ranges.
Rates
The UST curve steepened on Friday, led by a selloff in the back end of the curve with reports of a block sale of 2605 ultra-long bond futures seemingly a factor at play. The BoJ reports led to a 5bp rise in the 10 year Japanese government bond future during US trading hours, an unusually large move for Japanese interest rates.
The Japanese moves contributed to a steepening in the US yield curve, with the 10 year Treasury yield up 4bps on the day to 2.89% while the 2 year yield was unchanged.Aside from Trump/Kudlow's remarks it is interesting to note that pricing expectations for a Fed hike in December were little changed at 78% (using effective Fed Funds rate). The Fed is an independent central bank and is unlikely to be swayed from its tightening plans for this year, while many other central banks are constrained from raising interest rates by low inflation in their countries.
Commodities
Copper led the gains in commodities on Friday, up over 2% helped by a softer USD and we would suggest the rebound in the Shanghai composite probably also helped sentiment. Oil and metal prices climbed close to 1.5% and gold gained 0.58%.
On the week, iron ore was the only main commodity that managed to scrape a small gain, Brent and lead closed down 3% and copper was -0.7%.
Central Bank/Political speak 
Trump 'ready' to put tariffs on all Chinese goods. "I'm ready to go to 500," the president told CNBC. "I'm not doing this for politics, I'm doing this to do the right thing for our country," Trump said. "We have been ripped off by China for a long time."
In a Tweet President Trump"The U.S. should be allowed to recapture what was lost due to illegal currency manipulation and BAD Trade Deals. Debt coming due & we are raising rates — Really?"
And in another Tweet the president said "China, the European Union and others have been manipulating their currencies and interest rates lower, while the U.S. is raising rates while the dollars gets stronger and stronger with each passing day – taking away our big competitive edge,"
Chancellor Merkel warned "On the issue of trade, we have a very serious situation in the world, I want to make that very clear," Merkel told reporters Friday in Berlin. Potential auto tariffs are "really a danger for the prosperity for many in the world" and would be viewed by Germany as a violation of global trade rules, likely provoking retaliation.
White House Economic Adviser Larry Kudlow says President Trump isn't going to "let go" of trade issues "no matter what the elections are," Axios reports, citing interview following Trump's comments to CNBC.
On Brexit: Barnier says he sees a deal in Oct or Nov which implies the two sides are not so far apart. Barnier also notes the only 'business as usual option is Norway plus, plus.'. Norway EEA option means UK stays out of a customs union and thereby can do free trade deals. It means tariff free access but not completely frictionless trade (as is now the case). That's good, but is it good enough for UK-EU 'just in time' auto industry and Airbus parts?
Economics/data
Canada June CPI +2.5% vs +2.3% y/y expected. Highest print since 2012
Canada's Core readings Core common +1.9% vs 1.9% expected (and +1.9% prior)
Core median +2.0% vs +1.9% prior (revised to +2.0%)/ Core trim +2.0% vs +1.9% prior
Canada retail sales for May 2.0% vs. 1.0% expected
The NY Fed Nowcast for Q2 comes in at 2.7%, down from 2.8% last week.
Coming up
The key Australian data release this week is Q2 CPI which is out on Wednesday. In offshore markets there is German/Eurozone PMI data, ECB policy meeting, US PMI data and US Q2 GDP and PCE.
Today Europe gets consumer confidence, IS releases existing home sales and BOE's Broadbent Speaks in London
Market prices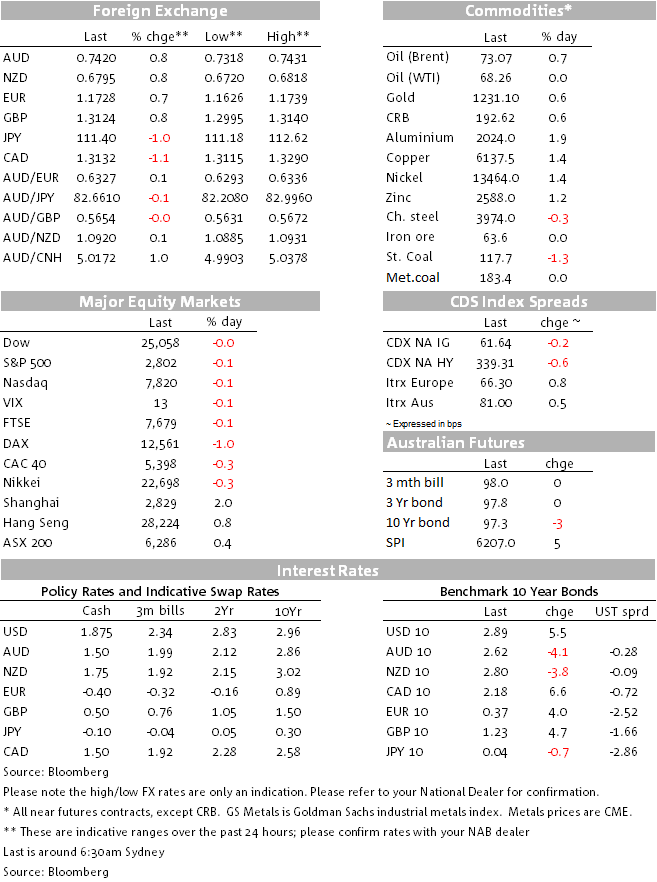 For further FX, Interest rate and Commodities information visit nab.com.au/nabfinancialmarkets