Markets Today: UK & EU leaders to hold last ditch meeting, pound is choppy
The UK-EU trade deal really is going right down to the wire – and the wire itself keeps getting pushed back.
Today's podcast:
Analysis: I'm Still Waiting
Equity markets consolidate as we await Brexit and US Stimulus news
PM Johnson and EU Commission President to meet in person in coming days
US virus news not helping the mood
GBP volatile and under pressure as we approach deal crunch time
Core bond yields lower. UST Curve bulls flattens
Its survey day: NAB Business, Japan Eco Watcher, ZEW and NFIB
Ooh, I'm waiting, Ooh, still waiting. I'm just a fool, Ooh, I'm a fool (I'm just a fool to keep waiting)
To keep waiting, (I'm just a fool), For you – Diana Ross
After trading sideways for most of the overnight session, US equities now trade slightly in negative territory with US virus news not helping the mood. Markets remain in consolidation mode as we await Brexit and US stimulus developments. After no breakthrough, PM Johnson and EU Commission President will now meet in person in coming days, so hopes for an EU-UK trade deal survive another day. Meanwhile US Congress bipartisan negotiators are still ongoing on a $908 billion pandemic relief package. GBP has been the big mover in FX, recovering a bit of loss ground in the last couple of hours. Core bond yields are lower with a flattening of the UST curve led by the long end.
Overnight headlines
Many of the overnight headlines have been devoted to the drama surrounding EU and UK politician ability to find a way of reaching an agreement. GBP has been the big mover , falling 1.5% to a low of 1.3238 early in the overnight session following comments from EU chief negotiator Barnier noting negotiations were still stuck on the longstanding issues of fishing rights, dispute resolution, and so-called 'level playing field' conditions. Barnier reportedly said he "cannot guarantee" a deal and it was up to the UK to make the next move. After a phone conversation between UK PM Johnson and EU Commission President von der Leyen described as a "make or break" meeting, the news in the last hour is that both leaders were not able to reach a compromise and now will meet in person in coming days in Brussels.
So, from an optimistic perspective, the good news is that nothing has broken yet and the hopes of a EU-UK trade deal remain alive. So as much as the threat of walking away from negotiations is still a possibility, overnight events yet again highlight that both parties have a lot to lose from a no deal outcome and if we see history repeat itself the outlines of a deal could yet be reached at the very last minute. GBP has now recovered a significant portion of its overnight losses, up 1.30% in the past few hours and now trades at 1.3393.
Currency pairs
Looking at other currency pairs, the euro fell 0.4%, in sympathy with the GBP, but it has since rebounded and is essentially unchanged at 1.2124.  The AUD had a more volatile session dipping to a low of 0.7373, before rebounding strongly to an overnight high of 0.7453 and now trades at 0.74300, unchanged from yesterday Sydney's closing level. The NZD has followed the same pattern, falling to near 0.70 before turning higher.  The NZD trades this morning around 0.7050, up about 10 pips compared to yesterday's closing levels.  The USD is also little changed with the BBDXY index hovering just above a 2½ year low.
US fiscal stimulus
US fiscal stimulus or pandemic relief package, as many US politician prefer to describe, is the other major market uncertainty. Bipartisan negotiators remain ongoing, but further details on the $908bn package are expected imminently. That said,  even after we get more details on the package, the important next step will be to see if key players will support the Bill . Bloomberg notes, Senator Bernie Sanders said he would oppose the compromise because it lacked $1,200 individual stimulus checks, something that President-elect Joe Biden also wanted included. Meanwhile, Senator McConnell and other Republicans are doubtful about the scale of $160bn in aid assigned to states, which GOP members have criticized as an improper bailout.
We have also had some news on the other US political debate. Headlines in past couple of hours suggest the US Congress is likely to consider a one-week stopgap funding bill to provide lawmakers more time to reach an agreement and avoid a government shutdown.
Core global yields have drifted lower during the overnight session with the UST curve bull flattening. The 30y bond is down 5 bps to 1.6850% while the 10y note is down 4bps to 0.9260%. 10y UK Gilts are down 7 bps to 0.28% and 10y Bunds are -3.4bps to -0.5840%.
Lack of new news on the US fiscal stimulus front has certainly played a part on the pull back in core global bond yields. But US virus news has also played a part. A factor that is also evident in the decline in US equities in the past couple of hours. The S&P 500 is down 0.37% as I type, the Dow is -0.68% and the NASDAQ is 0.30%.
Speaking in New York, Dr Fauci, the US government top infectious disease expert warned that the Christmas season could be worse than Thanksgiving for fuelling the spread of Covid-19. "Without substantial mitigation, the middle of January could be a really dark time for us," Fauci said.  Global coronavirus cases have surpassed 67m with record infections sweeping across US states and hospitalizations rising by almost 2,000 a day.
Coming Up
This morning Australia gets its weekly consumer confidence reading ahead of the November NAB Business Survey. Q3 House prices are also due for release and the market is looking for a -0.4% decline.
No hints here on the NAB Survey, but worth noting that in October the NAB Business Survey saw a small increase in conditions to +1 from 0, but a sharper lift in confidence to +5 from -4. The latter was the highest level since mid-2019.
Looking at offshore markets, Japan publishes trade data for October and the all-important Eco Watcher survey for November. Later in the day the ZEW survey is out in Germany and the US gets the NFIB Small Optimism Survey (November 102.5 exp. vs 104 prev.).
Market Prices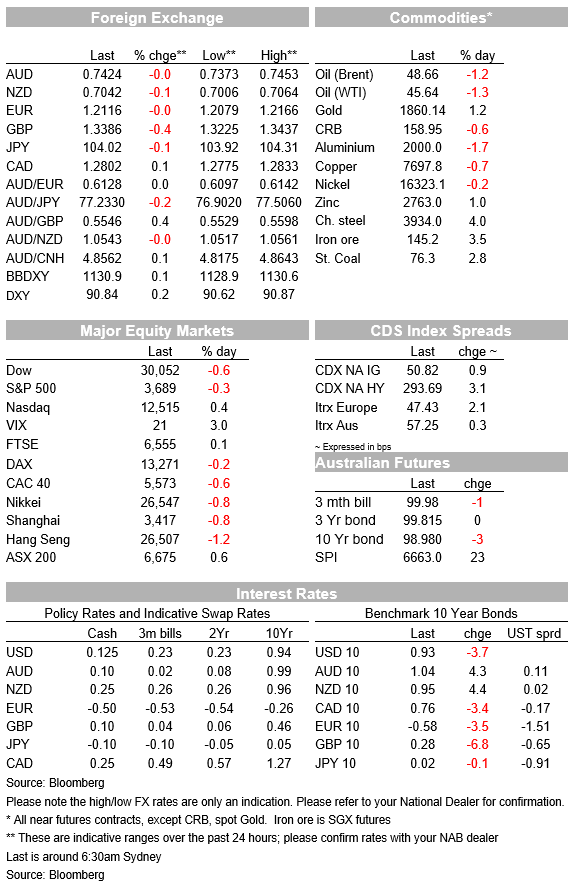 For further FX, Interest rate and Commodities information visit nab.com.au/nabfinancialmarkets