Markets Today: World on hold, except for Oz
It's a significant day for Australian news, in a period where little else is driving markets in the rest of the world.
Today's podcast
Overview: Hold on
Some returning support for the USD in the wake of payrolls and the ISM; US yields tick back higher
AUD on the defensive yesterday after building approvals disappointment heads up; eking lower overnight from USD support; big local event risk today
Limited US data flow and inconsequential; main board stocks making limited gains; techs better
Bill Gross calls it a day after a tough past four years at Janus Henderson, but a stellar career
RBA and Retail Sales today; Trump's State of the Union address tonight (tomorrow afternoon our time)
Markets/FX
It's been a quiet night of news, markets seeing some support for the USD re-emerge, US Treasury yields ticking back higher, but not sufficient to do any damage to stocks, the US main board indexes making some gains during the afternoon session, led by the tech stocks.
The AUD took a mini hit yesterday after the release another very weak Building Approvals report, the second in a row, this one for December, the data point revealing a 22.5% decline over the course of last year, confirming the coming decline in residential dwelling investment.  After seeing a small rally into the number, the AUD lost 20 pips, ending the local session only a little above its session lows.  It's lost a little more ground overnight, but more from the move back toward the USD.  It's hard to see too much of a move higher – it's likely to remain capped – ahead of today's key event risk, first with Retail Sales at 11.30 (Trade too) that we expect will be on the soft side, followed by reference to an expected downward revision to growth and a less assured outlook to be outlined by the RBA at 2.30.  (More on both of these below.)
The Financial Services Royal Commission was released yesterday after the local stock market has closed, receiving wide press coverage overnight, but no discernible currency impact.
RBA pricing has moved away from a mild tightening bias to an easing bias, the market yesterday factoring in just over a 50% chance that the Bank would ease by the end of this year.  Understandably, that's an about face from the expectation last year that there was an equivalent chance that the cash rate would rise.
German Chancellor Angela Merkel is urging creativity to unlock the UK-EU Irish backstop impasse.  "There are definitely options for preserving the integrity of the single market even when Northern Ireland isn't part of it because it is part of Britain while at the same time meeting the desire to have, if possible, no border controls," Merkel said.  "To solve this point you have to be creative and listen to each other, and such discussions can and must be conducted," she said at a news conference with Japanese Prime Minister Shinzo Abe in Tokyo. Merkel said the backstop could be solved as part of a discussion over the separate "future relationship" agreement.  Even so, EUR/GBP has been gaining a modicum of support overnight, though there's not too much in it, the Euro gaining a net 0.12% since late APAC time yesterday.
As further background to Brexit, a FT story released overnight says that the UK government had promised Nissan circa £80mn in return for the car maker to invest and expand a new SUV model in Sunderland as well as Qashqai and X-Trail models.  At the weekend Nissan said it would produce the new SUV in Japan.  UK Business Secretary Greg Clark has said overnight that Nissan will need to reapply if it wants a U.K. financial grant, after it decided not to produce the X-Trail model at its Sunderland plant.  PM May is travelling to Northern Ireland for a speech today (Tuesday).
Bonds
Most high credit quality bond yields have ticked higher overnight in a mild risk-on session.  The German 10y bund yield is up a net 1.1bos to 0.177% while the 10y Treasury yield is also ticking back higher to 2.72%, up 3.58bps with 2s also higher by 2.44bps to 2.5263%.  Very small moves but hints of yields having overdone it on the downside after the FOMC and Powell press conference.
Commodities
With China out this week, the Dalian exchange is closed, limiting true price discovery on the bulk commodities until next week.  Oil is softer ahead of weekly inventories, crude stockpiles expected to rise another 1.2mb after last week's reported 0.919 gain.  WTI is down 1.19%, only partly reflecting the big dollar's uptick.  Brent is down a lesser 0.25% as we go to print.  Base metals on the LME have posted good gains (led by nickel +4.74%; copper +0.47%), the jump in nickel on the back of lower stockpiles in Shanghai and the LME.  Among the softs, sugar prices rose 1.98%, US wheat futures also making some gains.
Economics
There is little to report with US Factory Orders the only release of note and follow the release of already-released Capital Goods Orders.  Headline Factory Orders missed estimates, orders down 0.6% against expectations of a 0.3% gain.  These moves are well within normal monthly volatility and don't suggest any underlying shift in momentum.  Core Capital Goods Orders for November were left unrevised at -0.6%.  Noting to trouble the scorers from this report.
The UK Construction PMI was much weaker than expected at 50.6 from 52.8 prior and 52.5 expected. Anecdotes suggested Brexit-related anxiety and associated concerns about the domestic outlook continued to weigh on client demand. Of note the Employment Index hit a two and a half year low with concerns about the near-term outlook for new projects resulting in more cautious staff hiring.
Coming up
AU Retail and Trade: Before the RBA, there is Retail Sales and International Trade for Dec, providing both readings for the month and totals for the December quarter, the latter throwing light on what they mean for the contribution of the consumer and net export to the economy in Q4;
NAB is looking for -0.3% for December month Retail Sales and +0.5% for Q4 Retail volumes.  (The market is less negative on December at flat m/m.) This number comes amid anecdotal reports of poor Christmas-New Year trading, yesterday's NAB Online Retail index for December weak at -1.4%, payback after November's +2.9% that was buoyed by a series of online sales events;
As for Trade, NAB looks for a surplus of $2.2bn, up from $1.9bn in November.  The market consensus is very similar at $2.225bn;
RBA 2.30 statement: The big event today is the RBA announcement at 2.30pm, contention less that they will leave the cash rate unchanged but around the language in Governor Lowe's statement and whether they will change the last neutral policy summary paragraph against a much less assured economic background and outlook.  Q3 GDP disappointed expectations – including RBA forecasts – while global and domestic economic and market conditions have softened in recent months.  We saw more of that yesterday with a further instalment of the material decline, as near as you can get to the coming decline in residential investment.
There's a lot of interest in whether the RBA might change the medium term outlook for rates by ditching their inclination to the next move in rates as up, when it comes.  It's very likely today's statement won't reveal that but the market will be on super alert to any change in the final policy statement that's been unchanged for some time'
The statement is expected to summarise how their forecasts have been amended, cutting growth and whether reaching the inflation target is expected to take even longer.  These forecasts are being released on Friday in the quarterly Statement;
Fed President Mester is speaking on the US economy and monetary policy at 11.30; she was a voter last year so not this year; her policy leaning is more to a hawkish leaning;
Looking further ahead, Trump will deliver his State of the Union address to a joint session of Congress in the House of Representatives at 9 p.m. EST. on Tuesday (1.00pm AEDT Wednesday).  The White House has backgrounded the press that the President plans to call for unity and bipartisan cooperation.  There's a high expectation that he will headline his concerns about border security and immigration, and to explain how a wall is the right fix for those problems;
The market is on watch for whether Trump will clarify whether he intends to declare a "national emergency" if Congress cannot agree to wall funding proposal.  Any update on the progress of new trade talks with China will also be under the spotlight.
Market prices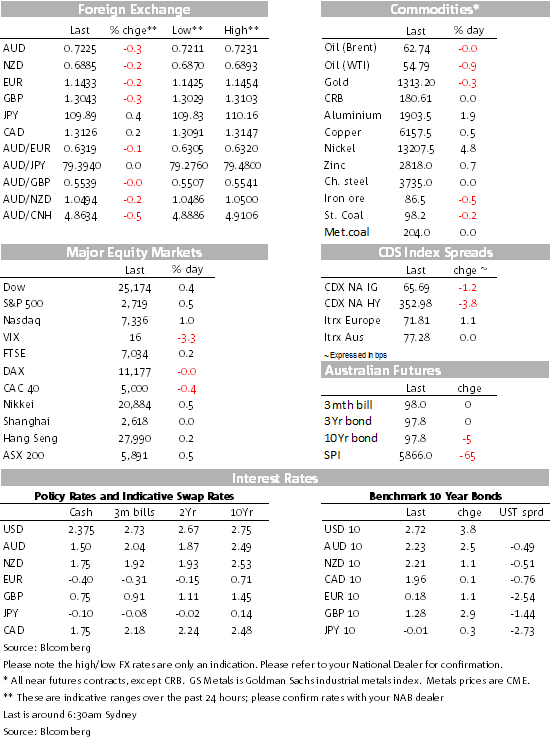 For further FX, Interest rate and Commodities information visit nab.com.au/nabfinancialmarkets