February 11, 2022
Meet two female change-makers
When it comes to breaking the bias, young businesswoman Tammy Green and NAB Private Client Executive Natalie Irvine have a story to tell.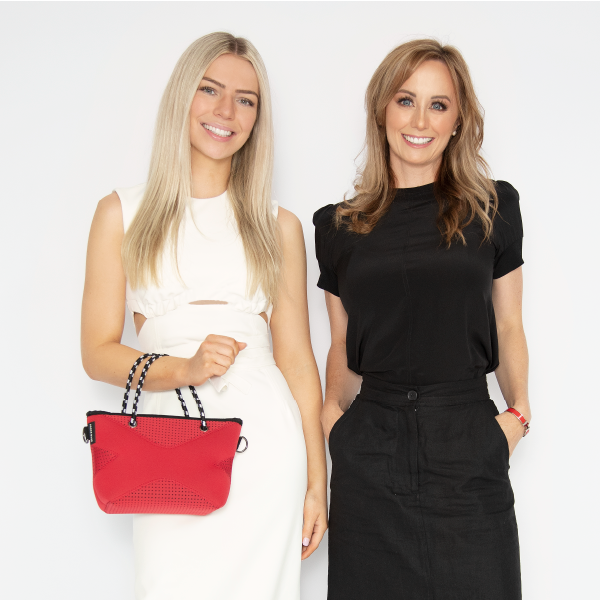 The theme of this year's International Women's Day is 'Break the Bias', its principle being that, as individuals, we can all work to make a more equal opportunity world.
Two women determined to do exactly that while making their own mark are young entrepreneur Tammy Green and NAB Private Client Executive Natalie Irvine.
In Green's case, she was just 20 when she took the fashion world by storm with her Prene handbags. Launched from a bedroom in her family home in Melbourne, the vegan-friendly neoprene bags have been a smash hit from day one and are now stocked in more than 400 stores in Australia and overseas.
Along the way, she's produced sell-out collections in collaboration with the Australian Open tennis tournament, Brown Brothers wine and Melbourne fashion maven Bec Judd.
Overcoming assumptions
Green, now 26, is open about the challenges she faced because of her age. "As a young woman, I really struggled with people taking me seriously," she says. "I was often dismissed as just a kid or asked, 'Could you put your boss on the phone?'. No-one seemed to believe that a young woman could actually own and operate a booming business."
She admits to finding the experience a little unnerving in those early days. "I was scared to speak on the phone to people. I'd only write emails, because the second they heard my voice, they could tell that I was young. It just changed their whole attitude towards me."
Green also struggled with the fact she didn't have a university degree in an industry where others do, dropping out of her business entrepreneurship course when she failed to pass accounting and statistics. As it turns out, what could have been experienced as a setback spurred Green to scale her bag side-hustle into a fully-fledged business. "[It made me want] to prove to myself that this blip in my journey would not hold me back from realising my ambition to be my own boss and I did."
It helped that she'd already shown an early talent for business. "I was quite entrepreneurial from a young age," Green says, "whether selling homemade crafts outside my house when I was little or selling [repurposed] market clothes on eBay.
"Luckily, I did quite well out of those activities, so I always knew I had potential to really trust my gut, follow my dreams and go for it."
Surrounded by support
As Prene took off, Green was able to count on unstinting support from her parents. In addition to advice around the legal and logistical requirements of running her business, they even helped unload trucks and pack orders. "But most importantly, they were there to pick me back up when I was overwhelmed or stressed," Green says. "I couldn't have done it without them, and they still help me today."
NAB Private Wealth's involvement has also been invaluable, according to Green. "The entire NAB team has always gone above and beyond any requests and assistance that the business has required," she says. "It's a privilege to have private banking and have the relationship, not just the service, that comes with it."
Integral to this support is Green's relationship with the bank's Natalie Irvine. "I feel very lucky to know and work with a successful woman like Natalie who is forever encouraging the success of other women," Green says. "You really feel her passion and kindness when you speak to her. And she has a wealth of knowledge."
The power of belief
When it comes to belief, Irvine has her own determined streak, understanding what it means to pursue your dreams and to have them supported.
The daughter of working-class immigrants, some of Irvine's earliest achievements were in the pool. She was 13 when she and her father would get up at 3.50 each morning to drive 50 minutes to swimming training. "My dad would sleep in the car for two hours while I trained," Irvine says. Come evening, both would be back at the pool again.
Irvine likewise stresses the direction and support NAB has given her over the years; for example, when they arranged for her to do a Company Directors course before she went on maternity leave – an opportunity she relished. "NAB knew it would further enhance my skill set upon my return and satisfy my hunger of learning," she says.
NAB provided another level of support when Irvine returned from maternity leave to lead a large team for AgriBank, looking after New South Wales and Victoria. "It meant that I was away a lot overnight," she explains.
As a first-time mum who lived regionally, Irvine was far from sure she could continue to manage a full-time, senior role at the bank – however much she wanted it. "I couldn't logistically comprehend how that would work; I was so conscious of being a mum but of wanting to be an executive as well."
Determined to successfully bring Irvine back on board, NAB's leaders listened to her concerns. Together, they were able to creatively find a way to assist Irvine by allowing her ever-supportive parents to travel with her on overnight visits so she didn't have to leave her children for long periods of time.
To this day, Irvine is hugely grateful for that support. "It meant I could have my children near me while I worked," she says.
Why storytelling matters
 Irvine thinks it's important to tell such stories. "You don't know support like that exists unless you share the stories," she points out. "For NAB, it means they get 120 per cent out of me every day because I'm so grateful for what they've done. But at the same time, I've had this amazing opportunity to be a mum as well, in a really hands-on but different way."
Green believes in the power of storytelling too. "I hope that by sharing my story [I can encourage] other women to go for their goals – to know that they can do it," she says. "Success is not gender based. I'm not the first success story and I won't be the last."
Both are also firm believers in the power of support – at all levels. As Irvine says: "It takes a village to have a fulfilling life and career. Allow the village to support your story."
©2022 NAB Private Wealth is a division of National Australia Bank Limited ABN 12 004 044 937 AFSL and Australian Credit Licence 230686.