Why Millennials are so good for business
The faster businesses can adapt to this generation and use their skills, the better.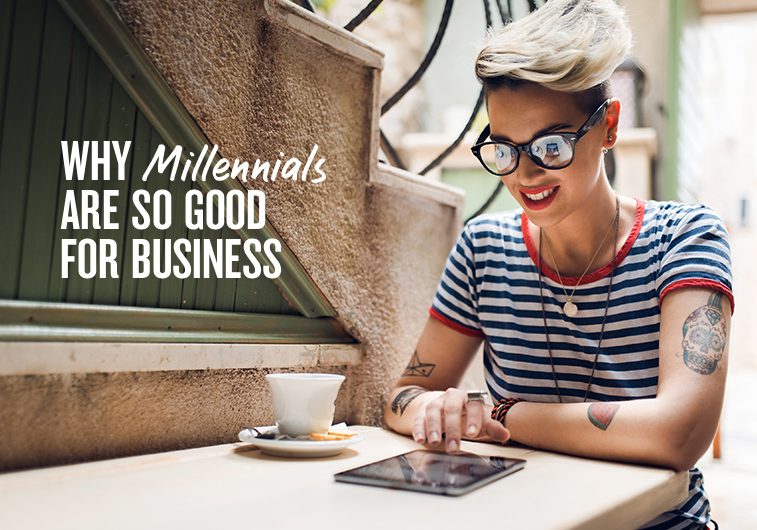 Millennials are a much-maligned generation in Australia. Decried as an entitled community of job hoppers, it's clear that this generation has no intention of settling in to the old fashioned paradigms of business – where you work your way up a traditional hierarchy one slow step at a time.
And why should they? Their value lies in challenging the status quo – fast tracking the innovation that's a normal part of their world into their work life. I think they're a huge asset to the workplace – and the faster businesses can adapt and use their skills, the better.
The demographer Bernard Salt said it best: "The qualities that ensured boomer success was deference and the paying of dues; what will be required in the future is the ability to make connection and to leverage advantage amid the chaos and pain of disruption. Entrepreneurship isn't born of deference; it springs from creative energy and burning ambition."
One thing is clear – business owners need to find a way to harness the power of Millennials. By 2025, according to a Deloitte Touche Tohmatsu report, this generation will make up 75 per cent of the global workforce, so understanding how to get the best out of Millennials should be an urgent priority.
A good fit for business with an eye for innovation
While there are some challenges in managing a generation with a different view on job longevity and their role in a hierarchy, there's so much potential in Millennials that can be harnessed for the benefit of businesses.
They embrace disruption, which means they have a unique capacity to quickly adapt to changing technology and see how it can be used in large traditional organisations.
This is priceless. Big or established corporates that want to innovate need to combine the wisdom of experience with the agility of a new generation that is steeped in social media, mobile, the cloud, and other real-time technologies.
They are innately digital and they see no reason why the customer experience in financial services or insurance or any other sector shouldn't be as engaging, easy and sophisticated as their iTunes experience.
Millennial entrepreneurs
It's also important to understand the impact Millennials are already having on the economic landscape as business owners.
Twenty per cent of SMEs are owned or run by Millennials – and they're ambitious. Sixty-six per cent intend to expand over the next three years compared to 45 per cent of other SME business owners. They're leading the way through early adoption – 18 per cent plan to invest in a new technology in the next three years compared to 12 per cent of other business owners and 21 per cent plan to invest in new machinery or premises compared to 12 per cent.
They also self identify as innovators, with 83 per cent saying innovation is important to their business compared with 69 per cent of other businesses.
We need this energy and drive to move Australian business forward.

Understanding what's important
To get the best out of this dynamic generation, there are a few key things to keep in mind.
They're focused on the why
It's just as important to talk about 'why' as 'what' to Millennials. They will question the purpose of tasks and strategy to understand the rationale behind what they're being asked to do. It needs to make sense to them. This makes them valuable as interrogators of ingrained processes and mindsets.
Millennials have a strong sense of social conscience that they want expressed through their work. They want to understand how their workplace is contributing to society and how they can help. They will oppose practises that are not ethical in terms of people and the environment.
According to Deloitte, 86 per cent believe the success of a business should be measured in terms of more than just its financial performance. Seventy-six per cent regard business as a force for positive social impact, however large businesses are not thought to be fulfilling their potential to alleviate society's challenges. Millennials are the business conscience of the future, which makes them exciting game changers.
Millennials aren't sold on linear progress and lines of reporting. The democratisation of communications and information created by technology has given them a strong sense of self and the legitimacy of their voice. Big corporates will need to think carefully about how they keep Millennials engaged or they risk losing them to more flexible and open work environments.
More are looking for stability
With their reputation for flightiness, it may surprise you to know that latest data suggest that global turmoil is driving a desire for more stability in Millennials. In 2016, 44 per cent expected to leave their job within two years: in 2017 that dropped to 38 per cent. Those expecting to stay beyond five years grew from 27 per cent to 31 per cent.
I'll give the final word to Bernard Salt: "Their most valuable skill… is their flexibility, agility, fit-in-ability and frankly their chutzpah-sized self-belief and sociability."
I agree. Let's make the most of Millennials.