Mutuals get a new option to finance growth
Recent changes in legislation will allow member-owned organisations to issue a new type of share- without changing their corporate structure.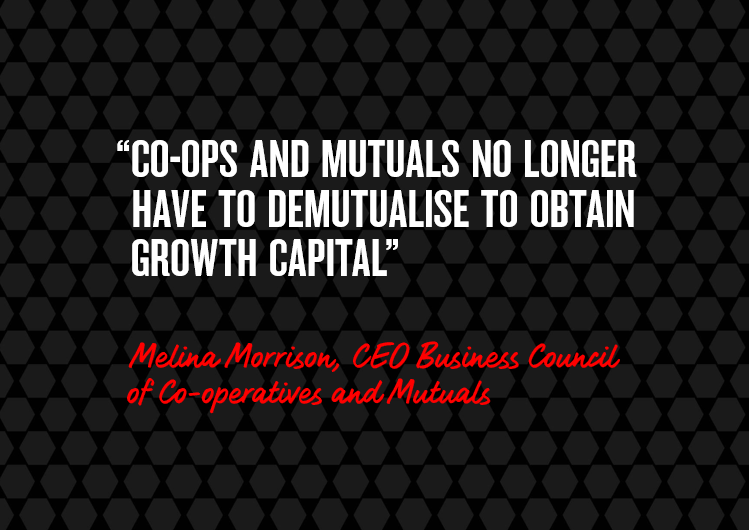 Some of Australia's largest mutual organisations have been around for over 100 years, but until recently they have not been able to tap into equity markets to grow their businesses while retaining a mutual structure.
Under changes to government legislation made in 2019, mutual entities are now able to issue a new type of financial instrument to help them grow, without needing to change their corporate structure or demutualise.
Cooperatives and mutuals are businesses that are owned and controlled by their members, such as credit unions, customer-owned banks, profit-to-member super funds and member-owned health insurers, and state motoring organisations.
At a recent investor briefing in Melbourne hosted by NAB, the peak body for member-owned businesses, the Business Council of Co-operatives and Mutuals, said many entities were formed originally because the market couldn't adequately meet community needs. The Council represents about 2,000 enterprises and says an estimated eight out of 10 Australians hold a membership.
But despite some co-ops and mutuals growing into nationwide organisations such as health insurer HCF and healthcare, financial services and retirement living group Australian Unity, they have been unable to access equity markets due to their corporate structure. In the past, member-based organisations have only been able to raise funds by increasing debt, which has tended to put a lid on growth and even led some to demutualise.
Changes to the Corporations Act last year created a "new and unique" mutual capital instrument (MCI) that enables these entities to access investment capital, said Melina Morrison, Chief Executive of the Business Council of Co-operatives and Mutuals.
"What this adds up to is a better business environment for co-ops and mutuals," Morrison said. "We no longer have to demutualise to obtain growth capital."
Following a global trend
Morrison said the change in Australian legislation is part of a global trend for new capital instruments both to help these organisations to grow and to satisfy investor appetite for new products. She cited several international examples of similar instruments, including:
a GBP 1 billion issue of core capital deferred shares, a form of Common Equity Tier 1 capital issued by the UK's Nationwide Building Society;
a GBP 15 million issue by Cambridge Building Society in a single placement with a local county pension fund;
and the largest issue, by Rabobank, totalling approximately 7.5 billion euros in perpetual bond certificates issued to fund their corporate expansion plan, sold both to members and wholesale investors.
Under the Australian legislation, a mutual capital instrument is a new type of share, with a flexible approach to dividends and a maximum of one vote per membership.
Changing the constitution
The investor briefing also heard from several mutuals and co-operatives including approved deposit-taking institutions and a motoring group.
Australian Unity, a mutual company that has expanded from health insurance into financial services, investments, retirement housing and aged care, said it amended its constitution in October to be in a position to potentially issue MCIs with terms that may include yield based returns either fixed or linked to benchmark.
"Part of the strategy is to make sure we are funded through some of the volatility in the market and to deliver some of the growth areas we are aspiring to," said Esther Kerr-Smith, Group Executive, Finance and Strategy. Australian Unity dates from the establishment of Manchester Unity in 1840, and now has about 270,000 members.
The motoring club RACQ and the two mutual ADIs that presented – Heritage Bank Limited and Credit Union Australia Ltd (CUA), which says it is Australia's largest credit union with 500,000 members, told the briefing they have also passed changes to their constitutions to enable the issue of the new capital instruments.
Options to diversify
CUA has 73% of its total funding mix coming from customer deposits, with the balance made up in the wholesale funding market including short-term funding, medium-term notes, and a securitisation program.
Len Stone, Head of Corporate Finance, said the option of issuing an MCI could help CUA to diversify its product base outside of its core business of mortgages, perhaps through small business lending to existing customers.
"You're only going to issue these instruments if you're going to get a good return for you, your existing members, and for the MCI holders. For example, we could consider purchasing a business that gives us greater income diversity but is still within our fields of expertise," he said.
Paul Williams, Chief Financial Officer of Heritage Bank, a 144-year old retail bank based in Toowoomba, said the bank had a track record of issuing innovative financial markets transactions to manage capital. He noted Heritage has been an issuer of ASX listed hybrid capital and debt transactions and residential mortgage-backed securities (RMBS). "An MCI provides Heritage with even more flexibility to engage investors and provide new funding options to support the growth and diversification of our business," Williams said.
Speak to a specialist