NAB backing young farmers with their first farm
NAB's Future Farmers program is making is easier for younger farmers to buy or lease an agricultural property. Cody Scott is one of the first to benefit.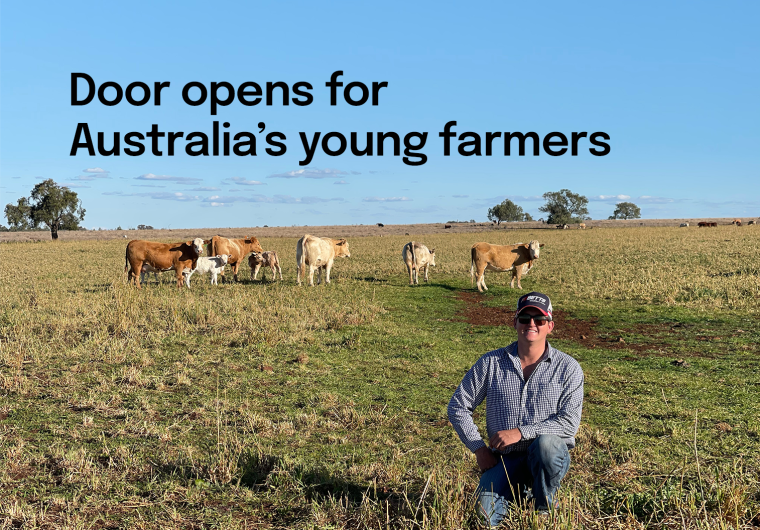 Getting started on the land? Ask any producer; it's never been easy. And for today's younger and first-time farmers, it can seem harder than ever to get a foot in the door.
Property prices across all classes have seen tremendous growth in recent decades, but the trend is particularly noticeable in agriculture. The shift towards aggregated properties also makes it difficult for first-time buyers to find a smaller property. Since 1990, the average value of farms, including land and fixed improvements, has increased by over 220 per cent, while the number of farms under $500,000 has decreased by 54 per cent.
There's no shortage of aspiring producers with the experience, know-how and drive to do well, but they're finding it increasingly difficult to tackle this property market and follow their farming dreams.

A young gun with big ideas
Cody Scott is a perfect example. Born into a cattle-farming family, Cody has an established career as a livestock and property agent and has built up a herd of about 250 beef cows run on leased property.
Now 27, Cody is transitioning his business to the next level with the purchase of a 539-hectare property at Inverell, NSW, to use as a fattening operation.
"It seemed the only way to get into it these days, you had to be born in a family that's already got the country, or marry into it," Cody muses.
"But the Future Farmers program that NAB's running is giving the younger generation opportunities to do exactly what I've done. So I'm very lucky."
Cody has used a Future Farmers loan to purchase his property, as well as materials for improvements on the land.
But he's also transitioned his herd off a private financing model. He expects that consolidating his finances with NAB will continue to save him money, and make running his business easier.
NAB's support for next generation
Recognising that the next generation of Australian farmers need a more flexible kind of banking product to purchase their first property, NAB introduced the Future Farmers program in 2022 to back producers in achieving their full potential in a tricky market.
The initiative is designed to help young farmers access the agricultural property market with reduced equity requirements, longer repayment terms and personalised business banking support.
But while Cody may think of himself as "lucky", he hasn't stumbled into his position.
"I was pretty well raised on the land and always had a passion for it," Cody explains. "So we got into the livestock industry, grew our contacts and set up for opportunities to come.
"I started leasing two properties, which has given me a start in building up herd numbers and generating an income. Now I can value-add on what I'm already doing through fattening or cropping and see the program the whole way through.
"I've also got an off-farm income that comes through a buyers and property agency business. The experience of being an agent is a massive help because I can understand the greater scheme of things: trading, operating on every level – I see it throughout my own business and also through clients."

Owning your future
While Cody has certainly worked hard for his success, he says his story is fairly typical for younger farmers.
"They're still hungry to get on the land. I see a lot of people now that are stepping into it through a different path, like I've done," he explains.
Starting up an agricultural business, according to Cody, is one potential pathway to getting into the industry with a view to settling on the land more permanently. But it's also "a very rewarding job".
"Financially rewarding, and also in that you're your own boss, that you have control over your own business," he says.
"We've gone the way of livestock. But others are going out there and doing contract farming. They've bought spray rigs that are worth $500,000, tractors that might be worth $100,000. So that's the way that they are building up their assets."
While some might be nervous about taking the leap with such a big investment, Cody says that market conditions are right for expanding his business.
"The way that land prices are going, the global shortage in protein, they're not coming off in the short-term.
"Of course, agriculture is always seasonally dependent. If the cattle market takes a turn, we'll have a look at doing a grain crop. There's a risk in anything, but I don't think it's a risk we can't control."
An investment in ambition
For Cody, the biggest asset to a business is being able to back yourself.
"The way I look at it, it's a long-term investment in a person. What we're doing, and what NAB's doing, is trying to support the younger people with experience, who have a bit of an idea what they're doing.
"You've got to have a goal set in mind. You've got to know what it is you want to do, knuckle down and have a crack at it.
"I would 100 per cent recommend the Future Farmers program. It's giving the younger generation an opportunity to get on the land."