NAB Business Wellbeing Survey Q3 2020
NAB launches a new measure of business wellbeing.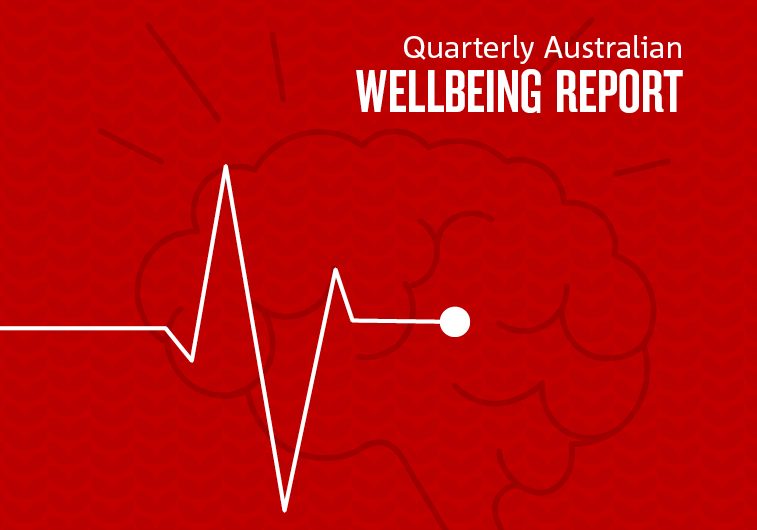 The COVID-19 pandemic has tested Australian businesses owners and operators in unique ways forcing them to draw on emotional and financial reserves.  The NAB Business Wellbeing Index is 63.1 points as at Q3 2020 – similar to the wider Australian population (63.9). Australia's wellbeing levels are significantly lower than at the same time last year, as the impacts of COVID-19 continue to be felt widely. But the composition of business wellbeing is very different to that of the average Australian.
Business owners and operators scored much higher in terms of life worth (69.1 v 66.8); slightly higher for life satisfaction (65.1 v 64.3), similar levels of happiness (66.2 v 66.3), but much higher in terms of anxiety (47.9 v 41.9 for the average Australian).
Around 44% of business owners and operators reported "high" levels of anxiety.
While being in business clearly carries a lot of positives in terms of how people view their lives, particularly their life worth, it may also involve more life stress. Even on the best of days, running a business can be incredibly stressful, but now there are added pressures, some within and some outside the business.
The impact of Victoria's strict lockdown measures is clear, with Victorian businesses reporting by far the lowest wellbeing levels across the country and the highest anxiety. By state, business wellbeing ranged from 68.3 in QLD to just 59.2 in VIC (the state with the lowest level of life satisfaction, life worth and happiness, and highest anxiety).  Anxiety in VIC at 54.7 compared to just 35.5 in QLD (the state with the lowest level of anxiety). Over 1 in 2 (53%) Victorian businesses reported "high" levels of anxiety (i.e. scoring 70 points or higher), compared to 3 in 10 in QLD (the highest wellbeing state across all aspects of wellbeing).
There are also significant differences in wellbeing by industry, business size and by how long a firm has been in business. Anxiety is also much higher for those in business less than 5 years.
While some businesses have continued to operate as normal (and even thrive with increased demand for their products and services), many have been heavily impacted, with strains on margins, profitability and cashflow, following extended periods of business interruption or closure.  These pressures, along with the uncertainty of not knowing when the pandemic will end, has inevitably taken a heavy toll on wellbeing. There may have been times when those in business have wondered if it is all worth it.
Business owners and operators with "high" anxiety indicated they were coping moderately well – on average scoring 6.2 out of a possible 10.  But COVID-19 has taken a heavy toll on the mental health of some, with the survey also revealing almost 1 in 5 (17%) were not coping well at all (i.e. scoring less than 3 points). Loneliness is also an important issue, with around 1 in 3 businesses rating their feelings of loneliness "medium" or "high"
In response to the findings NAB has created a wellbeing program to support Australian business owners. We've known for some time that small business owners are under stress. This has amplified during COVID when many business owners have had to scale back operations or pivot to entirely different business models. When we speak to our customers, they tell us running a small business is an all-encompassing feat. Entrepreneurship doesn't finish at 5pm.
In response, the bank is launching NAB Business Fit, an online platform that brings together a range of support resources such as virtual workshops, webinars, podcasts, live wellbeing classes and articles on everything from staying physically fit and well to practical leadership skills.
Learning how to improve wellbeing and better manage anxiety can significantly enhance the lives of people in business. When business owners and operators were asked the extent to which they agreed with several statements relating to how their work impacts their lives outside of work, their ability to cope clearly fell as their anxiety rose.
For example, when asked about the extent to which they could balance work & family, business owners and operators with low anxiety scored 80.3 while those with moderate (65.4) and high (64.5) anxiety scored considerably lower.  Similarly, those with low anxiety (77.5) scored their ability to spend time caring for family & friends much higher than those with moderate (65.1) and low (66.0) anxiety. This pattern was repeated for all other issues relating to life outside of work.
NAB BusinessFit is available to all business owners and team members at www.nab.com.au/businessfit
Learn more in the NAB Business Wellbeing Survey – Q3 2020 
* In this report, NAB explores personal wellbeing of Australians who own or run a business using the same methodology used in NAB's long-running Australian Wellbeing Survey of Australians, which centres on self-perceptions of life satisfaction, life worth, happiness and anxiety. Over 750 Australian business owners and operators participated in this survey, which was conducted over the period 3-18 September 2020.
Since 2013, NAB has been producing a quarterly Australian Wellbeing Index. The survey is based on responses from over 2,000 Australians and weighted to be representative of the Australian adult population by state, gender, age and other key demographics and was taken between September 15-29.