NAB Economic Commentary: Budget 2018-2019
It's all about infrastructure, tax and supporting the Baby Boomers this year. The expected pre election spend hasn't materialised.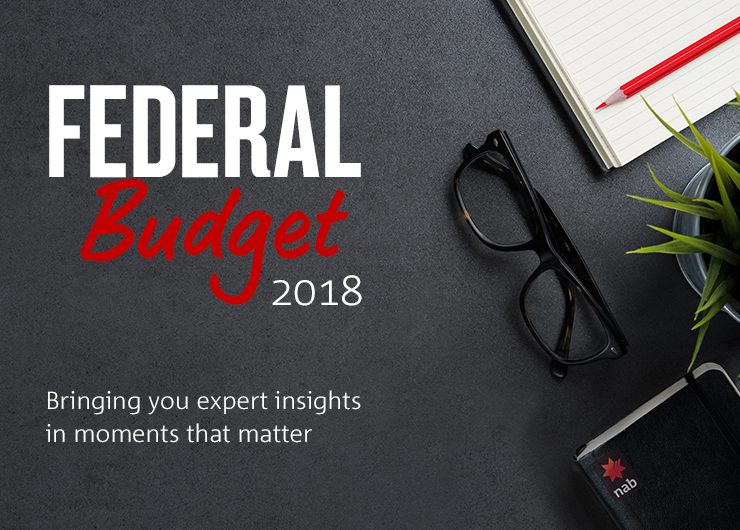 As expected, the centrepiece of this Budget is increased infrastructure spending (currently put at A$24.5bn over 10 years), reductions in both personal and company tax and the Baby Boomer package (aimed to allow pension aged residents to fund their retirement in their own homes). Also we have the government committing to a tax to GDP ratio of 23.9% (likely to be triggered by around 2021/22). The latter is largely political but probably means that without significant spending restraint (unlikely in our view) future surpluses will be marginal. Hence there is little to no room for the Budget to adapt to any economic downturn while retaining the projected surplus – and indeed little macro policy flexibility.
On infrastructure a long list of projects including: a 50% share in a Western Sydney Airport rail link, Melbourne airport rail, Monash Rail link and finishing the Melbourne ring road, Metronet in Perth, Queensland roads and Adelaide road and rail spending and a congestion fund to address hot spots. Much of this is back ended and some may not go ahead (e.g. the Victorian Government has not committed to matching funding of the $5bn Melbourne to airport rail link).
On personal tax cuts, as expected the cuts begin modestly and are aimed at the lower income levels. Initially this sees a new tax offset at $530 (around $10 per week for lower income earners). Phase two – in 2023/24 – sees the bottom two tax brackets increased to $41k (was $37k) and $120k (was $87K) and the old tax offset increased by $200. Phase 3 – in 2024/25 – sees the top bracket increased to $200k and the old 37 percent bracket abolished. As such the 2018/19 measures are unlikely to add much to growth. However dropping the Medicare levy increase to fund NDIS is more substantial and should help consumption growth from mid-2019 (albeit that has already been baked into our forecasts). Hence we have not changed our consumption and GDP forecasts out to 2019/20.
The Government continues to try to pass the company tax cuts for firms with more than $50m turnover per annum. Clearly whether this gets through is another matter – with the politics not looking favourable. On the impact of company tax cuts our research based on the NAB Survey very clearly points to the main impact of tax cuts being in the first instance directed to increased investment (See Australian Economic Outlook) but in the short term really involves a switch from corporate to personal taxes (given our imputation system).
Elsewhere the Government is spending much more on a crackdown on the black economy (including outlawing cash transfers above $10k), airport security, the PBS and has extended the immediate asset write off for small business investments of less than $20k.
The government has brought forward its projection of a return to surplus in 2019/20 (really a flat outcome given the uncertainties) and a small surplus in 2020/21. At this stage we remain somewhat sceptical about the projections – if nothing else there is clearly an "election cycle of promises" still to go. In the "Medium Term Economic Outlook" our view is that the Budget implies a further slight weakening of the current structural tightening in the next few years (and we don't really return to structural – as against a nominal- surplus for some time- i.e. post 2020/21). Put differently revenue continues to be the main driver of the Budget and the medium term surpluses rely on more strict expenditure control than anything we have seen recently.
Overall we don't see this Budget as a big spending pre-election give away. That means the Budget will provide scope to spend more – and both sides of politics will almost certainly do so. The Contingency reserve is around $21bn.
On the forecasts, there really aren't a lot of differences between NAB and Treasury – at the margins we are a touch weaker in 2019/20 on growth and nominal GDP but there is not really much in it. Notably the Government is more conservative than the RBA projections – and on unemployment in 2018/19 is closer to our forecasts than the RBA.
The underlying cash deficit is expected to fall from $33.2bn in 2016-17 to $14.5bn in 2018-19, then achieving a tiny surplus in 2019/20 (ahead of schedule but…) and building to near 1% of GDP in the out years.
As noted above there is little fundamental difference between Treasury's and NAB's economic forecasts – our GDP forecasts are around 2¾% over the next two years moving down to 2.6% in 2019/20 – while the Treasury numbers are 2¾% in 2017/18 and around 3% beyond that. Our profile sees infrastructure spending and business investment (especially for non-mining) adding to growth – as will, in the very near term, LNG exports. However, we still worry about the consumer who we expect will remain very cautious. As noted above we are marginally more cautious on wages and nominal GDP in 2019/20. And hence the surplus result in 2019/20 should really be seen as "flat"- a lot of water has to go under the bridge before we get to the surplus.
There was little discernible market reaction to the Budget. S&P has so far maintained its negative watch on Australia's AAA rating. Equally it will be interesting to see how much further spending will be rolled out in the election cycle. Already it has been confirmed that there will be a "Women's" Budget in the spring.
For full analysis, download report: