Budget 2021: Where to for business?
As the Federal Government flags the need for more big spending, Alan Oster shares his top expectations for this year's budget.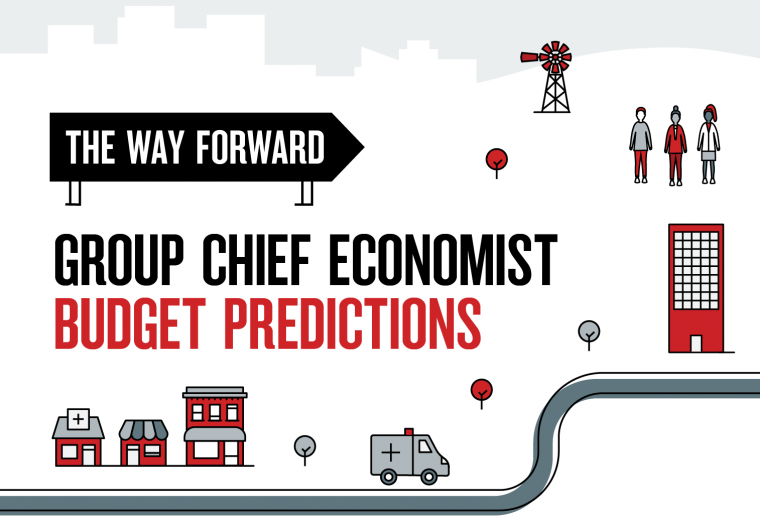 The Federal Government has been clear it plans to spend up big this budget, leaving fiscal repair and widespread austerity measures for another day. And that could well be good news for many Australian businesses.
But which groups are likely to receive the additional money and what form will it take? Will businesses receive the same level of support they did in last year's budget, or will the focus shift elsewhere?
Expect a cash injection
There's no doubt Treasury's current accounts allow for flexibility in spending, says NAB Group Chief Economist Alan Oster. Elevated iron ore prices have given a timely boost to our bottom line, as has the winding back of JobKeeper in March.
"The fact that the government don't have to pay as much in terms of unemployment benefits is also important, as is the fact that higher employment means higher tax receipts," Oster adds. "That gives them a lot of money to work with."
However, it would be safe to say that the huge cash-splash in last year's October budget won't be repeated. This latest budget is also unlikely to offer the same kinds of lifelines to business. Instead, it will be a budget that encourages growth, Oster says. "Last time, the government was basically trying to keep the economy afloat; throwing money at it. This time I think what they're trying to do is improve productivity."
The idea, he says, is to further boost the economy, by reducing any bottlenecks and encouraging businesses to invest.
Opportunities for business
Measures to improve productivity will likely take various forms, and Oster considers the bolstering of supply chains to be a key priority. "One of the lessons of this pandemic has been that you don't just take the cheapest supply chain, because it might not be there when you need it," he says.
Oster wouldn't be surprised to see the government enhancing supply chains in agri, medical manufacturing and mining, as well as anything to do with the internet and technology.
He also foreshadows a reduction in red tape, allowing businesses to sidestep some of the more arduous requirements to get their plans over the line. "It's a matter of getting the economy to operate more efficiently," Oster explains.
This will encourage business investment too. So will an investment allowance – essentially an additional tax deduction for businesses with eligible depreciating assets.
"One of the things they need to do is to get business investment going," says Oster, who believes it's far below where it should be. "So perhaps they can look at tax depreciation or some sort of investment depreciation allowance as well."
This is what the Business Council of Australia has pinned its hopes on, calling for a 20 per cent investment allowance, which would effectively allow businesses to depreciate 120 per cent of their asset investments. To Oster, it represents a suitable replacement for the popular instant asset write-off measure from last year's budget, slated to finish up on June 30.
Help for those still in need
For those sectors still feeling the effects of the pandemic, more direct assistance might soon be available to minimise any fallout from the winding back of JobKeeper.
This makes sense to Oster. "In JobKeeper's absence, I think they would try and help the CBDs, arts and recreation, and education – any of those areas that are really struggling."
The government has already announced that private higher education providers will receive a $53 million support package in this year's budget, to make up for the shortfall in international students. Oster is confident there's more to come.
On the flip side, labour shortages are also an issue for various sectors due to a lack of immigration. As Oster points out, "We're going to have the lowest population growth for 100 years".
The government has already indicated it will address this through a focus on upskilling to meet Australia's particular needs and encouraging high-level talent from overseas. However, attracting more backpackers for farm work will be difficult, Oster says. Instead, agribusinesses might need to turn to the government's investment incentives to further automate their production processes.
On the home front
Family-friendly measures – particularly higher childcare support – have also been signalled by the government. It recently announced plans to add $1.7 billion to the $10.3 billion already budgeted for childcare each year. The predominant focus is families with two or more children under five, but it also offers a boost for couples with a combined income above $189,390, as it removes the current childcare subsidy cap.
This could benefit mum-and-dad businesses that tend to juggle long hours. Oster, though, queries whether the amount is enough. "I think they'll need more than that. It might sound a lot, but in terms of an economy that's a couple of trillion and a deficit that's going to be $50 to 70 billion, $2 billion is nothing." The good news: he thinks there's more to come.
A reduction in personal tax, too, may deliver further support. "I wouldn't be surprised if they bring forward personal tax cuts a year or two," Oster says.
Company tax cuts, on the other hand, are a no-go in the current environment – largely due to a lack of pressure from other countries' tax regimes. "A lot have moved their corporate taxes higher again" Oster explains. "The US, for instance, went from 35 per cent down to 21 but is now set to go back up to 28 per cent." That provides little incentive to reduce our own taxes.
Businesses will also have to prepare for higher superannuation costs. The employee-funded superannuation guarantee rises to 10 per cent at the end of June and Oster sees no reason why this will be put on hold. "I don't see the government holding off on that; nobody's talked about it."
Beyond subsidies
While there is capacity to spend at this stage, Oster is keen to see the government using infrastructure to pump-prime the economy, rather than simply handing out money as per the last budget.
He envisages a government-funded building program focused mainly on roads. He is doubtful the vexed issue of faster trains will get a look in, but he's hopeful any program might include public housing as well.
This would be good news for the construction sector, and also for any businesses able to benefit directly or indirectly on the supply and support side.
The upside for businesses
That businesses are unlikely to be in the spotlight this budget has everything to do with their current performance.
"Our data indicates that small business is actually doing very well at present… better than corporates," Oster says. "That may be hard to understand, but the fact is business conditions are at record highs."
And that's great news – for business and the economy.
Look out for our comprehensive Federal Budget coverage on 12 May, as well as industry insights and expert commentary. We're looking forward to helping you grow and make more from your ideas as the Australian economy rebuilds.