Nuts – the Australian "Super food" for brain power and a healthy heart
Fifty years ago Australia's main export market was the United Kingdom, shipping wool and wheat. Today over 83% of all Australian exports are going to Asian countries. Nuts and grains – specifically, nuts – are climbing the ranks of top exports.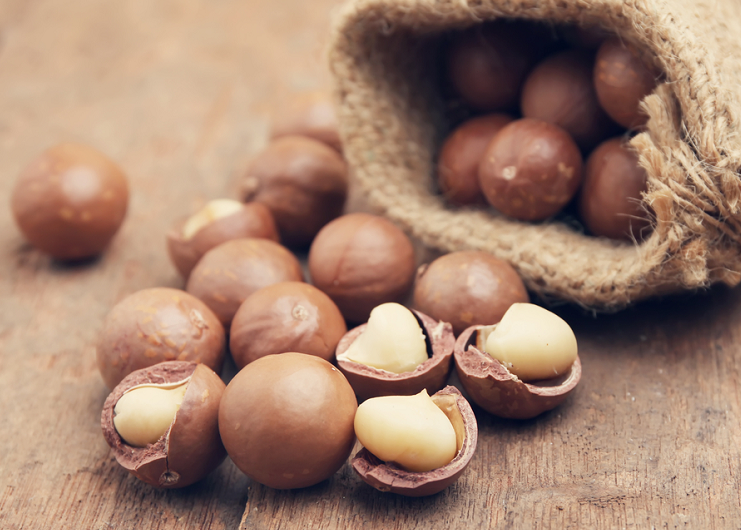 On-going research into the benefits of nuts is increasingly illustrating their importance in a healthy daily diet. Not only are nuts high in protein and vitamins, but they're beneficial for enhancing and maintaining concentration – which is why they're becoming known as 'brain food'.
For instance, macadamia nuts are high in manganese and monounsaturated fat oleic acid, both known for their health benefits.2 It's not just macadamia nuts that make up the nutty super foods – pecans, walnuts, almonds, brazil nuts and pistachios are all excellent healthy choices. According to Nutrition Australia, a handful of nuts daily are recommended as part of a healthy diet.
Ross Burling, CEO of Stahmann Farms Enterprises, cites ongoing research that supports nuts as a 'brain food'. "There are many studies which detail direct research suggesting both individual nut variants, as well as nuts in-general, are true brain foods," he explains.
Michael Waring, Chairman of MWT Foods Pty Ltd, Vice Chair of the International Nut and Dried Fruit Foundation and co-founder of Nuts for Life (Australia) also points to research that supports nuts as a super food. "New areas of research includes what role nuts can play in protecting brain function such as memory and cognition," he says. "Significant research since the 1990s has found that daily tree nut consumption reduces the risk of heart disease by 30–50%, as well as lowering the risk of diabetes. It also lowers blood cholesterol and reduces premature death from all causes by 20%."
Increasing global demand
It's no secret that Australian farm produce is in demand around the world. But in recent years, nuts are joining the ranks of beef, lamb and wool in terms of demand, particularly almonds and macadamias. One of the reasons for this increase in demand is that macadamias are a native Australian food, one that's grown in their natural soil and climate.3 With a sales forecast of $760 million in 2016 –2017, Australia is set to become the largest exporter of macadamias in the world, with China being the world's largest buyer of the popular tree nut.4
Almonds are also highly popular, second only to macadamias and promoting similar health benefits.5 What this means for the horticultural industry is that a wide variety of tree nuts are set to become major exports. Chairman of the Australian Nut Industry Council, Jolyon Burnett, said that the figures had exceeded the industry's expectations. "It's a milestone that we were hoping to reach sometime around 2020 so it's extremely pleasing to see it reached in 2015," he said.
To meet this increasing global demand, Australian nut producers will be expanding production, with over 5,000 hectares of new plantings in the next three years.6
Ross Burling confirms that the increasingly recognised health benefits of nuts are driving demand in Asia. "It's a no brainer," he says. "Asian cultures are all about health, and as a market, this region is about to overtake the USA as the world's largest food consumers."
Michael Waring agrees that the increasing awareness about the health benefits of nuts is what's making them so popular in Asia. "As this good health news spreads throughout Asian countries we anticipate a greater demand for high quality, nutritious nuts," he says. "Australian nut producers are well placed to meet this demand."
Nuts – what's so great about them?
Not only are nuts a healthy and delicious snack – Nutrition Australia recommends 30g per day – but they're versatile and easily managed. This means that they are simple to take to work, to school or just to grab a handful out of the cupboard when feeling peckish. Their reputation as a 'brain food' – to enhance and maintain concentration – can be coupled with their convenience for people who exercise and train hard, as they're the perfect snack to keep the body going.
With that in mind, there's a push to see more nuts in vending machines at sporting facilities, schools and universities. As both a brain and heart health food, nuts are ideal for athletes and students alike.
Michael Waring points out that Australia has a reputation for top quality nut produce, especially the native macadamia nut. "Australian agri-businesses are recognized as world class," he explains. "Their onfarm practices and post-gate product handling provides excellent produce down the supply chain. Globally nut production is increasing, and Australia is holding her own at the top of the international market."
NAB – working with Australian exporters to achieve business growth
With specialist expertise on hand to deliver advice and guidance, NAB continues to get behind Australian nut producers to help them grow their business through exporting.
"Our business has required a close working relationship with our primary lender to support our farming, processing, domestic retail and most recently our venture into e-commerce in China," says Ross Burling. "Our relationship with NAB and their willingness to understand has helped grow all facets of the supply chain at one time, an achievement and credit to their willingness
to support local small business."
"NAB's Trade Finance Team is an integral business partner for MWT," says Michael Waring. "Efficient and effective processing of export documentation from suppliers to buyers is an important part of our requirements as a business. NAB's expertise and trading platforms enhance our business functionality and provides a relevant dashboard of information for Management and Senior Management. The NAB Trade & Finance Team facilitates prompt processing of export documents, which means fast settlement from customers and improved cash flow."
The future is bright for any Australian nut growers who are thinking of following in the footsteps of Stahmann Farm Enterprises and MWT Foods. "With the implementation of so many free trade agreements with Asian countries, it's never been easier to begin exporting," says Virginia Maruff, General Manager of NAB's Trade and Working Capital division. "For instance, China is our top two-way trading partner, and when ChAFTA came into force in 2015, it opened up enormous opportunities for Australian businesses well into the future. When it's fully implemented, 95% of exports will enter China duty-free, giving Australian business owners a great competitive advantage. And the nut industry stands to benefit substantially. Strong demand from China is seeing the value of Australia's nut industry soar beyond the $1 billion mark, with almonds and macadamias leading the way."
As Australian nut producers look towards the future, the popularity of almonds and macadamias is driving demand for other nuts such as pistachios, walnuts, brazil nuts and pecans. Exporters are tailoring their marketing around in-season holidays for nuts, such as the Double Ninth Festival, Chinese  New Year, and Singles Day. As global demand increases, Australia leads the way in production, research and development, meaning ongoing opportunities and benefits for Australian nut producers to look forward to well into the future.
References:
1 Fifty years of Australia's trade. 2 Dr Axe: Macadamia nuts support the gut, bones, brains and heart.
3 The Spruce: Go nuts with macadamias. 4 World goes nuts for Australian agriculture – Sydney Morning Herald.
5 News.com.au. 6 ABC Rural News.
First published on
More from NAB