April 3, 2017
What Pharrell Williams taught Adidas about collaboration
When Rachel Muscat was talking to Pharrell Williams about collaborating on a new pair of Adidas sneakers, discussions were going well – until the singer dropped a bombshell.
"He said he'd do it but on one condition," Muscat told the audience at the Fashion Business Breakfast. "There had to be 50 colours."
The idea was to reinvigorate the Adidas Superstar sneaker, but 50 different colours across multiple sizes would be no easy job, either to manufacture or for retailers to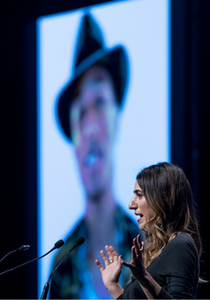 stock.
Muscat suggested a compromise – the Superstar range was 45 years old, so how about 45 colours?
But Williams was adamant – it was 50 or nothing.
So Muscat, whose official title is Global Category Director of Statement Collaborations for Adidas Originals, took the message back to head office and persuaded then to go with the project.
The range was a huge success, with the Williams sneakers helping Adidas to its most profitable year ever, with sales of nearly 14 billion euro.
It's a lesson about the importance of fashion business leaders getting out of their comfort zone and trying something new.
"Sometimes with ideas, you can't really see it at the time, but why not give it a try?" said Muscat, who is originally from Melbourne but now based in Germany.
"That's what's really important, you're allowing yourself to be uncomfortable."
It was one of several lessons at the Fashion Industry Breakfast, part of a series of business events supported by NAB as part of the Virgin Australia Melbourne Fashion Festival.
"When you're working with a partner it's important to really trust them and listen to what are they feeling and where they see things going," she said. "It's testament to trusting that gut feeling and your partners."
Muscat also worked on a range of sneakers with rapper Kanye West, who she describes as "a creative genius".
She said West was very specific about every detail of the products he was involved in, even to the thread that was used to attach the hang tags to the sneakers. Muscat said this lent authenticity to the sneaker range.
"I thought 'really? You really care that much about the thread?' but it really lent so much to the whole process. It means when a consumer buys the product, they are really buying his trust and what he believes is the best it can be," she said.
"As you can imagine there were a lot of new ideas that came to the table. He challenged how we worked, which was really important for us because it made us look at speed and how we get faster to the consumer."
Speed of innovation and speed to market has been crucial for US Designer and Entrepreneur Cynthia Rowley, who also spoke at the Business Breakfast.
As well as clothes, Rowley designs sports clothing and equipment, home wear and tech accessories.
"I saw that people were buying clothes at beautiful stores like Harrold's here [in Melbourne] but also wanted to have great design in other parts of their life, and so I started making things like band aids and things that hadn't really been designed before and that's when the floodgates opened and almost anything seems possible now."
Rowley tries to respond to what people are thinking about in their lives when she moves into a new product category.
"Being nimble in everything is really, really important," she says.
"With all the changes I think the most prevalent thing is speed. It's really about how fast can I react to what people want and get it made, so is my manufacturing as fast and nimble as it can be? Am I entering categories at the right time – not too early and definitely not too late?"
Rowley said working in fashion has "never been more exciting" because digital has made it so easy to communicate with the consumer.
"The filters have been stripped away – if you have an idea you just put it out there. You don't have to go through different layers," she said.
But it also means companies really need to know their brands and have a strong point of view when they communicate with the consumer. Rowley incorporates her brand's attributes of sportiness, adventures, daring and prettiness into everything they do.
Her final piece of advice is to be fearless: "I think that you have to not be afraid to fail, but fail fast and move on and don't ever take no for an answer."