Powering into the Australian market
Breaking into the Australian renewable energy market with a new mode of financing was a great challenge and a golden opportunity for Goldwind. Three deals later, the company's aiming to power one million Australian homes.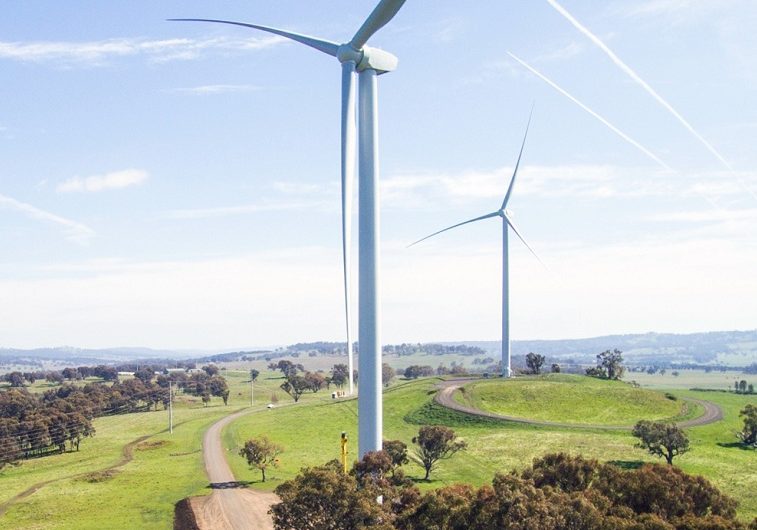 Watch the video to learn more about how NAB helped Goldwind build their Big Idea.
When Goldwind, a leading global wind power company based in Beijing, was first looking at entering the Australian market, it always planned to go big. "With large coal power plants reaching the end of their lives and the Australian Government targeting additional renewable energy by 2020, we identified an opportunity to build large-scale renewable energy," Goldwind Australia Managing Director John Titchen says. "That meant thinking about generating clean energy for millions of homes."
The company's first foray into Australia delivered the 19.5-megawatt (MW) Mortons Lane Wind Farm in 2012, which generates enough power to supply more than 12,500 Victorian homes. In 2015, it built the 165MW Gullen Range Wind Farm and in 2017 the 175MW White Rock Wind Farm. The company is now working on its most ambitious project to date, the 530MW wind farm at Stockyard Hill in Victoria.
"The Stockyard Hill project began when Origin Energy decided to divest its interest in the site," Titchen says. "To support the divestment, Origin also put in place a long-term power purchase agreement for 100 per cent of its electricity and large-scale generation certificate output until 2030."
Managing the technicalities
Breaking into a new market meant the team at Goldwind needed to think about the best way to adapt its approach. "The company was a substantial player in the Chinese market but was looking to break out internationally," NAB Director Joy Leet explains. "They needed a partner to bring market-leading sector and financing expertise to the table."
For Titchen, competitive cost of capital was a crucial issue, as was finding a banking partner with strong debt-raising, project finance and renewable energy credentials. "We started working with NAB when we were working on the Gullen Range project. We wanted to project finance that deal and establish a track record of successfully completing that kind of transaction to set us up for the future. I'd worked with NAB in a previous role at Hydro Tasmania and knew they could support us."
For Leet, a key priority when the relationship with Goldwind began was giving them velocity and efficiency around their capital. "We worked with them to recycle their capital and understand the project financing landscape in Australia."
Making sure there was a good cultural and technical fit between the teams was crucial. NAB's Global Head of Energy Andrew Smith explains the team's Chinese language skills and cultural understanding played a critical role in enabling NAB to deliver for Goldwind. "Given the turbine technology was new to the domestic market the other strength we felt we could bring to the table was our technical expertise," he says.
Titchen is adamant that working with a banking partner that could assist with the technical review of the projects and the turbines was essential. "Alan Laird and his team had the skills to validate whether the technology was right for the site, how it would perform over a lifetime, how reliable the energy production would be and if the revenue would match projections," he explains.
A holistic approach to financing
Similarly, Goldwind was focused on ensuring that financing its projects was as simple as possible.
"Gullen Range was our first project finance," Titchen says. "We needed NAB to be able to manage the debt component well and they did."
On Stockyard Hill, the process was just as successful, he adds, with NAB underwriting the debt during the bid process. "This really simplified things for us. The bank interest was huge – we ended up with three times our target of $700 million."
Over a six-year partnership, NAB has now played a lead role in the financing of each of Goldwind's projects in Australia. "Being able to work seamlessly across geographies, across product solutions and having a deep understanding of the client's needs helped us deliver value to Goldwind. For NAB, continuing to look at innovative solutions for their projects as well as providing Goldwind's transactional banking needs in Australia and managing the foreign exchange risk on their investments contribute to a successful and enduring relationship," says Vijendra Singam, Director Energy & Utilities.
Looking forward, Titchen believes renewable energy is still on a growth curve in Australia. "We need to be doing more than 20MW projects – we need to be building 1,000MW projects. By 2020, we can see Goldwind projects producing enough clean energy for one million Australian homes."
Working with the community
Proactive engagement with local communities is a key priority for Goldwind. A bespoke Community and Stakeholder Engagement Plan, tailored to the geographic and social context, is developed for each project. Goldwind then works to share information and the benefits of each project.
"Our host landowners enter commercial agreements to host turbines on their property, which allows them to diversify their income stream. We also develop near-neighbour benefit-sharing strategies to recognise the potential impact for neighbours and allow them the opportunity to share in project benefits through a commercial neighbour agreement," Titchen says.
Sharing the benefits of projects more broadly continues throughout the project lifecycle. For example, the White Rock Wind Farm sponsorship fund has provided more than $100,000 across many different local community groups during the construction phase. Now the project is operational it will contribute $175,000 each year to the community fund administered by the local council.
The Stockyard Hill Project community investment program is also underway. The fund currently contributes $120,000 each year to the community – that will step up to $300,000 each year during the operation.
Training future generations
For Skipton Primary School, funding from Goldwind Australia enabled the school to reinstate its sustainability program.
Principal Calvin Tromp says: "The program sets our kids up for the future. It trains future citizens about the wise use of resources and how to live in harmony with the environment."
The Goldwind sponsorship funds a teacher one day per week, managing a program right across K-6. The program covers a wide range of themes, including appreciation of local flora and fauna, productive gardening, being wise with water, reducing waste, valuing biodiversity and generating energy as a renewable resource. "We need to think differently about how we use energy and resources now, and the program teaches kids to start thinking about how our present lifestyle has consequences for future generations."
Speak to a specialist
More from NAB