Private banking is more than just banking
If you think private banking is all about loans and deposits or even wealth strategies, think again, says Jason Murray, the new Customer Executive of NAB Private.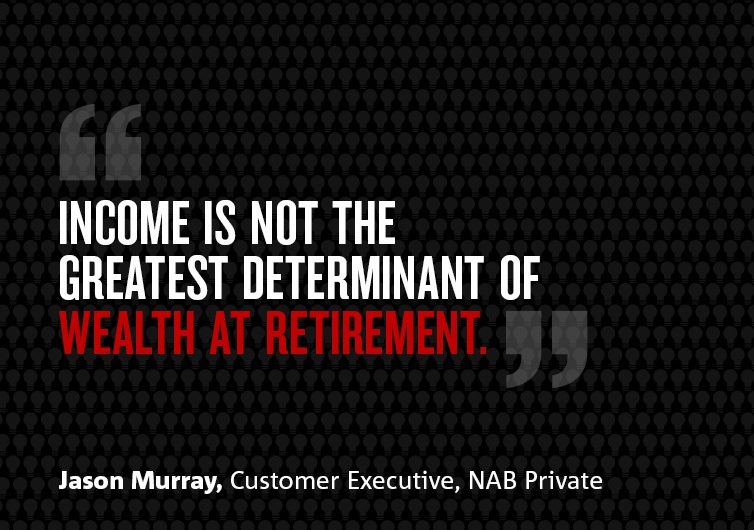 Private banking, at its heart, is not just about banking.
It's not just about loan structures, deposit rates or even wealth strategies. It's actually about you, your family, your aspirations.
Facilitating that journey is what private banking is really about.
Let me illustrate why.
Consider two high-earning professionals – perhaps partners in a law firm, entrepreneurs, surgeons or investment bankers. These are the kinds of people who make up our client base.
Over a 30- to 40-year career, these two professionals will earn millions of dollars. They love their jobs, their careers. They even get a bit consumed by them at times!
Their constraint is time, not money, and by every measure of Western society they are highly successful.
Somewhere between 55 and 70 years of age, they retire from their profession or business. What's incredible – and we see the numbers – is the stark contrast in where they end up in retirement, in terms of wealth and assets. Two individuals, for example, who may have had exactly the same income profile over a 30- to 40-year period, can end up in very different financial situations.
Two similar incomes, two separate wealth journeys
This shows us that income is NOT the greatest determinant of wealth at retirement. I'll repeat that because it can be quite a confronting statement: income is NOT the greatest determinant of wealth at retirement.
At one end of the spectrum, there's the professional who retires with little more than the equity in their home, along with a mortgage and maybe a little in super. By necessity, they end up focused on how they'll replace that income, now that retirement looms. Or they question which lifestyle sacrifices they might need to make. It may be a matter of fewer holidays, downsizing the family home or, despite being in retirement, getting another part-time job or continuing consulting to maintain their lifestyle.
At the other end of the spectrum is the retiree who had an asset accumulation strategy and stuck to it. They methodically built an asset base and, on retirement, have both the time and the resources to enjoy the reward of decades of hard work.
So, what did the wealthy retiring professional – let's call her Sally – do differently?
Generally it's a combination of things.
Instead of parking surplus cash on deposit at 2.5 per cent, Sally got help from a private banker who referred her to a number of specialists. They recommended strategies that generated an inflation-protected income with the right balance of risk, but always with a view to protecting that principal. At NAB Private, we have a Global Investment Desk that caters to these needs.
Sally also paid down her home loan through a standard principal and interest structure, rather than being tempted by the short-term cash flow benefits of too many interest-only loans.
She coupled this with the equity in her home to buy an investment property or two, maybe a commercial property, and started to build an income that wasn't reliant on her personal exertion, personal hours or intellect.
Without compromising materially on lifestyle, while Sally was working she kept a close eye on her finances. Every year that went by she tucked away a few dollars into investments, generating yield and making her wealthier, rather than her becoming more and more reliant on a bigger income, no matter how steep the trajectory of her career success.
As Sally concedes, she wasn't even that interested or focused on money and banking. She found it quite boring. She simply got other people to do that work for her.
The value in getting help
We see this situation repeated among many other types of high earners, whether business owners, entrepreneurs or even those fortunate enough to inherit wealth.
Many small to medium enterprise (SMEs) owners put a lot of effort into their businesses but are uncertain how to realise the value from them when they want to exit, let alone preserve and grow wealth for themselves and their families.
To ensure you stick with the program, though, you may need a private banker or financial adviser to help maintain the discipline.
According to the latest research from financial services industry research company Investment Trends there are more than 435,000 high net worth individuals (HNWIs) in Australia – ­defined as those people with a million dollars of investible assets outside the family home.
Research also tells us that since the global financial crisis (GFC), use of financial advisers of some sort has dropped from 60 per cent in 2008 to 30 per cent in 2017. This has left a large proportion of the HNW population looking for financial advice, or a referral to some form of specialist, whether on structuring, tax or retirement solutions or the right asset allocation to generate a good balance of risk and return.
Just like the general populace, high earners and the wealthy also need assistance, just a little more sophisticated –knowledge, expertise and experience that, above all, saves them that valuable time.
What could a private banker mean to you?
As mentioned, private banking isn't simply about banking. In fact, the main thing it comes down to is service.
Of course, we can take care of all your day-to-day transactional needs and help introduce simple digital banking into your daily life. But it's the service, the saving of time – even more so than money – that's important to most HNWIs.
Every private bank client appreciates that they have a dedicated point of contact, there to understand their personal financial situation and help navigate the increasingly complex financial landscape.
The fact that there's also an entire team supporting their dedicated banker is appreciated, too. But it's that peace of mind that their financial plan is on track (plus the fact that their banker can help solve issues that arise) that many HNWIs value most.
Private bankers also work with business bankers, accountants and wealth advisers (such as JBWere) to ensure clients' banking and wealth needs are seamlessly met.
While NAB has been servicing the unique needs of HNWIs for more than 150 years, it's now taking private banking into the 21st century and transforming it to better meet the needs of the modern-day HNWI. It's Australia's leading private bank which, coupled with the Global Investment Desk, can help assess a customer's investment needs. For those with substantial assets to invest, NAB Private works alongside wealth management partner JBWere, the pre-eminent financial adviser in Australia and New Zealand.
The information provided in this article is intended to be of a general nature only. It has been prepared without taking into account your objectives, financial situation or needs. Before acting on the information in this article, National Australia Bank Limited (ABN 12 004 044 937, AFSL and Australian Credit License 230686) (NAB) recommends you consider whether it is appropriate for your objectives, financial situation and needs. NAB recommends that you seek independent advice before acting on any information in this article.
JBWere Limited ABN 68 137 978 360 AFSL 341162 is subsidiary of NAB. NAB does not guarantee its subsidiaries' obligations or performance, or the products or services its subsidiary.