The AUD April-June 2019: A game of two halves
Since December last year, we have been characterising the AUD/USD as a '68 to 73' cent currency in 2019 with the pair likely to spend more time around the bottom half of this range, particularly during the first half of the year, and then eventually moving towards the top of the range later in 2019.
Now that we have passed the 2019 half-way mark, it is pleasing to note that our 70c AUD/USD forecast for the end of June proved to be correct.
On April 18th we surveyed a sample of our Foreign Exchange customers and asked where you thought the AUD/USD will be at on 30 June 2019. As the chart below shows, over that period the currency traded in a 0.6832 to 0.7199 range.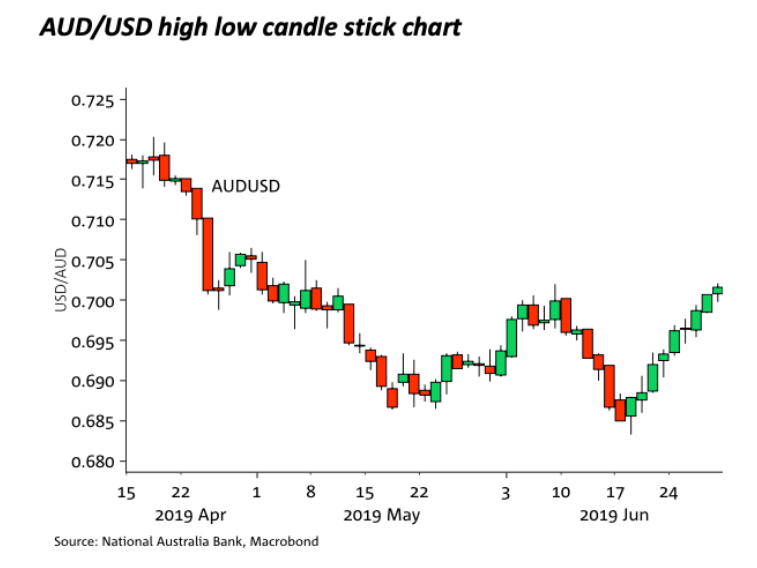 Half way through April the AUD/USD was supported by strong China economic data releases and higher oil prices. In May, however, renewed trade tensions saw the currency break below the 70 cent mark with the pair also coming under domestic downward pressures after the April Labour Force report revealed a rise in Australia's unemployment rate to 5.2%, resulting in the market bringing forward RBA rate cut expectations.
Early in June, heightened US-China trade tensions alongside a 25bp RBA cut to the Cash Rate weighed on AUD/USD with the pair trading to a low of 0.6832 on 18th June. In the second half of June, the AUD/USD fortunes improved dramatically following a more dovish tone by the US Federal Reserve Bank (Fed) signalling the potential for an easing in monetary policy alongside reports and eventual confirmation of a US-China trade truce following the Osaka G20 meeting on 29th June.
Our outlook for the AUD/USD over the remainder of 2019 sees the currency hovering around the 70c mark over the coming months with higher levels likely to be seen closer to the end of the year, based on our expectations of an ease in US-China trade tensions, still buoyant prices for key Australian export commodity prices – supported if necessary by further China policy stimulus – and a weaker USD, the latter seen being weighed down by Fed monetary policy easing and the lagged impact of sharply lower US bond yields.
One key risk to our stronger AUD/USD outlook would be an escalation in US-China trade tensions; another would be the risk of a more severe domestic economic downturn that sees the RBA lowering the cash rate to below 0.75% alongside the introduction of alternative stimulatory policies (QE). For now these are themes to watch and they do not form part of our central scenario.
Results are based on our customer survey sample and the Economics forecasts were sourced from Reuters AUD/USD survey of top contributors, with selected participants displayed. Date sourced was 26/4/2019. Important Notice: This document has been prepared by National Australia Bank Limited ABN 12 004 044 937 AFSL 230686 ("NAB"). Any advice contained in this document has been prepared without taking into account your objectives, financial situation or needs. Before acting on any advice in this document, NAB recommends that you consider whether the advice is appropriate for your circumstances. NAB recommends that you obtain and consider the relevant Product Disclosure Statement or other disclosure document, before making any decision about a product including whether to acquire or to continue to hold it. Please click here to view our disclaimer and terms of use.