The AUD in April 2021
The AUD/USD traded in a 2.86c range in April with a low of 0.7532 recorded on the first day of the month while a high of 0.7818 printed on April 29.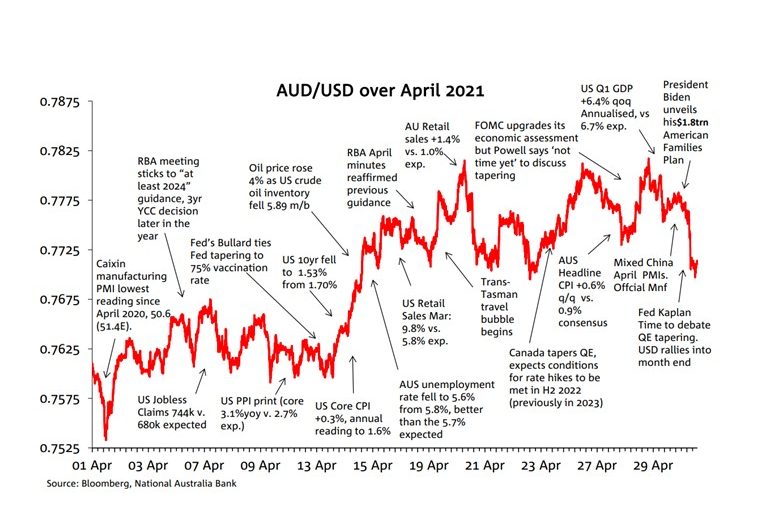 The start of April was a tricky period for the AUD/USD. China's Caixin manufacturing PMI came in worse than expected (50.6, vs 50.9 prev. and 51.4 exp.) while news of COVID infections spiking higher in EM countries also dented sentiment.
Notwithstanding this cautious start, April was a positive month for the AUD/USD. The global reflation theme gathered momentum with the experience in Europe and the US supporting the view that economies around the globe will eventually reopen as vaccine rollouts allow for some normalcy to return. This backdrop was supportive for risk appetite, lifting equity markets and commodity prices during the month.
Solid US data releases supported the reflation narrative with the US printing an epic March jobs report (916k increase in nonfarm payrolls, well above the 660k expected). Stronger US retail sales and solid activity indicators were also part of the narrative during the month. But the reflation theme was not just about the US, in Australia the March Labour force report unveiled a 0.2ppt decline in the unemployment rate to 5.6%, and Global PMI indicators were also generally stronger.
Monetary policy was another contributor to the risk positive backdrop. Early in the month the RBA stuck to its "at least 2024" cash rate guidance with the 3yr YCC decision to be made later in the year. The late-month FOMC update showed an economic assessment upgrade, but Chair Powell reiterated the view that "it is not time yet" to discuss QE tapering.
Late in the month the US Q1 GDP printed close to expectations and revealed an increase in the US trade deficit. President Biden showcased large spending plans and although much is expected to be funded by an increase in taxes, the burgeoning US twin deficits was another market them in April.  Month-end flows and the Fed's Kaplan's comment that it was time for the Fed to start debating QE tapering "at the earliest opportunity", provided the USD a bid on the last day of the month.
For further FX, Interest rate and Commodities information visit nab.com.au/nabfinancialmarkets