The year the world stopped: what 2020 might mean for a future Australia
It's been a year like no other. We ask an economist, a futurist and NAB Executive to unpack what 2020's shocks mean for the future of business.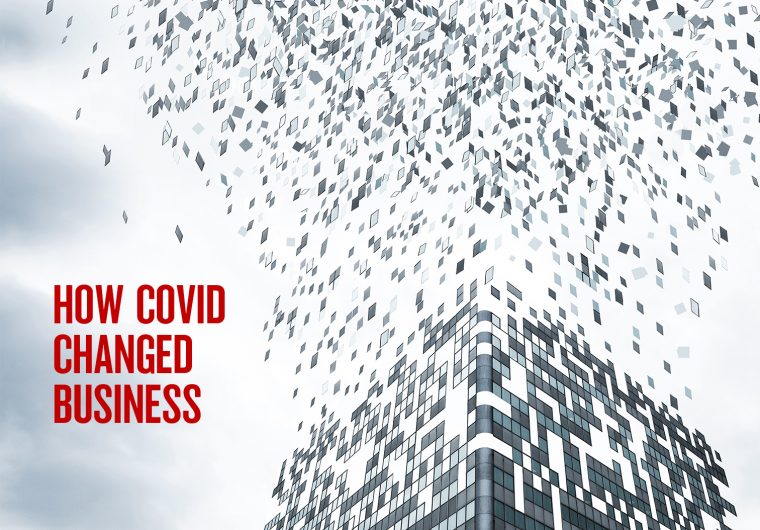 Consumers and businesses have had to learn to do many things differently in 2020. From social distancing and mask-wearing to mass remote working and overnight ecommerce offerings, it's been a year of immense upheaval and uncertainty.
So, can we expect this 'new normal' to revert to the pre-COVID familiar at some future point? Or has society been irreducibly altered by this extraordinarily tumultuous year?
Here, global futurist Anders Sorman-Nilsson, economist Kristian Kolding and NAB business leader Michael Saadie discuss the economic, operational and societal changes the pandemic has wrought, their likely permanency, and what they will mean for Australian businesses in 2021 and beyond.
The great real estate untethering
Beyond remote working, the pandemic prompted companies to think seriously about 'connectography', a term coined several years ago by global strategist Parag Khanna to describe the interplay between geography and connectivity. It's a new way to view places, spaces and supply chains, made possible by the widespread digitisation of the commercial sphere.
"Because technology is now such an effective lifeline, businesses and individuals have become untethered from the physical locations they'd previously believed themselves to be tethered to," observes Sorman-Nilsson, futurist and founder of strategy consultancy Thinque.
Those attachments won't re-form and, as a result, the next few years will see a wholesale rethink of real estate requirements.
"Where does your talent want to live?" Sorman-Nilsson asks. "As a retailer, are you better off going into two innovative new locations, rather than a flagship CBD store? Do you need a headquarters at all or will space in a business centre on the periphery suffice?
"Considering these questions before your leases come due may provide an opportunity to significantly reduce one of your major fixed costs and reorganise the way your workforce operates."
More machines, fewer jobs
 In 2019, interest rates were already low. The pandemic has helped push them close to zero and that's where they're likely to stay for the foreseeable future, according to Kolding, a Deloitte Access Economics partner.
That makes it easier for businesses to service loans and more attractive for them to invest in capital equipment, rather than human capital, particularly when the instant asset write-off provisions in the last Federal Budget are added to the equation.
"A zero-interest-rate climate has some profound effects on the way companies can build their businesses and make choices between physical assets and labour," Kolding notes.
Crunch time for cash
Australians have historically been early adopters of new technology, so much so that a 2018 global study by Cisco placed the country in the highest category of digital readiness.
Even before COVID, consumers were steadily switching from cash to electronic payments: just under one-third of in-person payments were made in cash in 2019, according to the Reserve Bank's 2019 Consumer
Payments Survey. Meanwhile, NAB's Cashless Retail Sales Index August 2020 showed year on year growth of 20.3 per cent.
The pandemic has forced even traditionalists who've previously preferred to deal in cash to make the switch and, after nine months of swiping and tapping, they won't switch back, according to Saadie, NAB Executive of Business Banking, Metro.
"For customers, it's all about convenience, but businesses also benefit from the move towards a cashless society," Saadie says.
"Electronic payments are more efficient and reduce the risk of theft. Ultimately, cashless is where society is moving so it's really important that businesses are ready for that, and open to the opportunities and efficiencies it can bring."
A widening gap between the haves and have-nots
Low interest rates spell good news for consumers who've already built an asset base. Cheap finance will provide them with greater opportunities to grow their household wealth, by borrowing to invest, in the coming years. But it's a different and less rosy picture for younger Australians who've yet to buy their own homes, or who haven't entered the workforce.
"We've seen a shift in terms of who has the spending power in the Australian market and that's unlikely to change for many years," Kolding states.
"It will take a significant amount of time before the labour force is back to full capacity and, in the meantime, people who've lost their jobs or don't have one may have to accept lower wages. As a result, targeting products and services at the older and wealthier demographics will become an increasingly common marketing strategy for companies."
The online journey becomes critical
The pandemic has seen a sharp uptick in ecommerce, as socially isolated and locked down Australians let their fingers do the shopping. According to Australia Post's 2020 ecommerce update, more than one million new households shopped online between March and September. It's a statistic supported by the NAB Online Retail Sales Index for August 2020, which showed year on year growth of 60.6 per cent.
But it's more than just transactions that are taking place online. Customers are now spending much more time researching, evaluating and comparing their options digitally and much less time interacting with salespeople, according to Sorman-Nilsson, who points out that, in this influencing sense, most retail is already 'digital retail'. In such an environment, businesses that aren't visible online at every stage of the customer journey are less likely to get a look in.
"Unless you have a great marketing funnel that's deeply human centric, you run the risk of not being considered," Sorman-Nilsson says. "Market awareness of your product and engagement with your business will drop."
Enterprises in all industries should look to invest time and money engaging with target audiences and communities digitally he adds. "In this sense, we are now all technology companies with a licence in our old industry."