Tree change? The pros and cons of running a rural pharmacy
What does it take to run a successful rural pharmacy? Two business owners – including the winner of this year's Pharmacy Guild of Australia's Pharmacy of the Year Award – discuss the challenges and rewards of working in a small town.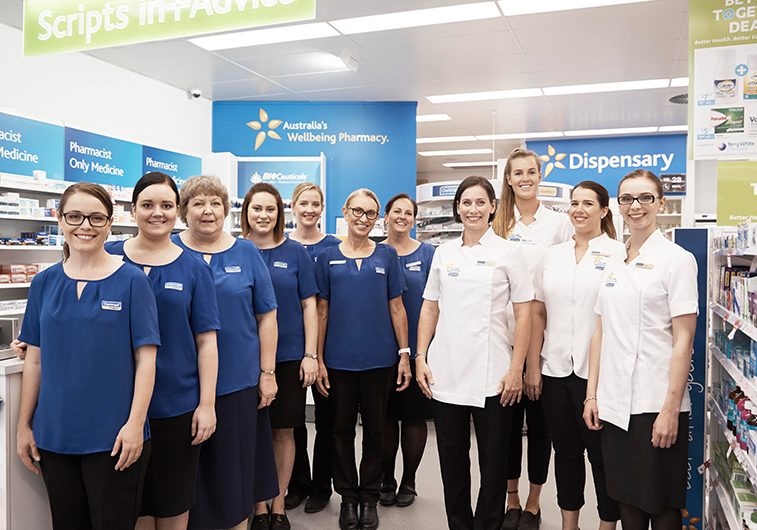 Pharmacists play a vital role in Australia's country towns. Lucy Walker and Joseph O'Malley, who both own successful rural pharmacies in Queensland and Tasmania, discuss

the rewards and challenges of building a sustainable business in small, isolated communities.
When Lucy Walker needs to visit the city, she takes her own four-seater plane.
"We can fly to training sessions and professional events in Brisbane or Toowoomba and be back in a day," she says. "Driving would take up at least two days, and that would be very disruptive to our business."
The business is Lucy Walker's Chemmart pharmacy in Goondiwindi – a town of 5500 people on the Queensland and New South Wales border which is over 350 kilometres from the nearest city.
"There's no question that distance is our greatest challenge," she says. "Being remote affects simple things – for instance, our orders are only delivered once a day and company representatives don't visit often, if at all. I moved here from the city and it's certainly a very different environment but pharmacists are needed even more in remote areas and I don't see any reason why being in the country should stop you from providing a great service to the community."
Streamlined processes
It's now six years since Walker bought an established traditional pharmacy and embarked on extensive renovations. Her most recent investment is a robotic dispensing system. "I'm always looking for ways to streamline dispensary processes so I can spend more time with my customers," she says.
This year, she won both the Pharmacy Guild of Australia's Pharmacy of the Year Award and the Award for Community Engagement.
"In a country town it's much easier to get to know and respond to your customers' needs," she says. "For example, we've made our consult rooms available to breastfeeding mothers and anyone who needs to talk to a specialist but can't Skype from home. Our aim has always been to create a social and community hub as well as a health destination."
Social media plays an important role in her engagement strategy.
"Facebook in particular is a great way to get health messages across and let people know what's happening in store," she says.
An expanding role
The expanding role of pharmacists is particularly welcome in rural areas, says Joseph O'Malley, who owns a pharmacy in Ulverstone, Tasmania, and is a member of the Community Pharmacies for Rural & Indigenous Australia (CPRIA) Advisory Group.
"Over the past few years we've been able to perform a wider range of health-based services including asthma checks, medication reviews and flu immunisations, and a diabetes screening trial is currently underway," O'Malley says.
"I believe that, in rural communities, it's important for doctors, nurses and pharmacists to collaborate on more than medication. For example, people often have a significant wait to see a specialist or get advice from someone like a dietitian or a diabetes educator. There is certainly a collaborative role for the pharmacist in that space."
Common challenges
There's no such thing as a single rural model – as O'Malley points out, his business is vastly different from one in an isolated area such as Arnhem Land or Thursday Island. However, they do have some challenges in common.
"It's certainly trickier to find good staff once you're more than an hour away from a capital city or large regional centre," he says. "Many rural pharmacists encourage students to do their third or fourth-year placements with them in the hope that they'll return as an intern and stay."
This strategy is one that has worked well for Walker.
"I invest a lot of resources in staff development and focus strongly on students and interns," she says. "I've had an intern continue as a pharmacist for five years."
Most rural pharmacies have to pay considerably higher wages than their city counterparts.
"The hourly award wage is mid 20 dollars and that's what many young pharmacists are being paid in capital city pharmacies," says O'Malley. "We have to pay close to $40 an hour for someone with the skills and experience we need. It's a challenge in terms of cash flow but retaining good people is much more cost-effective in the long term than having a high turnover of staff."
On the positive side, rents are likely to be considerably lower than in the city. There are also a number of programs funded through the 6CPA, the latest agreement between the Federal Government and the Pharmacy Guild of Australia, that support businesses assessed as having some level of remoteness or isolation.
O'Malley adds that the CPRIA also works hard to support pharmacists in regional locations.
"As a group, CPRIA promotes rural pharmacies and encourages younger pharmacists to give it a go," says O'Malley. "Once they've settled in a metropolitan area and have family responsibilities, they're much less likely to consider a move."
For Lucy Walker, the environment itself has a strong appeal.
"I really noticed the difference when I moved from the city," she says. "People really are friendlier. They smile at you and stop to talk in the street and the children all know each other and play together. A country town can be a great place to raise a family as well as build a successful business."