What does the Federal Budget mean for individuals?
It's the season for tax cuts – and more support for super. Find out what's happening in your bracket.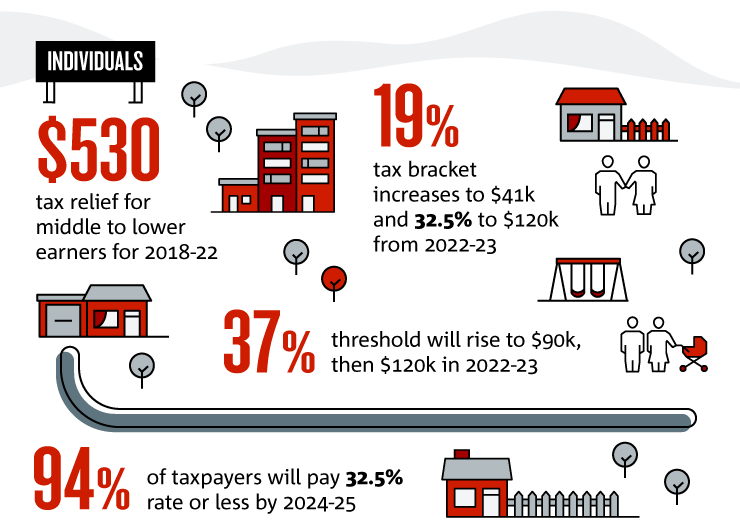 Underpinned by strong economic growth and with a return to surplus in sight, Treasurer Scott Morrison has aimed to appeal to a broad range of Australians with his third budget. This is headlined by the promise of $140bn in tax cuts over the next decade, immediate tax relief of up to $1,060 a year for middle-income households and a fundamental reform of the progressive tax system.
Economic snapshot
Budget deficit for 2017-2018: Now forecast to be $18.2bn – the lowest deficit in a decade.
Forecast deficit for 2018-2019: Drops to $14.5bn, before a forecast return to surplus of $2.2bn in 2019-2020.
GDP growth: Projected to be 3% per annum for the four financial years from 2018-2019.
Wages growth: Expected to be 2.25% in 2017-2018, rising to 2.75% in 2018-2019 and then 3.25% in 2019-2020.
Personal income tax
Personal income tax changes: A significant reform of the personal tax system designed to provide tax relief for up to 10 million Australians over seven years.
Tax cuts: In the next financial year Australians earning up to $90,000 will save up to $530 in tax annually. Targeted initially at low-middle income earners, this will expand to middle to higher income earners in subsequent years.
Change in tax brackets: From 1 July 2018 the threshold to pay 37% tax rate will rise from $87,000 to $90,000. This will be raised again to $120,000 in 2022-23.
Abolishing the 37 per cent tax rate: From 2024-25, Australians earning up to $200,000 will pay a maximum marginal tax rate of 32.5%.
Cash transactions
Introduction of a cash payment limit to business of $10,000 from 1 July 2019: Individual payments to business in excess of this amount must be made through the banking system.
Superannuation
Opting in to life insurance: From 1 July 2019, life insurance can only be offered on an 'opt-in basis' to new members under 25 and members with inactive accounts or an account balance under $6,000.
Limiting fees for all superannuation accounts: From 1 July 2019 exit fees will be banned. Administration and investment fees will be capped on accounts with balances of less than $6,000 at 3% annually.
Dormant superannuation funds: The ATO will work to proactively reunite Australians' dormant superannuation funds with their active account. All inactive super accounts with balances less than $6000 will be transferred to the ATO.
Formulation of retirement income strategy: Superannuation trustees must formulate a retirement income strategy for superannuation fund members. There's also a new requirement for providers of retirement income products to report simplified, standardised metrics to help customers make decisions.
Health
Increased investment in Medicare: Up by $4.8bn over the next four years.
$2.4bn increase in investment in new medicines over four years: This includes an extra $1.4bn for listings on the Pharmaceutical Benefits Scheme (PBS).
Medicare levy: Will remain at 2%.
Age Pension & Aged care
Expansion of Pension Loans Scheme: From 1 July 2019 the scheme will be accessible to all Australians over Age Pension age, with maximum fortnightly income stream increased to 150% of the Age Pension. Based on current rates this would allow full Age Pensioners to increase their annual income by up to $11,799 for a single or $17,787 combined for couples.
$1.6bn investment in extra 14,000 high-level home care packages: This is part of a $5 billion increase in aged care spending over four years.