Women building a better property finance sector
A NAB networking event connects women across construction and property finance to help promote female participation in the sector.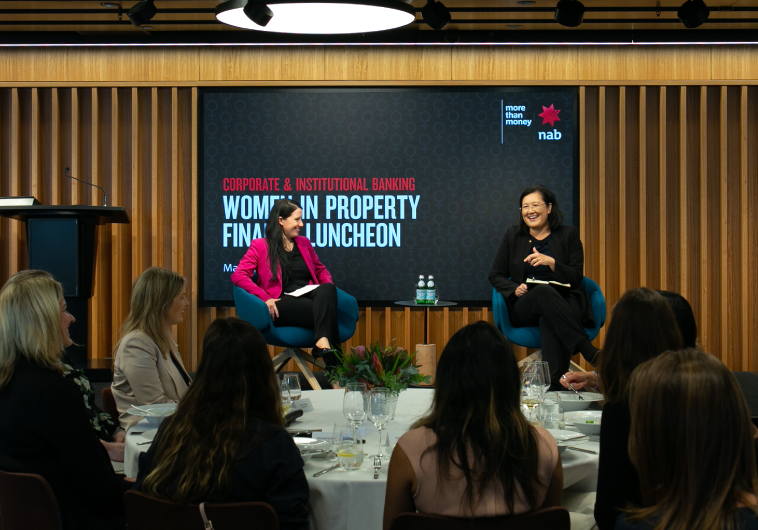 When Alison Mirams started in construction in 1998 she was often the only woman on site and had to go down the road to look for a toilet.
Today she is CEO of construction firm Roberts Co and taking on some of the sector's most challenging issues, from gender equity to high rates of divorce linked to work stress from entrenched six and seven-day working weeks.
"We only give clients a five-day option now because it's so important for increasing female participation but also for mental health," she told a room of 80 industry professionals at NAB's Women in Property Finance event in Sydney.
Mirams pioneered the flexible five-day Monday to Friday approach as part of a successful tender to Health Infrastructure NSW for the $341 million Concord Hospital redevelopment.
She says while advocating against the industry standard has had its challenges, joint research1 released in May from the University of NSW found improved health and wellbeing for construction workers and their families engaged over the two-year project.
Mirams said the research results, achieved with the support of Health Infrastructure, had been a "complete vindication" and showed how the long-standing practice of working over weekends was an issue for both men and women in the industry, especially for those juggling family care.
The success of the project has meant the five-day week is being rolled out in some of Health Infrastructure's major projects, including the $619 million redevelopment at The Children's Hospital at Westmead2.
Leading for change
Mirams was joined on the expert panel at the networking lunch, by GPT Group CFO Anastasia Clarke and Brookfield Managing Partner, Real Estate, Sophie Fallman.
The three women all shared their stories and big industry breaks, with advice for building careers and the ways they are working to transform the sector for the better.

Key issues for the discussion, moderated by NAB's Head of Real Estate Bill Halmarick, remained the availability of more paid childcare and role modelling workplace flexibility, as well as bridging the confidence gap.
The panel followed on from a keynote by Ming Long, Chair, AMP Capital Funds Management Limited and Chair, Diversity Council Australia, who stressed the theme of courage in careers.
Introducing the event, organiser and NAB Associate Director, Institutional Property, Ann Nguyen said she was proud to be working with so many inspiring and supportive female senior leaders at NAB.
"For me having role models to follow and aspire to has had a major impact," Nguyen said. "It's something that I didn't realise I was missing until I experienced it. This is one of the reasons why I wanted to organise a networking event for women in property finance to share these experiences – and here we are today."
In her keynote, AMP's Long urged women to take the risks and opportunities necessary for a successful career, while always pushing for diversity and combatting bias.
"Understand the strength you bring," she said. "You are bringing something really unique and the status quo doesn't have it."
All the event speakers agreed on the importance of sharing parenting roles including encouraging men to take parental leave and supporting them to take on key family tasks like school drop-offs.
Better ways to work
GPT Group's Clarke said the working-from-home shift during the pandemic offered a "game-changing" opportunity, so long as both care duties and career trajectories remained equitable across genders.
"Whatever those obligations are you have on the home front … I think it can really normalise society for you both to have these fluid roles," she said.
Clarke added while she didn't exactly lack courage, finding a sponsor or advocate at work had also "made a massive difference" over her career. She encouraged others to do the same as they sought out and seized every opportunity.
Brookfield's Fallman agreed establishing networks and connections to call on when you needed support was "enormously powerful" and had a value not to be underestimated.
"Equip people with the right skills and confidence to address the issues," she said. "That's really going to break down some of those biases and norms."
Mirams added removing gender stereotypes had to start early across society and the education system. She also stressed how important it was to "tap the female gene pool" and look at training when addressing the today's industry skills shortages.
She said for her the ultimate success would come when it was no longer necessary to talk about gender and diversity issues and the industry could simply support professionals, no matter who they were.
"If you believe in something in your heart, you've got to push it and no matter how hard it is," she said. "This is for the generations that follow behind us … so you've got to be brave and you've got to follow your heart."
Top career tips

Anastasia Clarke, GPT Group CFO

"Really raise your consciousness and ask: where do you want your career to go? When you get into a role work hard, master it and look for the next thing. Show your hunger because you cannot take it for granted that this is seen. Unfortunately, too many of us are way under the radar … so you really need to put it out there and raise your consciousness about it."

Sophie Fallman, Brookfield Managing Partner, Real Estate

"Be highly ambitious and own it. It's a highly competitive world so work hard. Expect nothing but the best from yourself and at the end of the day, back yourself. Just go for it, find things that you want to do and make them happen. Exhibit that ambition and that enthusiasm and that confidence."

Ming Long, Chair, AMP Capital Funds Management Limited and Chair, Diversity Council Australia

"My advice to you is you'll be given opportunities that you think are so risky. Really be brave and actually take that role anyway and see what you can achieve."

Alison Mirams, Roberts Co CEO

"Something that's worked for me is choose your attitude… if you're given an opportunity, say yes, and don't question it."
____________
1 PROJECT 5: UNSW Research Report Released – Roberts Co | Project5_Executive-Summary_v12_WEB-1.pdf (roberts.co)
2 Ibid