May 25, 2016
World Business Forum CEO panel
Three CEOs share their insights on the process and challenge of transformation.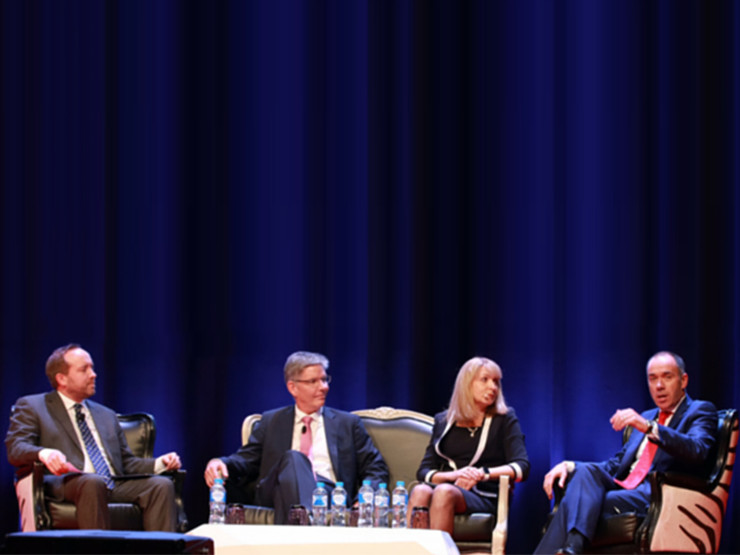 CEO Panel Discussion
Moderated by Brandon Lee, Assistant Professor of Strategy at the Melbourne Business School, some of Australia's most prominent CEOs shared their insights on the process and challenge of transformation.
Andrew Thorburn: MD and CEO, National Australia Bank
Rob Sindel, MD and Executive Director, CSR
Dr Jackie Fairley, CEO, Starpharma,
 What are you doing to adapt and innovate in your businesses?
Thorburn: There's an unprecedented level of change occurring right now: usually that's something we need to defend against but actually it's a real opportunity for us to shape the industries and economies in which we operate. Technological change, venture capital, growth opportunities, the ability to invest in ideas and have a sustainability agenda that doesn't just focus on profit but social causes – these are big trends changing our industries.
Banking is a people business – and people are much more discerning about the businesses they want to be part of. They want a business that gives them basics but with purpose, and they want an authentic leadership. We believe we need a burning ambition that explains why we exist beyond profit.
One of the hardest things to do in large company like NAB is to manage the tension between being be risk aware, risk averse and taking risk. With 35,000 people we need a single rallying point around why we need to innovate. For us the biggest driver of change is we must serve our customers better.
Sindel: When CSR started 150 years ago it was a sugar business; now it's a building products business with assets all over the world. Organisations are in a constant state of change.
While the burning platform is a key issue, so is the 'boiling frog'. This is when you know a change is coming and what matters is how we react and energise around the change.
How hard is it for a big business to transform?
Thorburn: Creating and sustaining change is really hard. I asked one of my mentors who works with CEOs around the globe, what was the difference between CEOs who made it and those who didn't. He said was the ones that really made it forced and led their organisations to constantly adapt.
Often organisations don't want to do this. Many focus on preserving the status quo where it's comfortable; challenging the status quo in a big company is hard.
You need an army of people to create that change and you need to start with a stated and clear intent about what it is you want to achieve – you need a big goal that inspires people. For us, that's making the customer experience better.
You need a senior leadership group that is committed, because the biggest driver of culture is the behaviour of leaders. It's not what we say; it's what we do that counts.
You also need to break down the change. Do a sprint every 12-18 months then reset your goals.
Finally you need to celebrate! Most people thrive on encouragement and recognition.
How do you influence organisational change in an innovative business?
Fairley: The lack of easily identifiable metrics generates a need to really inspire. In a pharmaceutical business people are changing lives for the better and that in itself is inspiring. So we bring people together and make sure they understand the difference they can make in people's lives.
The cohesiveness of the team is important. Detracting comments or a lack of tolerance for failure can be hugely challenging. For public companies, the risk tolerance required in innovative businesses will be higher than in businesses in other settings. It's critically important to select people who are comfortable in that environment.
What have you learned from your transformation program?
Sindel: CSR sold a sugar business and wanted to transform into a bigger building business, so we so bought Pilkington Glass, spending $1.1 billion. But in 2007 the world changed: the Aussie currency ran up, investment in China in glass was ramping up. This wasn't a turnaround, it was a transformation and I didn't recognise that early enough.
A transformation is much harder. I thought it was just another building product and I installed a management team of traditional CSR people who understood manufacturing and routes to market, but this was now a global business and we didn't understand that.
Our second mistake was we didn't react quickly enough when it came to personnel.
The key steps you need for this kind of transformation are:
Cut costs: cut once and cut deep to stop the bleeding.
Make sure the right people are on the bus.
Articulate the strategy so everyone can get behind it. Communicate face to face – don't just send an email from the CEO.
 Celebrate every little success.
Fairley: Culture is by far and away the hardest thing to deal with because it's about the hearts and minds of people. Starpharma has its origins in CSIRO – promising technology with huge potential application across a range of areas. But it's origins and nature meant it was more of a technology-focused than market-focused organisation. There wasn't much focus on commercial applicability. We needed to build a portfolio of products with commercial application and therefore make a substantial cultural change.
Many of our people with very scientific backgrounds were relatively resistant. We needed to align the team and identify where we were going, what defined success and communicate that.
In innovation-based industries there are fewer specific metrics, so communicating where we were going and why we needed to change was important. Selecting the right team and making sure you don't allow detractors to stay on the bus is also crucial.
How do you embed change over time?
Thorburn: Everyone's looking for the quick fix silver bullet but it doesn't exist. John Key and Bill English have achieved such success in New Zealand through radical incrementalism. You have to be radical but constant, with continuous initiatives, trials and failing fast while letting the organisation stay in tact.
Our transformation is underway, although we have a long way to go. We're putting the customer at the heart of everything we do, understanding our segments, what we want to be the best in, and what capabilities will defend us against new an existing competition.
Our people understand that everyone is a banker at NAB: some deal with customers directly while others enable them to do that better. We drive change by making sure every objective or score card has the customer in it.
We're also investing in long-term technology. We're creating a counter culture through initiatives like NAB Ventures, where we invest in small payments companies we can lean from and in NAB Labs, our R&D capability that sits right in the middle of the bank building. We ask them to come up with an idea and get it to market in 90 days: if it works we scale quickly, if not we stop it quickly.
Where do you find the insight and inspiration for change?
Thorburn: You need to create a group of leaders who are passionate and allowed to fail and they can become incredible change agents. Then you become an organisation that really builds and feeds itself.
But you also need to look around the world. Silicon Valley is still a huge source of inspiration, as is New York, Israel and London. The most important thing is ambition ­– because complacency sets in and then you don't want to take risks because the company feels safe. Every leader has to have a high bar and say, I want to be the best in the world.
Kevin Plank of Under Armour says we need a culture that's humble and hungry and I agree.
Sindel:  Find a core leadership team, invest in people and they will do amazing things for you. They'll talk to customers and know the pain points but you must have a good enough process to pick up those nuggets.
How do you change the internal and external perception of your organisations?
Fairley: External validation is useful – recognition by the market and industry is important and can be used effectively.
Sindel: You have to have a certain amount of belief in the strategy and road test with people internally as well as with customers.
Thorburn: You need a clear strategy that is measurable and defendable; then you deliver. You must stay aligned around that strategy and keep going back with the same measure to demonstrate if you've achieved it or not. Trust is built through reliable performance and authenticity; you're not spinning things, you need to be prepared to face into the truth.
You also need to be aware of how you communicate to different types of stakeholders using the same story but different language. Leadership is about head, heart and guts – some people need a data story, others need a more emotional connection.
How do you get in front of change and shape the destiny of the industry?
Sindel: The way we build is changing and it needs to change; a house that takes 12-18 months is too long. The other key thing for our industry is digital transformation. The way people buy plasterboard or bricks is like ordering a pizza. Dominos manages that experience through technology and giving people the information they need upfront and as they go through the process keeping them informed. That's a big opportunity for us too. Other key issues will be how can we build faster, make houses better in terms of energy efficiency and how do we explain the future to customers.
Fairley: Where we have superior technology we need to make sure we exploit it to the full in terms of value and recognise what it's not applicable to – focus your effort.
Thorburn: To get ahead of change we need to make our current business better all the time. We also need to spend more time on the things that are important for the future, not just urgent today. That takes time. I'd also say meet interesting people that stimulate your mind, keep your own mind open, stay fit and healthy, read well and have great friends and hobbies.