July 25, 2023
AGL CEO Damien Nicks on a new era of renewable power
On Torrens Island near Adelaide, the nation's biggest decarbonisation project is gathering momentum.

On Torrens Island near Adelaide, the nation's biggest decarbonisation project is gathering momentum, as a couple of 160m-high chimney stacks earmarked for demolition bear witness to a new era of renewable power and the final checks on a massive, grid-scale battery.
AGL Energy chief executive Damien Nicks, who oversees the company's strategy to invest up to $20bn in a low-carbon future, said redevelopment of the 32-hectare site was "the transition in action".
"When I show people our sites in various locations across Australia, this is the one that most clearly shows the transition in action," Mr Nicks said.
"This site will provide the firming capacity (for example, batteries to improve the grid's reliability) enabling the share of renewables in South Australia to approach 70-80%.
"So, what you've seen us do is start to prepare to close an old technology gas-fired station and build a gas peaker – a very efficient, on-and-off in five minutes plant that enables us to respond to the market very quickly – and we're also building a very large battery.
"To me, this is what the future looks like, and you'll see more and more of our sites convert over time as the market transitions."
Australia needs to press the accelerator to reach its target of 82%  renewable energy by 2030, up from 27%  today.
Across the sector, plans have been brought forward to exit coal-fired power, with AGL last April shutting down the remaining three units at its 52 year-old Liddell Power Station in NSW.
The next major closure in August 2025 is Origin Energy's 2880 MW Eraring plant on the NSW central coast, which supplies 25% of the state's power.
The nation's two big energy companies have pulled together their detailed climate transition action plans (CTAP) amid a global energy crisis and intense investor and public scrutiny.
AGL, which restructured its board and permanently appointed Mr Nicks as CEO in January this year, has now settled its strategic direction, with the company's CTAP attracting strong shareholder support at the company's November 2022 annual general meeting.
This created a platform for Australia's biggest carbon emitter to reinvent itself as a leading provider of renewable energy.
NAB Chair Philip Chronican, who toured the Torrens Island site with his AGL counterpart Patricia McKenzie and Mr Nicks, said electricity generation was one of the most important industries to undergo decarbonisation.
"Electrification is a huge part of the overall decarbonisation journey, so decarbonising electricity production is really the starting point," Mr Chronican said.
"It's important as a bank that we understand the economics of these industries and the implicit risks, but we also need to be there to help companies make the transition otherwise this just isn't going to happen."
"It's also about understanding that electricity has to be a much larger part of the energy picture in the future because we're talking about replacing a whole lot of uses of gas and other liquid fuels, so we're electrifying rail lines, people are electrifying their vehicle fleets, and a lot of industrial processes that might use other power sources will be looking to electricity."
NAB, according to Mr Chronican, had undertaken research indicating that 70-80% of the nation's required reduction in emissions could be achieved by successfully targeting a number of key industries such as electricity and steel and aluminium production.
The technology required for most of those transitions was "reasonably well understood".
The CTAP drawn up by AGL last September has a number of key targets, notably an accelerated exit from all coal-fired generation and the targeted closure of the ageing Loy Yang A Power Station in Victoria up to a decade earlier by the 2035 financial year.
AGL has an ambition to supply its customer demand with up to 12 GW of new generation and firming capacity by 2036, requiring investment of up to $20bn, funded from AGL's balance sheet, partnerships using third-party capital and from offtake arrangements.
On the release of its CTAP, the company had 3.2 GW of renewables in the pipeline, including the 250 MW grid-scale battery at Torrens Island, the 50 MW Broken Hill battery, the 500 MW Liddell battery, the 200 MW Loy Yang battery and the 250 MW Muswellbrook pumped hydro project.
With an interim target of 5 GW of new renewables and firming to be in place by 2030, AGL has projected it will achieve net zero emissions for operated Scope 1 and 2 emissions after the closure of all its coal-fired power stations.
AGL also has an ambition to achieve net zero for Scope 3 emissions – both upstream and downstream – by 2050.
The AGL CTAP also raised the issue of coal in the context of limiting global temperature increases to the Paris Agreement's  target of "well below" 2oC, rather than the higher ambition of 1.5oC.
AGL said its scenario analysis showed a 1.5oC outcome would have required coal-fired facilities in Australia to be shut down no later than the 2031 financial year and AGL's thermal coal facilities by the late 2020's.
This, in turn, would have called for an extra 100 GW of capacity by 2030, when the market had only managed to build an average of 2 GW a year over the past five years.
"It's a real tightrope we're walking when we're searching for the best outcome for the market we're in, the technology that's available and other players in the market like transmission," Mr Nicks said.
"If they don't build the transmission, you can't connect the renewables."
The AGL chief said the closure of Liddell and removal of 8m tonnes of carbon was one of the country's biggest decarbonisation project in this year alone.
"By the same token, we are the biggest emitter and we don't shy away from that, but we will effectively take around 40m tonnes of carbon out of the market annually (due to the closure of coal)," he said.
"To do that, we have to replace it with a lot of energy and capacity."
The key ingredients of an appropriate CTAP, he said, were credible reductions in projected emissions, a timed and orderly exit from coal and its replacement with renewables, firming capacity and batteries.
The aspect which was often missed was the customer.
"If you really want to get to net zero, we need to support our customers switching away from gas," the AGL chief said.
"Now that's going to take time, but we're thinking about how to electrify all our customers, and on the commercial and industrial side we're seeing a lot more customers coming to us and saying: 'Help, how do we do this?'
"Think about cement companies, or you've got an almond orchard fully off-grid and fully on diesel."
The latter reference was to powering irrigation at Cadell Orchards' almond orchard in Sunraysia with renewable energy from a microgrid fuelled by a five-hectare solar farm and battery, reducing the company's reliance on diesel generators and slashing Scope 1 carbon emissions by 4,700 tonnes a year – equivalent to taking more than 1,500 cars off the road.
The project had taken Cadell "fully off diesel and they're off-grid as well".
Since 2019, spending on Torrens Island has tipped over $500m, well on the way to the estimated $2bn-$4bn AGL plans to spend in South Australia out of its total transition budget.
Any doubling in the size of the new peaker and the battery, which is feasible, would absorb $1bn of the remaining SA tab.
On top of that, AGL has committed to redeveloping Torrens Island and thermal coal sites in the Hunter Valley in NSW and the Latrobe Valley in Victoria into low-carbon, industrial energy hubs, with feasibility studies underway to explore green hydrogen projects at Torrens Island and the Hunter.
The ambition is to create an energy efficient, low-carbon ecosystem and circular economy.
Ms McKenzie said a smooth transition was crucial for millions of retail customers as well as for the commercial and industrial future of the nation.
"We're going to see a massive transition not only of the energy industry but for the whole economy if Australia is to meet its climate change objectives," Ms McKenzie said.
"AGL is making a major effort as part of our ongoing strategy to help coordinate our consumers on their decarbonisation paths so there is an overall transition.
"We'll have to work together to meet those objectives so we can have a clean, reliable and affordable energy future."
Originally published on NAB News.
The information contained in this article is based upon sources believed to be reliable but which have not been independently verified. Opinions or ideas expressed may not necessarily be those of National Australia Bank Limited ("NAB") nor may they necessarily reflect NAB's views or endorsement. This article is for informational purposes only.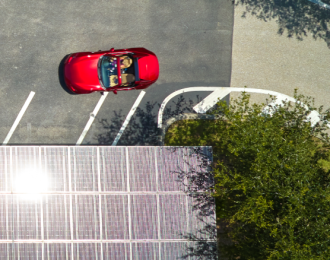 Stay informed with our latest climate transition insights
Read now